Ireland TeamInfoSec and Fujitsu alliance
Fujitsu Services recently began investigating becoming BS7799 compliant. In the current economic climate there is a growing dependency in dealing and aligning with outside or third party organisations, it is becoming increasing important to have a mutual recognition of a respected standard and certification such as BS7799. Whilst reviewing the market and trying to find a cost effective way to become compliant Fujitsu found 7799Audit, a software audit tool supplied by TeamInfoSec Ltd. Fujitsu decided 7799Audit was the best tool available to meet their needs. It is comprehensive, intuitive and cost effective. The software is non intrusive and allowed Fujitsu to employ their own internal IT resources to 'audit' their own systems.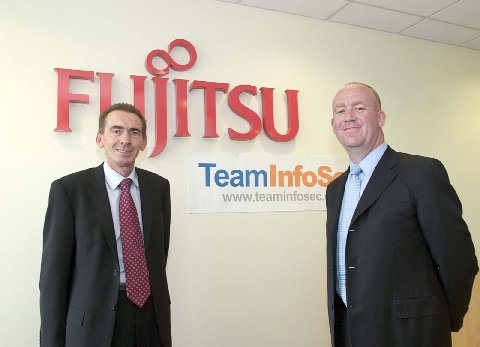 About TeamInfoSec
TeamInfoSec Ltd was founded by Paul C Dwyer, an internationally recognised Information Security expert with over 15 years experience. Paul is a qualified hacker and 7799 Lead Auditor, holding the highest credentials in all areas of information security. He has worked for such organisations as the US Secret Service, Scotland Yard, FBI, National Counter Terrorism Security Office (MI5), is approved by the National Crime Facility and is a member of the High Tech Crime Network (HTCN). The firm provides Information Security consultancy and recruitment services mainly to the financial services arena. For further information please contact www.teaminfosec.com or email info@teaminfosec.com
About Fujitsu Services
Fujitsu Services is a leading European information technology services company. Its business is helping its customers realise the value of information technology through the application of consulting, systems integration and managed service contracts. It serves customers in the private and public sectors across Europe including retail, financial services, healthcare and government. With an annual turnover of £2.56 billion (€3.22 billion), it employs over 21,000 people across 20 countries. Headquartered in London, Fujitsu Services is the European IT services arm of the US$53 billion (€32.9 billion) Fujitsu Group. Visit pt.fujitsu.com or uk.fujitsu.com for more information.
Catherine Casey

Phone: + 353 (0) 1 813 6000


E-mail: catherine.casey@ie.fujitsu.com
Company:Fujitsu Services

Date: 24 August, 2005

Top of Page