SEVEN-ELEVEN JAPAN CO., LTD.
Enhancing logistics processes using an operations management system to service over 20,000 stores in real-time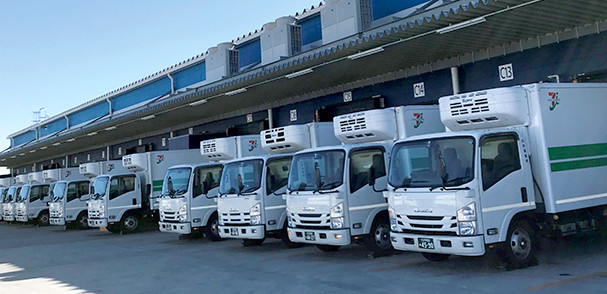 Retail giant Seven-Eleven Japan has overhauled its operations management system to ensure safe, secure, and punctual shipment of goods from its partner distribution centers to its franchise stores. Real-time operations information management ensures safe and secure distribution management. It also has numerous benefits including increased fuel efficiency, reduced ecological footprint, streamlined operations, and a greater ability to respond in times of crisis.
Under the slogan 'Close and convenient,' store layouts are constantly changing, and this requires distribution changes. This means that systems also have to change. We always expect Fujitsu to keep up with these changes and we look forward to their proposals for the optimum solution in each case.
Hiroyuki Harajima
General Manager
SEVEN-ELEVEN JAPAN CO., LTD.
Background
Safe, secure, punctual product distribution to over 20,000 stores nationwide
In January 2018, Seven-Eleven Japan became the first retailer in Japan to achieve a store count in excess of 20,000. 7-Eleven's main objective is to provide goods and finely-tuned services to cater to local preferences, and by doing so, make its stores an indispensable "close and convenient" part of local communities.
To maintain the flavor and quality of each and every one of its products, the company has distribution centers for the four food-temperature categories such as chilled, warm, frozen, and room temperature, and uses its market concentration strategy which stores are located in clusters, with each cluster being supported by a distribution center to distribute collectively to the region. There are 156 partner distribution centers in Japan (as at the end of February 2018), with 5,900 delivery vehicles and around 13,000 drivers that deliver goods to each store daily.
Hiroyuki Harajima, General Manager, Seven-Eleven Japan, emphasizes, "Our mission is to deliver safe and secure products, safely and securely to our franchise stores."
Seven-Eleven Japan began deploying in-vehicle devices and an operations management system from very early on.
Harajima describes the need for the operations management system as follows, "Our company has been developing infrastructure based on our supply commitments. It may be possible for one person to manage 2,000 stores based purely on his or her innate ability, but that definitely won't work with 20,000 stores. To provide the same level of service to all franchises, you need suitable mechanisms in place. This is why we use systems to manage the logistics framework and so enable stable supply and distribution."
The story so far
Deploying Fujitsu's operations management system for further enhanced quality of logistics operations
Harajima lists the following reasons for Seven-Eleven Japan seeking to improve the quality of its logistics operations, "First, to manage temperature and vibration - in other words, to minimize stock damage. And second, to implement efficient, sensible logistics operations. If an item has to transit via several stores, this increases the likelihood of damage, and that incurs a cost. It is vital to keep logistics operations simple."
Fujitsu's operations management system ensures this level of logistics quality, a point that led Seven-Eleven Japan to first deploy the system in 2006. Later, when the company conducted a system overhaul in 2012, the new solution proposed by Fujitsu was also deployed at each partner distribution center.
The new system uses DTS-D1D, a networked in-vehicle station with a high-performance drive recorder, to support driving in real-time. The system also uses cloud-based network driving support which provides real-time status and therefore contributes to a higher quality of logistics operations.
HI-LINE Co., Ltd. provides distribution services to around 7,000 7-Eleven stores from Hiroshima in the west of Japan through to Kanagawa and Tokyo districts in the east. Akira Hanafusa, Manager of the Chilled Rice-based Foods partner delivery center at Neyagawa, describes the advantages of the new system, "In the past, we could only ever pinpoint the location of a delivery vehicle through radio contact. So when a driver became lost en route and called us for directions, it was hard to relay a set of instructions. With the current system, however, we can identify a driver's location in near real-time. And now we can even accurately determine a van's refrigeration temperature remotely from our office."
Toshio Hagane, Deputy Manager of HI-LINE's partner distribution center at Neyagawa, credits the new system with improving work efficiency for van drivers, "In the past, we needed to insert a memory card into the in-vehicle station, and, as soon as the driver returned to the center, they'd remove the memory card and print out the driving report at the office. The new system is accepted very well by the van drivers because they don't have to wait around anymore."
Outcome and next step
Keeping essential infrastructure running for residents, and caring for the environment
As one of seven retail organizations selected as a designated public institution under the Disaster Countermeasures Basic Act of Japan, Seven-Eleven Japan plays an important role in disaster and recovery situations, together with Seven & i Holdings and Ito- Yokado. The current operations management system is capable of sharing traffic conditions in real-time via the cloud between Seven- Eleven Japan and the companies that operate the delivery centers, so this can also be useful for rapid consultation and decision-making during an emergency. In fact, the system played an active role in February 2018 when heavy snow storms in the Hokuriku region caused major disruption to transport and distribution.
According to Harajima, "Despite heavy snowfalls, Seven-Eleven Japan maintained communications between Head Office, delivery centers and van drivers, making us the only company that continued delivering goods every day to most of our stores except where traffic limitations did not allow us to deliver. We were able to achieve this only because of our real-time operations management system. People used to think of convenience stores as lifestyle infrastructure stores, but nowadays they have become a lifeline. And you could say that a cloud-based operations management system is essential for ensuring logistics operations in an emergency situation."
It is anticipated that Fujitsu's operations management system will lead not only to optimum decision-making when disasters strike but also to consideration for the environment. Harajima concludes, "As we have around 5,900 delivery vehicles in Japan, we pay constant attention to carbon emissions, due to the direct link with environmental issues. Further streamlining of vehicle loading capacity and distribution distances to densely clustered stores, and our pursuit of optimal efficiency leads to improved fuel efficiency and, by extension, less impact on the environment. In line with our slogan "Close and convenient," we change the selling space in stores on a daily basis, and we modify our distribution practices as well. This means that systems also have to change. We always rely on Fujitsu to keep up with these advances and look forward to their future proposals for providing the best solutions."
SEVEN-ELEVEN JAPAN CO., LTD.