Mitsui Sumitomo Insurance Company, Limited
Transforming customer touchpoints - Chatbot technology introduced as part of companywide digitalization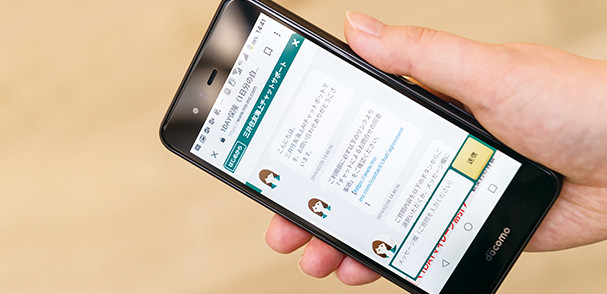 Many companies, including financial institutions, have introduced chatbot technology as a measure to address labor shortages. However, this technology has rarely led to a decline in the actual volume of inquiries received by a support team. Mitsui Sumitomo Insurance Company has adopted CHORDSHIP, Fujitsu's artificial intelligence (AI) chatbot, to complement its online service desk. Not only has CHORDSHIP reduced the volume of inquiries, but it has also become an effective way of communicating with new customers and is a catalyst for driving digitalization.
Introducing chatbot technology has enabled us to devote more time to providing our customers with financial services. Automating the responses to common inquiries has been particularly effective.
Takayoshi Iwamae
Assistant General Manager, Contact Center Planning Department
Mitsui Sumitomo Insurance Company, Limited
Background
Across all industries, the shift to digitalized customer touchpoints is accelerating. This is especially true in the financial services sector, where the various players - banks, insurance companies, securities firms, and credit card companies - are promoting digitalization to become more competitive. Mitsui Sumitomo Insurance, a major non-life insurance company, is no exception, and in recent years, it has assertively promoted IT investments centered on digitalization.
Mitsui Sumitomo Insurance has introduced chatbots for three of its products that customers can apply for online: Net de Hoken@Travel (overseas travel insurance), 1-Day Insurance (automobile driver insurance available in 24-hour units), and Customer Web Service (a service for policyholders). It has adopted CHORDSHIP, Fujitsu's AI chatbot technology, as the platform underpinning these services.
The story so far
Realized after-hours response and automation of routine tasks in just a few months
Staff handle inquiries for these three offerings via the company's online service desk daily from 9:00 to 17:00 except for the year-end/New Year holiday period (the Customer Web Service offering is supported only from Monday to Friday). According to Masashi Nomura, Section Manager, Marketing & Sales Promotion Section, Contact Center Planning Department, Mitsui Sumitomo Insurance, "Due to the web-friendly services, many customers were keen to access them in the evenings. Dealing with inquiries after hours was a big challenge." The company's online service desk handles calls for three services at two locations-Tokyo and Kobe. Although they maintained an average response rate above 90%, the service desk did not have any extra capacity, and productivity improvements were also a big challenge.
Explaining the reason for the chatbot technology introduction, Takayoshi Iwamae recalls, "We decided that introducing AI chatbot technology would increase the service hours, and also be highly effective in automating responses to routine inquiries."
The chatbot implementation project commenced in June 2018, and the system was fully operational just a few months later. Mitsui Sumitomo Insurance were already using an AI-based operator support system provided by a different provider, but Iwamae adds, "The terminology used by customers when inquiring via the chatbot differed from that used by the operator support system, so we were unable to make the transition without changes." The company then focused its efforts on designing appropriate conversational scenarios.
According to Haruka Ishibashi from the Marketing & Sales Promotion Section, Contact Center Planning Department, "We originally had around 300 FAQs, and we added 100 new ones after some trial and error." Following further experimentation with Fujitsu, the company was able to improve the chatbot's rate of correct responses within a short period of time. Chikako Naruse, another team member, continues, "We worked hard to bring together the perspectives of developers, customers, and service operators. We reached our objective in the shortest possible timeframe by working together as a team."
Outcome and next step
Accessible means of customer engagement – even for handling sensitive inquiries
The CHORDSHIP chatbot system consists of a synonym dictionary and scripts, and works in conjunction with content management systems and other knowledge bases.
Ishibashi explains, "With our existing FAQs, customers could not easily find the correct answers unless they were very proactive. However, thanks to the natural language search used by the chatbot, the process has now become relatively simple. Storing various interactions also enables us to enhance the chatbot FAQs themselves." Indeed, the resolution rate has already reached 70-80%.
Iwamae continues, "In the case of Net de Hoken@Travel, the chatbot assists customers to navigate to the quotation screen. This helps reduce the volume of inquiries, which we thought would be difficult to achieve using chatbot technology." It turns out that in December 2018 the chatbot system received 8,800 inquiries, of which half were handled outside of staffed telephone support hours. In addition, despite an increase in the volume of policies issued, the number of incoming telephone calls decreased, and this highlights the effectiveness of the chatbot technology.
Nomura emphasizes the extent of the chatbot's success, "We predicted that most of the inquiries will be the ones that are easy to ask, but it turned out that many inquirers write the specific disease name and ask whether they could be offered the insurance. Interestingly, many customers found it easier to ask questions to the chatbot than when speaking to a human telephone operator." Introducing the chatbot technology has also led to contact with new customers. Ishibashi concludes, "We are increasingly making contact with new customers who had never called us in the past."
In the next fiscal year, Mitsui Sumitomo Insurance plans to roll out chatbot services for customers other than those of its online service desk. As Iwamae states, the company regards CHORDSHIP as "an integral part of its efforts to promote companywide digitalization."
Mitsui Sumitomo Insurance Company, Limited