Trusted to transform
At Fujitsu, we know that the only way to deliver trusted solutions is by trusting our people to deliver our shared goals of success. You'll have the autonomy to take control of your career and be empowered to co-create with customers. If you want to work with a business that believes trust is everything, come and build your future at Fujitsu.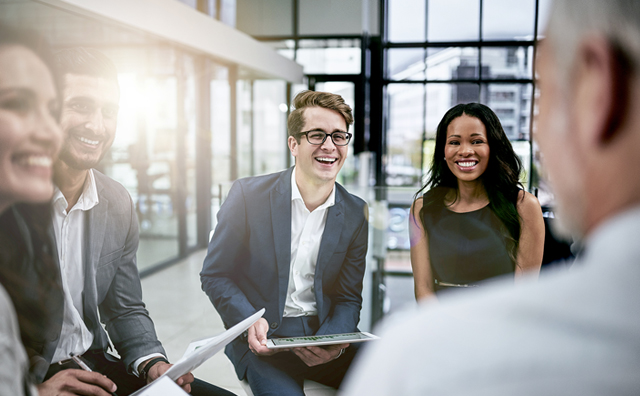 At Fujitsu our people are our number one priority. We are passionate about developing you to your full potential, so you can perform every day at your best to deliver our vision to our customers. Learning and growing is at the heart of what we do. We recognise learning is a continuous process not an event. It doesn't just happen in the classroom, but every day, in the flow of work.
At Fujitsu we encourage you to challenge yourself and to shape your learning journey in a way that works best for you. You won't be alone in your journey, or short of opportunities to learn. We have a whole host of different tools, resources and programmes to help you achieve this. We've got you covered with everything from technical learning to management development, business skills to our award winning talent programmes.
We fundamentally want our people to succeed here at Fujitsu – and regardless of whether you're entry level or CEO, we offer a wide range of learning and talent initiatives to help you reach your full potential. Using industry insight and expert consultation, we have designed Talent Programmes, tailor made to suit the needs of the individual and the organisation.
We're a big believer that you get out what you put in and our Programmes reflect that - they don't just revolve around isolated events or sessions – instead they're fluid and evolving, united together to take you on a personal and professional journey, and always linking back to our core Fujitsu vision. From celebrating our technologists via the Fujitsu Distinguished Engineer Programme to developing our Graduates from day 1 of their time in Fujitsu, from enabling our future leaders to accelerate their leadership journey with Step Up, to activating senior leaders with business led challenges – we've got you covered. We don't like to stand still and continuously reassess what we're offering and delivering to ensure we're fulfilling what's needed in this ever changing world.
Ultimately, we want you to succeed here – if you've got the will, we have a way…