Partnerships and technology – the journey to a more sustainable world
Written by Darren Miles, Group CIO, Centrica on 26/09/2022
Partnerships like the one we have with Fujitsu can bring real advantages that extend far beyond the walls of our own business. Bringing together businesses, colleagues and communities alike will be pivotal to achieving real, lasting change on the journey to leaving the planet in a better place for future generations.

Responsible Business Sustainability
There are many reasons why sustainability is now top of the agenda – on both societal and commercial grounds.

Operating in a sustainable workplace has been an aspect that more and more employees are valuing. And in the wake of the intensifying battle for talent, offering a purpose-driven company culture could be a major advantage.

But above all, organisations are beginning to face the reality of the climate crisis.

Earth's rising temperatures are causing more natural disasters – like the recent extreme heatwaves across the UK and Europe. Businesses are growing aware of the urgent need for collective action to reduce emissions by 7.6% every year from this year to 2030, in order to prevent the planet warming beyond 1.5°C.

To this end, the UN's Sustainable Development Goals provide a common plan of action that can guide businesses and governments alike. And it's this shared blueprint that has formed the basis of Centrica's People & Planet Plan, which aims to create a more inclusive and sustainable future for communities, the planet, and each other. Centrica is committed to helping its customers reach net zero by 2050 and to become a net zero business by 2045 - with a 40% carbon reduction by the end of 2034.
Working together to combat climate change
In 2021, Centrica provided services and solutions that cut the carbon intensity of our customers' energy use by 18% against our 2019 baseline, equivalent to the annual emissions of 1.6 million homes.

We quickly realised that creating real change is not something that can be done in isolation. A far more positive outcome can be gained when combining skillsets and capabilities with other likeminded businesses. Within my digital technology team and across Centrica leaders began to assess our own sustainable practices,

One such partner on this journey was Fujitsu, a partner we felt had a strong and authentic sense of purpose towards benefitting society, combined with strengths that would significantly support the rolling out of environmental initiatives.

Beyond simply working with likeminded partners, we also felt collaborating with our colleagues across Centrica was a vital step in leading the way to a better future. Without this, all too often we see ideas around sustainability being constricted to those making the decisions, rather than those experiencing everything day-to-day.

To help make sure we could always hear from our colleagues, we rolled out 'Making IT Simple': an open forum for colleagues to make suggestions on how to improve operations and make things better. This itself was driven by our focus on our People & Planet Plan and it's from here where we've received some of our best ideas.

For example, it was a suggestion from Making IT Simple that proposed increasing our options on how we can reuse and recycle old laptops to extend their life. Today, 500 laptops have been allocated to schools as part of a recycling scheme set up by Centrica and Fujitsu, and 200 laptops have been donated to Ukrainian families finding refuge in the UK via the Turing Trust.

Adding to our planet focus is our longstanding asset lifecycle approach, managed by Fujitsu, which enables the reuse of devices by colleagues after they are cleaned and rebuilt. If we find we can't do this, instead they're wiped and resold. We even make use of devices that aren't in a fit enough state to be rehomed – components are broken down and recycled, with 0% going to landfill.

The fact that our approach has been sculpted by both our colleagues and partnership with Fujitsu is testament to just how vital collaboration is.
The responsibility of tech companies in combatting climate change
Technology companies are at the forefront of innovating the future, which means all of us in the industry have a responsibility to ensure it's a sustainable one. We must also acknowledge that while the industry is creating beneficial solutions for the green agenda, this innovation comes with emissions that we must rectify. Companies like Fujitsu also undertake many activities to make a difference, be it using green energy or removing plastics from offices. As well as creating new products and services that help businesses to lower their footprint through new advances in optimisation and cloud technologies. Our Fujitsu Account team have also made offsetting commitments, resulting in a carbon positive account since 2021. This is combined with further cross-company activities such a tree planting, unifying its commitment to biodiversity preservation. However, offsetting alone won't reverse climate change. We also need to use our skills to curate greener energy in the first place.

In response, Centrica has set up Energy for Tomorrow: a scheme which aims to champion innovation, provide funding and support communities in finding affordable, accessible and sustainable energy. Which has only become more pressing given the rising cost of energy and cost-of-living crisis.

Through this scheme we've been supporting other inspirational businesses that are making a difference by sourcing expertise from Centrica's network. For instance, one project focusing on solar panels for schools has received £1.5m of grant funding over the past six years. In turn, saving a collective £360,000 for recipient schools, while saving 529 tonnes of carbon – that's equivalent to driving 1.3 million miles!

Partnerships like the one we have with Fujitsu can bring real advantages that extend far beyond the walls of your own business. Bringing together businesses, colleagues and communities alike will be pivotal to achieving real, lasting change on the journey to leaving the planet in a better place for future generations.

To learn more about Centrica and Fujitsu's efforts to a more sustainable world, visit:
Our People & Planet Plan
Our Story : Fujitsu UK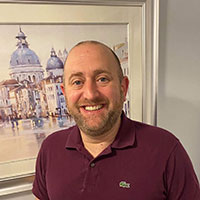 Written by
Darren Miles
Group CIO at Centrica