Productive, Predictive and Personalised Healthcare
With patients at the heart of healthcare, time saving measures and driving efficiencies is critical. Every minute saved for clinicians, is an extra minute to care for patients.
Fujitsu is bringing together an eco-system of technology partners to help the NHS to invest in their digital foundations, increase workforce productivity and wellbeing and as a result, improve the patient experience and flow through the healthcare system.
By embracing all three elements, healthcare organisations can begin to harness digital transformation to enable productive, predictive and personalised healthcare.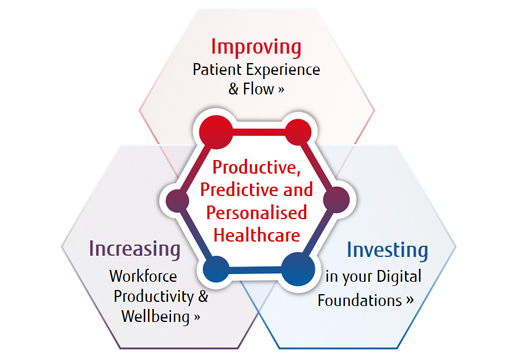 Fujitsu is tackling the biggest challenges in the UK Healthcare market through co-creating world-class digital solutions to improve the experience for patients, citizens and clinicians. Find out how our solutions can help you.
Accelerating Drug Discovery – Delivering novel molecules in 7 weeks
With a 12-15 year drug development cycle costing up to US$2bn*, it's essential the pharmaceutical industry applies disruptive innovation faster than ever before.
Diseases can spread more rapidly, as we've seen in 2020, putting greater pressure on the need for faster & better drugs, to cure possibly life-threatening diseases.
Stories
Using IoT sensors to remotely monitor patients 24/7 safely and securely
Fujitsu co-created with Slingeland Hospital to create smart health patches which monitor patients statuses 24/7, providing real time information on their condition. This is transforming healthcare in Slingeland Hospital. Improving treatments to patients and enhancing their overall experience.

Using AI to save the lives of
psychiatric patients
San Carlos Hospital halved the time required to diagnose patients, maximising productivity.
Connecting parents with their babies
via virtual visits
Canberra Hospital implemented a secure, user-friendly webcam solution that would allow authorized viewers to see their babies virtually via the Fujitsu cloud from anywhere.
Using AI to assist radiologists to detect and monitor brain aneurysms
Working with Macquarie University to leverage AI to detect and monitor brain aneurysms on scans faster and more efficiently.
Insights
Matt Hancock, Secretary of State for Health and Social Care - Interviewed by Fujitsu
Patrick Stephenson, Director of Innovation and Healthcare at Fujitsu had the pleasure of interviewing Matt Hancock Secretary of State for Health and Social Care at the Conservative Party Conference 2020.
During our fireside chat, they discussed how technology supports our NHS, how we have seen accelerated innovation during the pandemic and how technology can improve health outcomes in the future.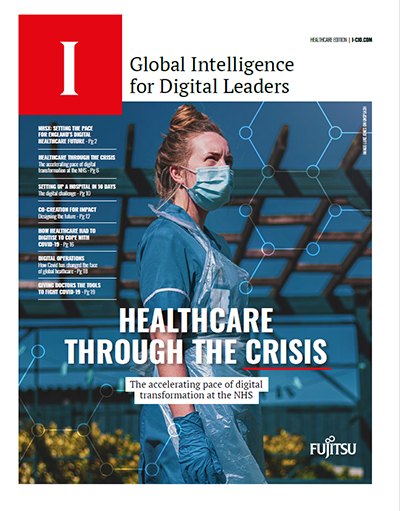 Global Intelligence for Digital Leaders
We're delighted to share our first Healthcare edition of the I-CxO magazine – providing global intelligence for digital leaders.  
In this magazine, you'll see how:
NHSX are setting the pace for England's digital healthcare future
Leaders in the NHS have dealt with the digitisation during COVID-19
Yorkshire and Humber Nightingale Hospital was set up in just 10 days
The Government of Catalonia mobilised rapidly to enable remote working for up to 40,000 healthcare professional in 72 hours
How healthcare had to digitize to cope with
Covid-19
The New Statesman and Fujitsu gathered experts for a round-table discussion on transforming the health service.
Experts included board members and CxO's from across NHS trusts in the UK included Lancashire Teaching Hospitals NHS Foundation Trust, Airedale NHS Foundation Trust, Leeds Teaching Hospitals NHS Foundation Trust and several more.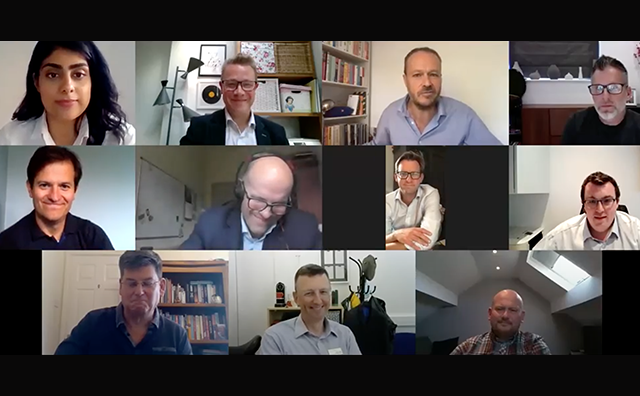 Vision: Citizen Z – The future of public services
With citizens demanding a seamless experience, especially in their most vulnerable moment of need, how can government make public services citizen-centric whilst protecting and sharing citizen data securely?
Fujitsu's vision for the future of government services is to place citizens in control of their own data – This is Citizen Z.