Inspiring the next generation of Women in Tech
Written by Kirsty Jackson on 1/9/2022
Over 2000 students from 176 schools across the UK took part in Fujitsu's first virtual International Girls in ICT Day.

Responsible Business
If you haven't come across this day before, International Girls in ICT Day was created by the International Telecommunication Union (ITU), the United Nations specialist agency for information and communication technologies (ICTs) to encourage and inspire girls to pursue STEM education, STEM careers, by engaging the community and promoting collaboration through partnerships.

Owing to Fujitsu's strong alignment and commitment to the UNs Sustainable Development Goals, we invited students in Years 8 and 9 in schools where there was a higher-than-average entitlement to free school meals. The aim of this initiative was to inspire, grow confidence and create opportunities for future social mobility of women within the Tech Sector.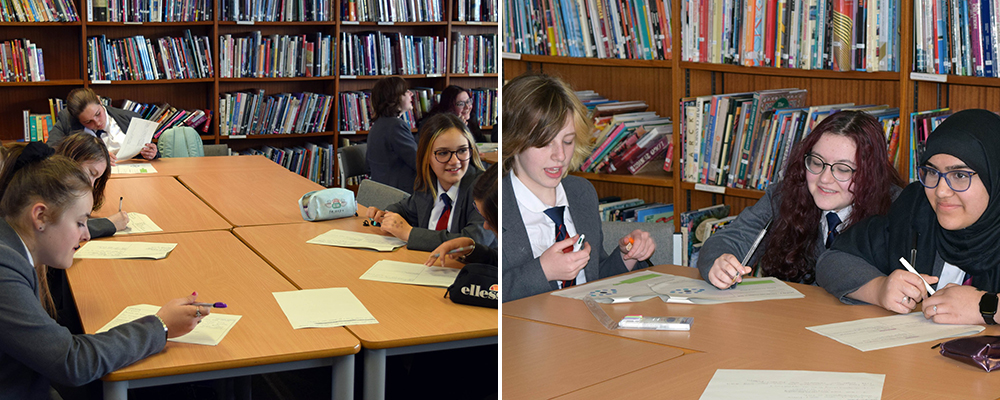 Why did we do this?
Whilst there may still be a view held by some in the tech world that prospective talent requires a degree, we don't. We know that there are multiple routes to success, and by allowing multiple paths into your workplace, you attract and retain a more diverse range of talent.

We know that the challenges in entering Tech start at school, PWC's research in 2017 showed that only 27% female students would consider a career in Tech, and only 3% say this is their first choice. Challenges and barriers to social mobility increase when schools are under-resourced and in areas of low socio-economic area, as evidenced by the 2018-2019 State of the nation report.

At Fujitsu, we have been working with schools and creating opportunities for students to become more socially mobile – you can read about our initiatives and why we were recognised as a Top 75 Employer for Social Mobility in 2021 here.
We knew that we could still do more!
There are barriers, not just perceived, but actual barriers which discourage people from joining our industry. People may feel opportunities are closed off to them if they've struggled academically, come from a different socio-economic or ethnic background, or have other responsibilities to contend with alongside their career goals.

We also know that women are massively under-represented in Tech, just 17% in 2020! The UK Tech Workplace Equality Report confirms an under-representation of black people within Tech, reported across the sector at 3%.

To help move the dial for representation we launched the Fujitsu Insight Day on International Girls in ICT Day. Our objective was to help take away these perceived barriers and encourage girls from all diverse backgrounds to consider not only studying STEM subjects, but a future career in Tech!
How did we do this?
We partnered with SpringPod, an amazing platform focused on creating opportunities for young people within work and education.

We asked for volunteers representative of all backgrounds and journeys, so that the students had the greatest opportunity to 'see themselves' in Tech - Representation is the greatest aspirational tool I know of.

12 colleagues volunteered and took part in a panel session answering questions from students about their roles – not all were Tech. Nadiyah Mughal is a Sustainability Consultant and said: "I'm glad I got to be the person I wish I had back in the day when I was in the same position as these girls. It's such a high-pressure period, so it was a massive privilege to pass on words of wisdom. If it helps even one girl get into a role they're able to thrive in, that's a long-lasting impact I'm proud to have contributed to."
Did we deliver our objectives?
Of course we did!

Over 2,000 students
176 schools engaged
39% 1st generation university
25% eligible for free school meals
77% students from an ethnic minority background
The pre and post survey confirmed that the awareness of careers in Tech went from 7% to 50% by the end of the day. Not only this, but 80% of students would now consider studying a STEM subject at GCSE! Here is what the students had to say:
And a few words from the teachers:

What next?
A core principle of the tech industry is that innovation is at its heart. Diversity the key to achieving real competitive success and driving positive change in the world.

As you have read, we are making progress when it comes to diversity in our sector but there is still work to do. Each Tech business has a responsibility to open their door to talent from all socio-economic and diverse backgrounds by removing the barriers within their own organisations. But it doesn't stop there. Once the doors are open, we must continue working hard to ensure they remain open.

Thank you!

This amazing initiative would not have been achieved without the amazing contribution of the following colleagues:
1. Abbie Wiles, Business Change Leader
2. Becky O'Keefe, Software Developer and UX/UI Designer
3. Cinderella Ezeanochie, Software Engineer Apprentice
4. Craig Hall, Head of Charity Corporate Partnerships UK&I
5. Halima Dakri, Digital and Technology Solutions Degree Apprentice
6. Kiran Ahmad, Graduate Business Consultant/Trainee Data Scientist
7. Lauren Cribb, Associate Application Developer
8. Leyla Yaltiligil, Graduate Software Developer
9. Nadiyah Mughal, Sustainability Consultant Graduate
10. Rebekah Gulliver, Software Developer Degree Apprentice
11. Sophie Cooper, Digital Skills Academy Apprentice
12. Jubita Gurung, Degree Apprentice
13. Ellen Devereux, Quantum Consultant

Photos: © Thornhill Community Academy