To the Metaverse and Beyond: Finding Our New Reality – read our event wrap up and watch the recap!
Written by Emma Chatwin on 14/04/2022
The metaverse. Tech companies say they're building it. Gamers might already be living in it. The art world is cashing in on it. But what is it?

Digital Transformation   Education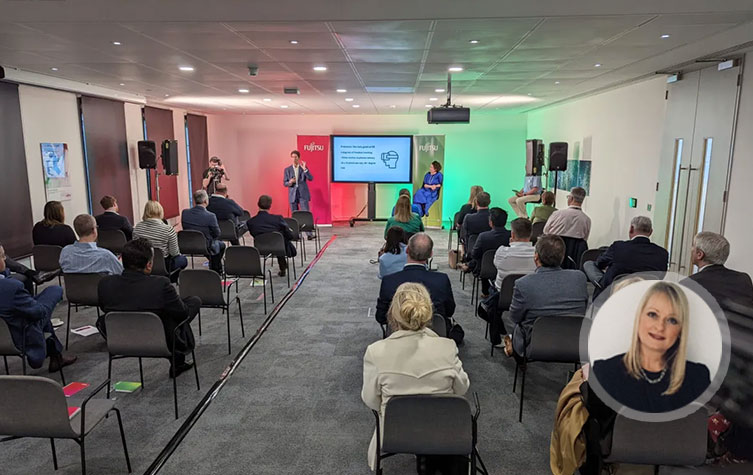 Our event, To the Metaverse and Beyond: Finding Our New Reality, was launched to shed light on the many uncertainties surrounding the internet's hottest topic.

In homage to the hybrid world we now find ourselves living in, the event was attended by a live audience in our Baker Street studio, with many more tuning in via Zoom. But regardless of where or how audiences were watching, everyone was able to enjoy the expert insights of our three guest speakers: Dex Hunter-Torricke, Christine Armstrong and Alex Howland, with proceedings led by our own Martin Russell.

The discussion explored what the metaverse might mean for our future and how we can find our place in it. If you missed the event, fear not – we've summarised some of the (many) highlights below. But to truly relive the occasion and gain a greater understanding of the metaverse and our new reality, be sure to watch the recap video!
Dex Hunter-Torricke: A New Era of Entertainment, Economic Growth and Ways to Experience Empathy
As the Head of Communications for Meta's Oversight Board, few people will be as aware of the metaverse's impact on public perception than Dex Hunter-Torricke. However, he was quick to acknowledge that it's by no means a new phenomenon, having been originally coined by Neal Stephenson in his 1992 novel, Snow Crash.

Ever since, its meaning has evolved. Perhaps best defined today by the technologist, Matthew Ball's criteria, summarised by Dex as: the metaverse is something that keeps on going and can't be switched off. It's a living world that takes place in real time, which can be shaped by people navigating through that environment. It's something that has no cap on the number of people who can join. But at the same time, it is intensely personal.

Delving deeper into the technology that drives the metaverse, Dex's exploration of the evolution of VR and AR made for fascinating viewing. Beginning with the ways people can enjoy everything from flying X-wings, to unwinding with a spot of fishing – two of Dex's favourite pastimes. But the metaverse can also have a hugely positive impact on society, with its ability to produce empathy.

This was brought to life with Dex's reference to the UN's use of the metaverse to show what the experience of being a refugee in Georgia might be like as you see the world through their eyes. Or how organisations can let people experience what it's like for a woman to feel harassment in the world. Or what it's like for people to gender swap and body swap. This ability to produce empathy is a less explored area of the metaverse that could have a hugely positive impact on society.

But of course, for businesses, there's also the metaverse's functioning economy. Explored in greater depth, as Dex made sense of the shift from an industrial economic model to one that's going to be driven by the metaverse, with countless new forms of wealth creation, underpinned by jobs that are yet to be created. So, how can you tap into this? Unfortunately, our words can't do Dex's insights justice, so you'll simply have to watch the recap video!
Alex Howland: The Metaverse's Role in Creating a Culture with Inclusivity and Sustainability at its Core
Alex Howland is no stranger to the metaverse. As the Co-Founder and President of Virbela, he was creating immersive, virtual experiences long before they became cool. But what really sets Alex and Virbela apart is their venturing into the metaverse from an enterprise and education lens, shaping inclusive, community-driven, more sustainable spaces that enable collaboration in a virtual-first environment.

If we think of our lives today compared to before the pandemic, in a short space of time, we've got to grips with remote working and virtual collaboration. But Alex saw this potential years before while doing his PhD in behavioral and organizational psychology, where his studies revealed how simulated training environments had an almost identical psychological effect on attendees to real-life, in-person sessions.

From here, a spark was lit and Virbela was born (though we're sure it wasn't as straightforward as Alex made it sound). However, what's more fascinating is the contributions Alex and Virbela have made to the metaverse since for enterprises and educational faculties alike – especially from a cultural, inclusivity and sustainability standpoint.

Like Dex, Alex alluded to the metaverse's immense potential for competitive advantage and financial benefits compared to traditional bricks and mortar spaces. But while saving money is great, what jumped out at us even more was Alex's passion about the potential for metaverses to create a sense of community where people can connect on a human level and leaders can access their people by 'walking the virtual floor' – in a way that's not limited to who's in a particular office on any given day.

In the metaverse people can show up how they choose to, creating a culture of inclusion and acceptance, where people can contribute equally.
Christine Armstrong: Considering the Unintended Consequences of the Metaverse
Last but by no means least, Christine Armstrong brought a very human and grounded perspective to the discussion. Her career, unlike Dex and Alex, has not yet required her to delve into the depths of the metaverse. However, as a researcher, she has been speaking to people about the role of the metaverse in changes to the way we work. Christine was passionate about the importance of thinking beyond the technology, questioning the unintended consequences of the metaverse, and pre-empting the pitfalls.

Like Dex, Christine also warned of the metaverse's potential to promote empathy. However, she also warned of the risks created from disconnection in equal measure, with employees in a virtual world potentially being lost among a sea of others – with people feeling remote and even 'unseen' by their employers.

And in a world where employees are increasingly choosing the experience they want, Christine advised caution; the metaverse is exciting and there is immense potential to change the way we interact at work, but there is still more to do to get it right.

The metaverse, it seems, is here to stay and the volume and variety of potential use cases is endless. Our role as leaders is to navigate all the options and determine how and where the metaverse can add value to enrich our lives in the future.

To the Metaverse and Beyond: Finding Our New Reality can certainly help you on that journey. So don't hesitate to watch the recap video. Or for any more information about how Fujitsu has been working with customers in the metaverse for several years, please do get in touch.