400-x-400-fig01.png
400-x-400-fig02.png
400-x-400-fig03.png
400-x-400-product01.png
400-x-400-product02.png
abci.png
bg_firstbg_fiirst.jpg
bg_firstbg_second.jpg
bg_firstsp_keyvisual.jpg
keyvisual.png
kyushu_univ.png
nscc.png
riken.png
a64fx.png
fugaku3c-304.png
a64fx-link.png
regensburg.png
icepp.jpg
shibutalab.jpg
FUJITSU
Supercomputer PRIMEHPC

Cutting-edge supercomputer utilizing technology from the supercomputer Fugaku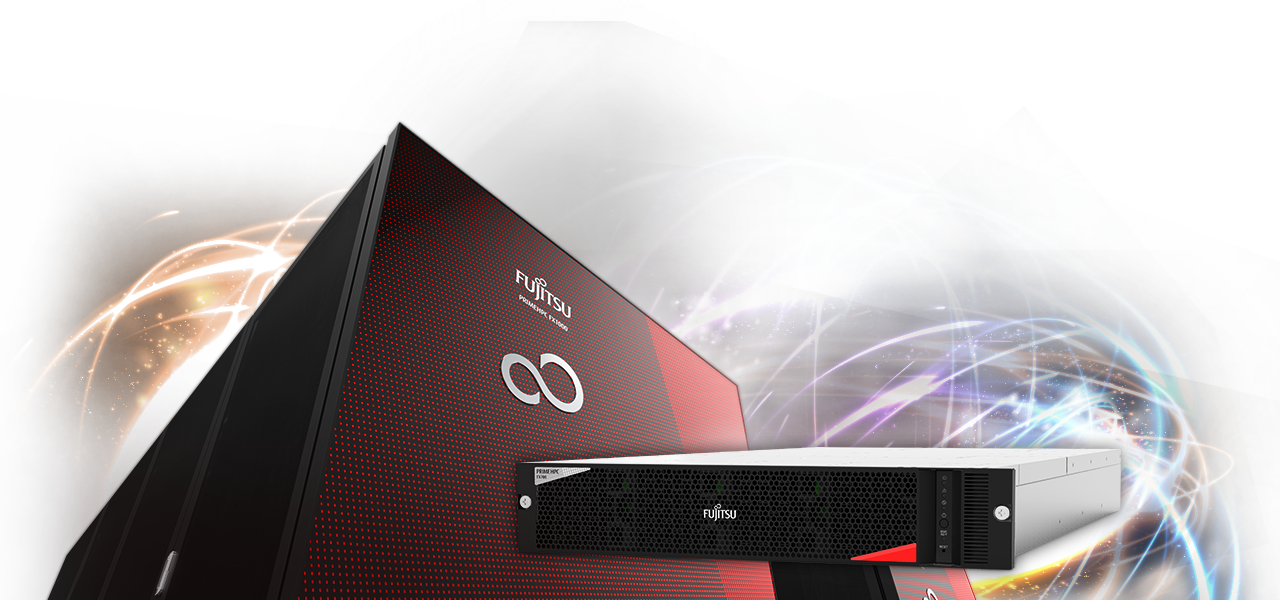 High-performance, highly scalable, highly reliable, superior power-saving supercomputer
The PRIMEHPC series is equipped the same A64FX CPU as in the supercomputer Fugaku developed together with Japan's leading research institute, RIKEN. It achieves extremely high performance for the amount of power it consumes, and features high scalability.
With these models it is possible to achieve a safe, secure society through things like accelerating the development of new medicines, reducing and preventing natural disasters, developing new materials, manufacturing without the need for prototyping, resolving societal issues, progressing cutting-edge research, and boosting business competitiveness.
Product Overview
PRIMEHPC FX1000

PRIMEHPC FX700

High-performance, highly scalable yet very reliable supercomputer for extremely large-scale systems

Thanks to its use of the same technology as the supercomputer Fugaku, this model is capable of providing theoretical peak performance of more than 1.3 Exaflops. Not only does it provide high-performance, high scalability and high reliability, it also realizes the world's greatest levels of ultra-low power consumption. It will open new horizons for research and development involving supercomputers.

An easily deployed model in the PRIMEHPC series based on standard technology and using the same A64FX CPU as the supercomputer Fugaku

A high-performance Arm server featuring the same A64FX CPU as the supercomputer Fugaku.
It can be mounted in conventional 19-inch racks and is air-cooled, making it easy to deploy.

PRIMEHPC FX1000 Features

Same architecture as the supercomputer Fugaku, providing theoretical peak performance of more than 1.3 Exaflops
High-density installation featuring direct water cooling with a cooling ratio of over 90%
Software stack with an extensive usage track record in large-scale systems

PRIMEHPC FX700 Features

Using the same A64FX CPU as the supercomputer Fugaku
Small form factor and air cooling enabling easy deployment
HPC software support
Supercomputer Processor Accelerating Digital Transformation
 The A64FX processor developed by Fujitsu becomes the heart of supercomputers that can perform quick simulations and analyze large data sets. Supercomputers with this processor perform at a high level, are highly reliable and offer a strong performance vs. power ratio.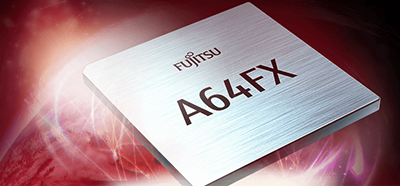 Fields of Application for PRIMEHPC
New medicine, new materials development

Performing more calculations with high accuracy in simulations on materials for medicines, we can expect exciting advances to be made in the field of new medicine development.

Disaster prevention and mitigation

We can expect greater logical disaster prevention planning thanks to advances in multi-disaster and city-scale combined disaster prediction that are now possible.

Establish prototype-less manufacturing

We can look forward to developments using high-level simulations in the implementation of never-before-seen technology for new cars and other manufactured goods.