Fujitsu has research locations around the world, and we are successfully delivering digital innovation for both our customers and society.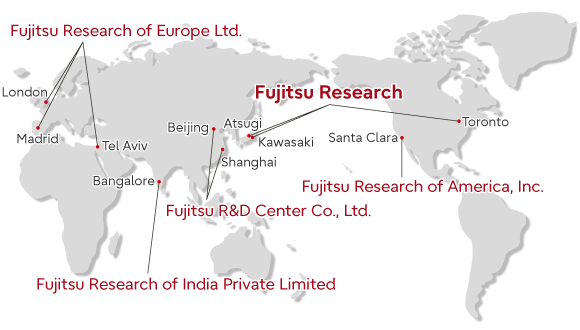 Fujitsu Research
Japan
4-1-1 Kamikodanaka, Nakahara-ku, Kawasaki, Kanagawa 211-8588, Japan
Kawasaki Main Office
Map
Japan・Atsugi
10-1 Morinosato-Wakamiya, Atsugi, Kanagawa 243-0197, Japan
TEL. +81-46-250-8200
Map
Access
Canada・Toronto
Fujitsu Co-Creation Research Laboratory at the University of Toronto
Fujitsu Consulting (Canada) Inc.
7101, avenue du Parc, bureau 102 Montréal QC H3N 1X9
TEL. +1-514-877-3300
Map
Fujitsu Research of America, Inc.
America・Sunnyvale
350 Cobalt Way, Sunnyvale, CA 94085, USA
TEL. +1-408-530-4500
Map
Fujitsu R&D Center Co., Ltd.ENCN
China・Beijing
IFC Tower A 8F, No.8 Jianguomenwai Ave, Chaoyang District, Beijing 100022, P.R. China
TEL. +86-10-5969-1000
Map
China・Shanghai
601Unit, Yongda International Tower, 2277 Longyang Road,Pudong New Area, Shanghai, P.R. China
TEL. +86-21-6335-0606
Map
Fujitsu Research of Europe Ltd.
Spain・Madrid
Camino Cerro de los Gamos, 1-28224 Pozuelo de Alarcon, Madrid, Spain
Tel: +34-91-784-9000
Map
Fujitsu Research of India Private Limited
India・Bangalore
6th Floor, Building No.4, 77 Town Center, No. 36/2 Yamalur Village, Varthur Hobli, Old Airport Road, Bangalore KA 560037 India
Map