<!-Subtext (optional)->
Highly expandable new-generation server for typical SME business requirements
Fujitsu PRIMERGY TX1330 M5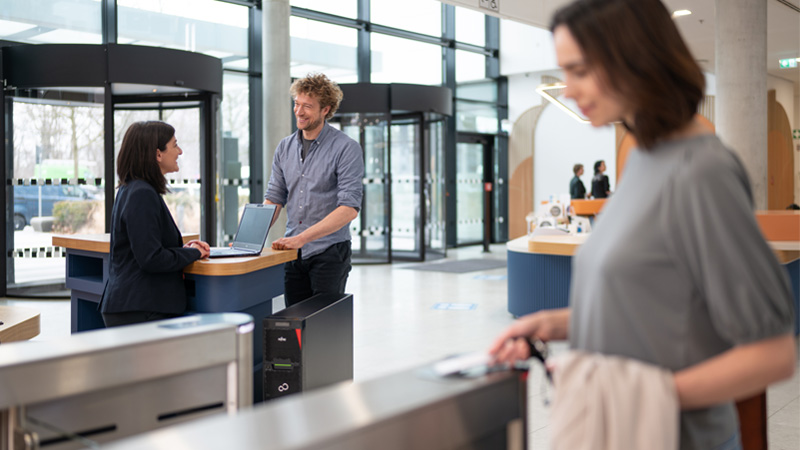 Fujitsu
Fields the latest Intel® Xeon® E-2300 processor family plus 3,200 MT/s, up to 128GB, DDR4 RAM

Ideal for standard small & medium business workloads (infrastructure, collaborative, industry apps) plus storage demanding deployments

High capacity, secure storage – up to 24x storage devices with a range of configurations

Future ready - 4x PCIe Gen 4/3 slots, a range of advanced options, OS choices and a rack upgrade kit
| | | | |
| --- | --- | --- | --- |
| | | | |
| HIGHLY EXPANDABLE AND PERFORMANCE ORIENTED | TOP OF THE LINE UPGRADEABILITY | KEEP PACE WITH EXPANDING USAGE SCENARIOS | EASY MANAGEMENT AND SERVICEABILITY |
| Powerful compute and memory for excellent performance across both individual and virtualized, standard business workloads. Furthermore, the design is ideal for securely managing large datasets with its substantial storage (24x 2.5-inch, or 12x 3.5-inch devices) advanced RAID, dual Gigabit LAN (plus advanced options) and security features (3-way lock, TPM 2.0). | Grow with the business with 4x PCIe Gen4/3 slots (2x Gen4) for upgrades (RAID, networking and graphics) while a rack upgrade kit enables scale-out deployment. M.2, dual MicroSD devices enable effective software boot, while new high data-rate USB 3.2 Gen2 USB ports enhance connectivity. | New high efficiency, redundant power supplies offer enhanced reliability and lower energy expenditure despite heavy usage scenarios. Cool-safe ® Advanced Thermal Design technology allows for an expanded range of operation and reduced noise, enabling deployment in public areas. | The iRMC S6 and Fujitsu Infrastructure Manager (ISM) suite enable efficient and simplified server and infrastructure management, boosting IT administrator productivity. The design also has hot-plug components and quick access of critical components to enable easy serviceability. |
HIGHLY EXPANDABLE AND PERFORMANCE ORIENTED

Powerful compute and memory for excellent performance across both individual and virtualized, standard business workloads. Furthermore, the design is ideal for securely managing large datasets with its substantial storage (24x 2.5-inch, or 12x 3.5-inch devices) advanced RAID, dual Gigabit LAN (plus advanced options) and security features (3-way lock, TPM 2.0).


TOP OF THE LINE UPGRADEABILITY

Grow with the business with 4x PCIe Gen4/3 slots (2x Gen4) for upgrades (RAID, networking and graphics) while a rack upgrade kit enables scale-out deployment. M.2, dual MicroSD devices enable effective software boot, while new high data-rate USB 3.2 Gen2 USB ports enhance connectivity.


KEEP PACE WITH EXPANDING USAGE SCENARIOS

New high efficiency, redundant power supplies offer enhanced reliability and lower energy expenditure despite heavy usage scenarios. Cool-safe ® Advanced Thermal Design technology allows for an expanded range of operation and reduced noise, enabling deployment in public areas.


EASY MANAGEMENT AND SERVICEABILITY

The iRMC S6 and Fujitsu Infrastructure Manager (ISM) suite enable efficient and simplified server and infrastructure management, boosting IT administrator productivity. The design also has hot-plug components and quick access of critical components to enable easy serviceability.
Tech Specs
Chipset
Intel® C256

Mainboard type
D3931

Processor
Intel® Xeon® E-2300 processor family, Intel® Pentium® processor

Memory
8 GB - 128 GB, UDIMM (DDR4)

Memory slots
4

Memory protection
ECC

Drives (optional)
LTO7HH Ultrium, 300 MB/s
DVD-ROM, half height, SATA I
DVD Super Multi, half height, SATA I
DVD supermulti, ultraslim, SATA I
Blu-ray Disc™ Triple Writer, ultraslim, SATA I
RDX Drive, 100 MB/s, 320 GB, 500 GB, 1 TB, 2 TB, USB 3.0
LTO7HH Ultrium, 300 MB/s, 2,500 GB, SAS 6Gb/s
LTO7HH Ultrium, 300 MB/s, SAS 6Gb/s

PCI-Express 3.0 x4
2 x Full height

PCI-Express 4.0 x8
2 x Full height (2x PCIe 4.0 x8 slots can be switched to 1x PCIe 4.0 x16)

Accessible drive bays
3 x 5.25/1.6-inch
Accessible drive bays are not available in case of max. storage drive configuration
3 x 5.25/1.6-inch for 1 x backup drive + 1 x ODD

Optional accessible drives
all possible options described in relevant system configurator

Storage drive bays
3.5-inch or 2.5-inch hot-plug SAS/SATA or 2.5-inch NVMe drives
Max. 12x 3.5-inch or 24x 2.5-inch
Max. 4x 3.5-inch or 8x 2.5-inch

LAN Controller
Intel® i210 onboard
2 x 1 Gbit/s Ethernet (RJ45)

USB ports
6 (Front: 1x USB 3.2 Gen2x2(20 Gbps) Type C, 1x USB 3.2 Gen1x1(5 Gbps) / Rear:, 2x USB 3.2 Gen2x1(10 Gbps) / Internal: 2x USB 3.2 Gen1x1(5 Gbps))

Graphics
2 (1x Display Port (Integrated processor graphics) / 1x VGA (15-pin) / can be used exclusively)

Management LAN (RJ45)
1 x dedicated management LAN port for iRMC S6 (10/100/1000 Mbit/s), Management LAN traffic can be switched to shared onboard Gbit LAN port

Trusted Platform Module (TPM)
TPM 2.0 module (option)

Power supply configuration
1 x standard, 1 x hot-plug, 2 x hot-plug redundant (depending on
Model)

Active power (max. configuration)
1,088 W

Weight
up to 26.4 kg

Rack (W x D x H)
482.6 x 495.3 x 174.7 mm

Floor-stand (W x D x H)
177.2 x 521.7 x 456.2 mm

DC Infrastructure Management
Infrastructure Manager (ISM)
Essential Edition
Advanced Edition

Operating system
http://docs.ts.fujitsu.com/dl.aspx?id=d4ebd846-aa0c-478b-8f58-4cfbf3230473

Warranty period
1 year

Warranty type
Onsite warranty

Service Lifecycle
at least 5 years after shipment, for details see https://support.ts.fujitsu.com/

Service Weblink
http://www.fujitsu.com/fts/products/product-support-services/

Service Weblink
http://www.fujitsu.com/fts/products/product-support-services/

| | |
| --- | --- |
| Recommended Service | 24x7 Onsite Service with 4h Onsite Response Time |
| | |
| --- | --- |
| Recommended Service | 24x7 Onsite Service with 4h Onsite Response Time |
Resources
Datasheets
Technical Details
Brochures & Flyers
Whitepaper
Components
| | |
| --- | --- |
| | The Fujitsu RAID Controller PRAID EP520i with 2GB cache and 8x12Gbit/s SAS ports improves performance for storage intensive workloads such as databases and sets new speed and data security standards for internal storage drives. The new PRAID EP520i supports up to 8 SAS/SATA drives or up to 2 NVMe drives. NVMe is an interface with lower overhead, lower latency and drastically increased bandwidth and IOP's. The NVMe drive support will be available at a later date, but the SAS and SATA drives will benefit from the improved performance and higher cache size.The RAID stack is based on the Broadcom MegaRAID® and offers high data throughput, a comprehensive fault tolerance function and user-friendly management options. |
| | The Fujitsu RAID Controller PRAID EP540i with 4GB cache and16x12Gbit/s SAS ports improves performance for storage intensive workloads such as databases and sets new speed and data security standards for internal storage drives. The new PRAID EP540i supports up to 16 SAS/SATA drives, up to 4 NVMe PCIe drives or a mixture of SAS/SATA and NVMe drives. NVMe is an interface with lower overhead, lower latency and drastically increased bandwidth and IOP's. The RAID stack is based on the Broadcom MegaRAID® and offers high data throughput, a comprehensive fault tolerance function and user-friendly management options. Moreover, the Controller management is integrated seamlessly into the Fujitsu server management concept. All controller functions are supported by the Fujitsu ServerView RAID Manager. The PRAID EP540i is designed for 3, 6 and 12Gbit/s SAS as well as for 3 and 6Gbit/s SATA drives. Regardless of the drive speed, it delivers significant performance improvements in both read and write applications. |
| | The enhanced Gen5 16 Gb/s Fibre Channel Host Bus Adapters (HBA) QLE2690 and QLE2692 for the PRIMERGY & PRIMEQUEST servers are ideal for virtualized environments and transaction intensive applications. The adapters support the latest PCIe 3.0 standard for lower cooling and power costs. In addition, QLogic StorFusion technology delivers streamlined provisioning, guaranteed quality of service (QoS), and improved resiliency while addressing the needs of IT organizations that require reliability, integrated management, and guaranteed network performance. |
| | The Emulex Gen 6 16 Gb Fibre Channel (FC) Host Bus Adapters (HBA) by Broadcom for PRIMERGY and PRIMEQUEST server systems are optimal Fibre Channel HBAs for virtualized, cloud and mission critical deployments. The PFC EP Emulex Gen 6 Fibre Channel HBAs LPe31000/31002 by Broadcom take performance to a new level with PCIe 3.0 support, data integrity capabilities and cloud scale reliability, and ease of use. Organizations looking to improve performance, protect against data corruption, and simplify operations of FC SANs in cloud or high performance environments can benefit from deploying the PFC EP LPe31000/31002. |