Cyber
For CSOs and CIOs it can feel like a constant race to keep ahead of the bad guys.
As the UK Office of Cyber Security and Information Assurance (UKOCSIA) states, "British businesses earn £1 in every £5 from the internet. Yet 93% of large corporations and 87% of small businesses reported a cyber breach in the past year."
The public sector is not immune. According to the UKOCSIA, on average over 33,000 malicious emails are blocked at the gateway to the Government Secure Intranet (GSI) every month.
Building cyber security into every IT asset – from laptops to databases to web servers – is critical. Sensible organisations are ignoring the old 'risk and recover' approach to cyber crime. Instead, they are using proactive ways to address cyber threats before they can disrupt operations.
But as cyber crimes become more sophisticated, one question remains.
Is your organisation taking them seriously?
Turning the table on cyber criminals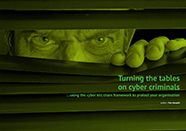 The latest white paper from Bloor, developed in conjunction with Proofpoint & Fujitsu, introduces the 'Kill Chain' concept, a framework borrowed from the military to describe the structure of an attack. The cyber kill chain concept is based on a lifecycle approach that can help companies understand how criminals operate and where their weaknesses lie, enabling proactive mitigation against attacks. People, process and technology are the requisite ingredients to disrupt the kill chain. The sooner that an attack can be identified, the better an organisation can prevent serious harm to its operations, customers and reputation. Every phase of the kill chain offers an opportunity to upset an attack and the paper describes the options available for each stage of the kill chain.
Download the white paper

Understand the impact of cyber crime on your business. Find out the threats in your industry. Access collective knowledge on the ongoing need for cyber security. Get up-to-date information on cyber crime from Fujitsu and its expert partners:

Top of Page