Highlight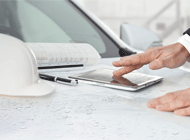 Semi-Ruggedized
With a vast variety of professional features and being water- and dustproof, the semi-ruggedized tablet PC is perfect for business applications in the field. The tablet can be exposed to various environmental conditions such as rain, humidity and dust without the risk of any component damage. This guarantees absolute business continuity since the tablet itself as well as your valuable data remain protected no matter where you are working from.
Data Security
Protect your most valuable asset - your sensitive company data. With features like the fingerprint sensor or integration into company's Virtual Desktop Infrastructure (VDI), you get secure access to your everyday business applications and company intranet. A ready-to-use-software guarantees the secure management of your corporate exchange email, calendar and contacts so you never have to worry about data leakage.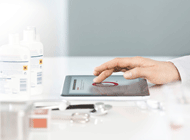 Touch
Enjoy the benefits of operating on the touchscreen with more than only one finger at the same time. Double-tap, scroll, zoom, rotate – with your fingers directly on the display.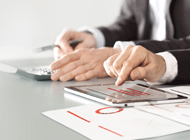 Connectivity
You'll always be connected to your work through the internet no matter where you are with embedded mobile broadband. You'll be able to work more efficiently because you'll never have to hunt for a hotspot again. With embedded 4G/LTE and GPS you won't lack for a way to connect with the world and stay on track.