Society in 2030
Digitalized Future Society
New digital technologies have emerged around us. These technologies have been accepted by society and they have progressively changed society. 6G is expected to be realized in 2030 and evolving technologies will bring further change to society in various aspects of life.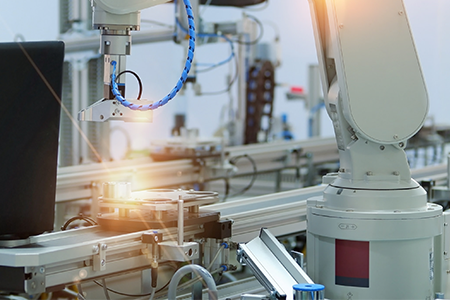 For example, the widespread use of sensors and robots at industrial sites such as factories and farms will boost work and production efficiency. The automation of work in the factory will be driven by robots and other devices. In particular, the improved performance of sensor will push forward the automation of work that are currently relied on skilled workers.
Automation can also be seen in the agricultural sector. By using farm robots and drones, the application of pesticides and fertilizers can be automated. The increasing use of satellite imagery, cameras and sensors will make it easier to monitor and analyze the growth of crop to adjust both the timing of work processes and the yield.
Traveling will be much more pleasant experience in 2030; everyone can get out and about more easily.
The automobile as a means of transportation will also evolve further, with various devices installed on the road and in vehicles sharing real-time information about surrounding environment each other. This will facilitate the control of driving speed and other factors, which will not only resolve traffic congestion, but also greatly improve the safety of driver and pedestrian.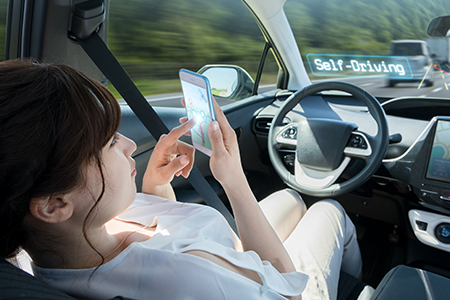 We describe this prosperous society of 2030 designed by the advanced technologies as 'the Digitalized Future Society.' It is a society where technology will drive innovation, diverse values will be underpinned by trust, and everyone will be advancing toward their dreams. The more technologically adept people become, the more they benefit from the technologies and the more it drives technological evolution.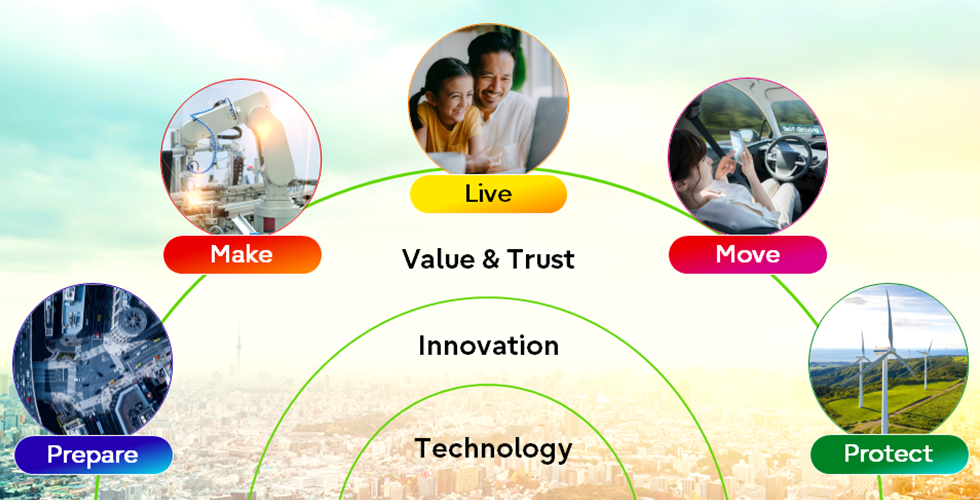 Future ICT network architecture
in the Digitalized Future Society of 2030
ICT infrastructure for future network
The services in the Digitalized Future Society require higher quality, lower cost and lower power consumption than ever before. Application, data and ICT infrastructure for delivering services in the Digitalized Future Society is distributed over the world. For example, the services may be provided with on-premises cloud of enterprises and local governments, with clouds in large-scale data centers (central cloud) or the WAN (Wide Area Network)'s edge clouds.
In the Digitalized Future Society, it will be important to use such ubiquitous ICT resources effectively to provide high-quality and energy-efficient services at low cost. For effective use of ICT resources, the following items need to be required.
Load reduction by sharing processing among clouds
Flexible system configuration and traffic changes based on network usage
Autonomous control that automatically changes configuration as circumstances change
Network architecture of 6G
Conventional network architecture was built on hardware appliances, but the enhancement of softwarization and virtualizion of network functions will lead to an open and multi-vendor network on general-purpose hardware. In such a trend, three technologies will be important in the network architecture of the 6G era.

Disaggregation technology
Devices and functions are disaggregated into several components and interfaces are open for realizing the interoperability. It will enable flexible reconfiguration with components from different vendors.
Orchestration technology
Orchestration is the technology which realizes dynamic deployment of network functions and IT system functions by linking and using geographically dispersed ICT resources at center cloud, edge cloud, and on-premises cloud. It leads to efficient operations by both improving quality and reducing costs.
Green technology
It is aimed to reduce the environmental impact through not only miniaturized and energy-efficient hardware, but also the reduction of power consumption of overall network power consumption.
Direction of Fujitsu's network technology
Fujitsu is focusing on the three areas of network technology, "Open & Disaggregation", "Intelligent network" and "Green technology" to realize network in the 6G era.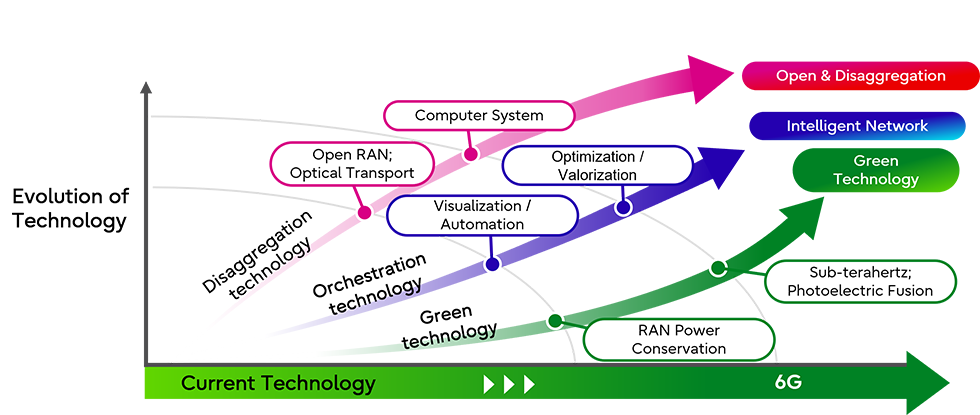 Open & Disaggregation
To ensure that disaggregated network functions can be optimally available end-to-end, the interfaces between the respective functions must be open. Besides, each disaggregated network function need to be software-defined and be implemented on a virtualization platform. Fujitsu is developing disaggregated computing as one of the initiatives for "Open & Disaggregation".
Intelligent network
As "Open & Disaggregation" makes it easier to manage end-to-end network operations across multiple vendors and geographies, Fujitsu is focusing on the intelligent operation management which can be realized through collecting network information, such as the usage status of individual devices and the quality of service, and automatically optimizing the entire network by AI and other technologies.
Green technology
To achieve energy efficiency, green technology is applied to several network devices. RU with high-frequency millimeter-wave and sub-terahertz technology realizes both high-speed data transfer and power-saving. Photoelectric fusion technology is applied to optical transmission area and computing area to achieve miniaturization and low power consumption. Besides, intelligent operations management which is mentioned above also reduces power consumption for the entire network.
Network in the 6G era that support the Digital Future Society needs to realize low power consumption, flexibility, and high reliability by using the evolving technologies such as of "Open & Disaggregation" "Intelligent network" and "Green technology".
Fujitsu committed itself to contributing to the realization of a digital future society by continuously developing these technologies and providing them to customers around the world.
R&D activities for 6G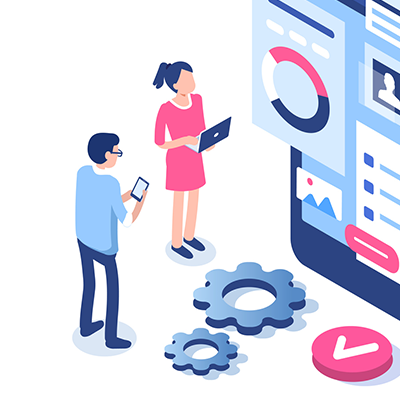 Open & Disaggregation
Fujitsu works on the disaggregation of network functions on software and the interface openness between functions.
Intelligent network
Fujitsu works on integrated network operation management which includes the monitoring and control of the network and IT devices.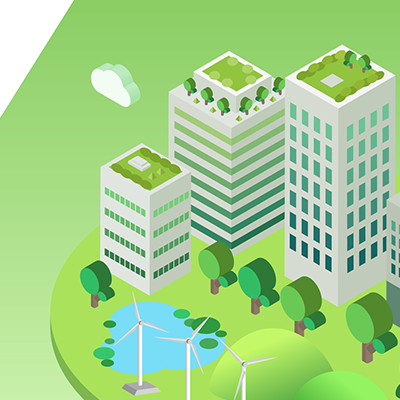 Green technology
Fujitsu works on energy-efficient devices and infrastructure power savings through network-wide operation optimization.
Movie
Our network vision: connected and sustainable future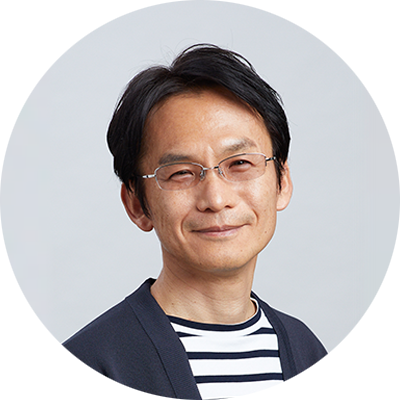 I would like to contribute to solving the social issue of "realizing a society that promotes industrial creation and technological innovation by improving access to all kinds of information."
Kazunori Sakumoto
Global Fujitsu Distinguished Engineer
Video message from engineer