5G Networks
Hyper-connected Innovation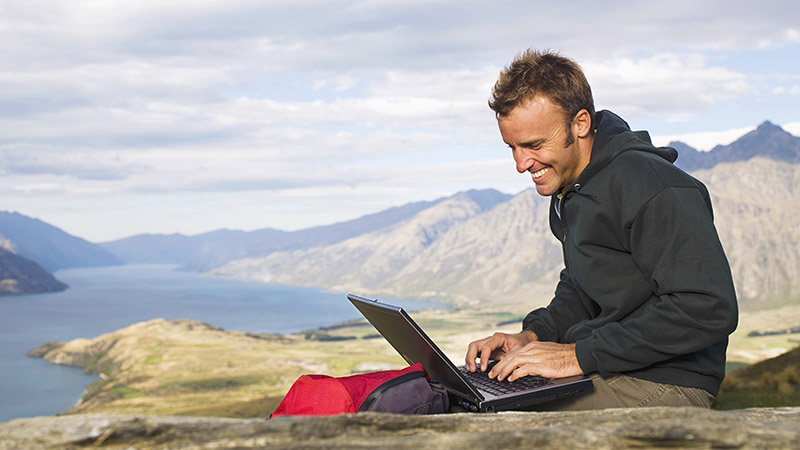 Open, Integrated 5G Network Solutions
5G networks are delivering anytime, anywhere hyper-connectivity that will revolutionize economies and societies. Reliable, high-capacity, top-quality mobile data service is a key driver for innovation across many industries, especially the automotive, transportation, manufacturing, energy, utilities and healthcare sectors. The ideal 5G network employs an open architecture that supports flexible deployment options and faster innovation, helping mobile network operators deliver on the promise of 5G.
Solutions for Public and Private 5G Networks
Fujitsu's open, integrated 5G network solutions meet connectivity needs for Public 5G and Private 5G networks. Our end-to-end portfolio includes O-RAN compliant radios; virtualized baseband (CU/DU); network automation software; systems integration; optical and packet transport; and maintenance and support programs.
We customize every solution to suit the network needs and business goals of each customer, and can scale to any size deployment. Our secure 5G supply chain solution provides the logistics and fulfillment expertise needed to ensure swift, smooth execution to a rigorous deployment plan that gets projects done efficiently, cost-effectively, and securely.
The Fujitsu 5G Network Solution
Software-Defined

Virtualized RAN that can scale and adapt to match any public or private 5G deployment
Service-aware, cross-domain control and orchestration
Simple operation and service creation with necessary SLA per use case
Cloud-native IoT

Open

Open hardware interfaces and software eliminate vendor lock-in
Can be customized for any operational environment
Rapidly enables new network digital transformation use cases
Self-supported and Fujitsu-supported options

Ecosystem

Multivendor selection offers best-of-breed hardware and software
End-to-end solution, coordinated from inception to completion through a single, certified project manager
Freedom to mix and match components according to use case
Support from Fujitsu network integration experts
Open, sustainable network solutions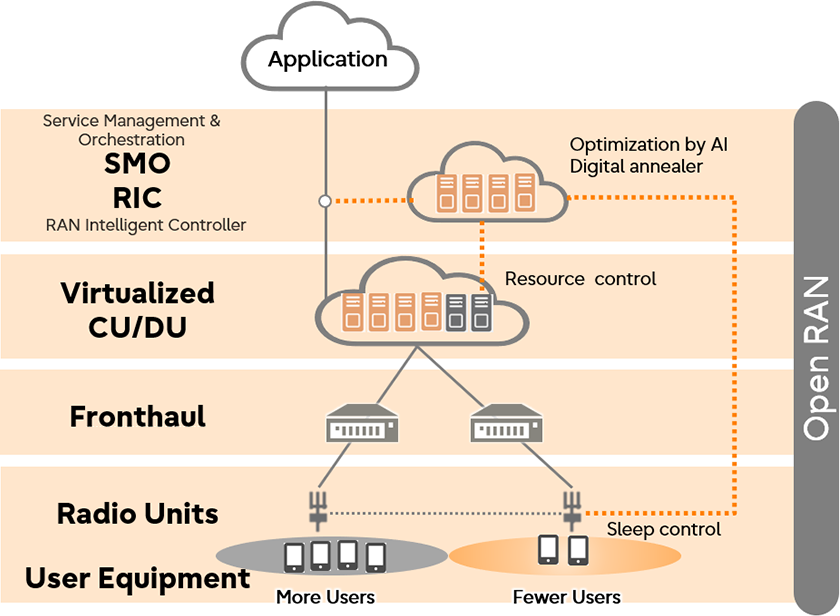 Service Management & Orchestration (SMO)
Virtuora® Service Management and Orchestration (SMO) helps unwind complexity through lifecycle service orchestration, control, and management of RAN networks.
How does Fujitsu contribute to a sustainable network?
With Virtuora SMO's RAN intelligent control powered by Artificial Intelligence (AI), Fujitsu applications perform RU and vCU/DU sleep control depending on traffic and user quality conditions to reduce power consumption.
vCU/DU
Fujitsu virtualized CU/DU supports 5G SA and conforms to O-RAN specifications, while leveraging proprietary technologies to deliver high performance with low energy consumption – a key challenge of conventional vCU/DU.
How does Fujitsu contribute to a sustainable network?
Fujitsu is committed to reducing overall system CO2 emissions by 50% or more compared to conventional base station systems by 2025, while offering users high-quality, stable communications.
RU
Fujitsu has a long history of developing innovative network hardware to operators around the world, driving Open RAN ecosystem and technology adoption. Our highly efficient and reliable RUs deliver higher performance with less power consumption.
How does Fujitsu contribute to a sustainable network?
Our RUs support advanced sleep mode that automatically turns PA (power amplifier) on and off according to the traffic, which ultimately leads to the reduction in power consumption. Since RUs consume particularly large amounts of power within a radio access network, the reduction in power consumption contributes significantly to sustainability transformation.
White papers
AI/ML White paper
This white paper explains new value that is delivered by combining radio access network (RAN) technology and artificial intelligence (AI). The AI plays an important role in controlling RAN resources to provide environment-friendly and operationally-efficient networks for 5G and beyond 5G/6G. Fujitsu continues to contribute to the development of sustainable society by delivering innovative network technologies worldwide.
O-RAN security White paper
This white paper describes the latest efforts on O-RAN security from the O-RAN ALLIANCE Security Focus Group (SFG) and introduces Fujitsu's approach.
As a DX company, Fujitsu continues to contribute to the development of future society by providing security technologies to protect the safety of the digital world along with the latest network technologies.