The network for high-capacity communication known as 5G (the fifth generation of cellular communication system) has brought about new experiences such as high-resolution livestreaming and the transition to smart homes with the evolution of IoT. With 5G making high-volume communications high-speed and low-latency, the realization of a smart society has just arrived, yet efforts toward a 6G society have already begun. Recently, Fujitsu announced a partnership with NTT (Nippon Telegraph and Telephone Corporation) to make 6G a reality. But what exactly does it mean to popularize 6G? How would it change our lives? We asked our IOWN/6G Platform Development Office Director Shuji Miyata (below: Miyata) about what Fujitsu is doing to bring 6G into society.
Contents
Partnering with a Communications Leader to Construct the Foundation for 6G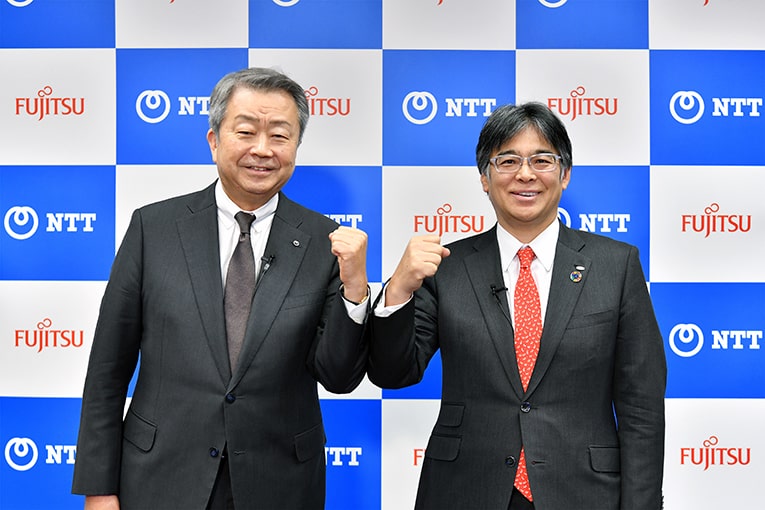 How did the partnership between Fujitsu and NTT form? Here we discuss how the two companies teamed up.
MIYATA: We partnered with NTT to build the infrastructure needed to realize a 6G society. Put that way, it's a little difficult to understand. To comprehend what 6G is, we must first touch upon the 5G that's currently proliferating. As you know, it's faster than 2G, 3G, and 4G wireless communication and is more advanced with a higher capacity. Moreover, the fifth generation has brought advancements in communication, as exemplified by autonomous driving and telesurgery, but has also impacted surrounding services and digital infrastructure to create a richer, more convenient society. The communication technology that will further a digital society such as this is 6G. For the realization of a 6G society, infrastructure needs to be advanced in a more open way, which led Fujitsu, with our vision for a richer society and forward-thinking telecommunications technology, to partner with NTT, the leader in communications who proposed the detailed IOWN initiative (1).
Will the World Become Like a Movie with 6G?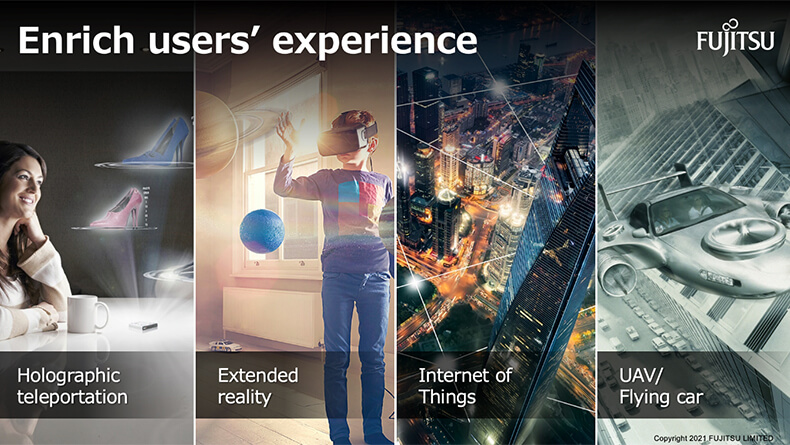 How will the spread of 6G change society? We asked for a vision of the future, right down to an example of a change at the consumer level.
MIYATA: Initiatives toward 6G have only just begun so it's difficult to predict what the future will be like, but I'd like to give my thoughts on what could be in store for us. First, holograms can be thought of as something that spreads things that we can see and things that feel like air. There are many people who would probably envision a space movie, but 3-D images would appear, move, speak, and even communicate. I believe we could create a more dramatically real world than with 5G. Secondly, avatars could create possibilities that will have a major impact on our work and lifestyles. The application of avatars which are part of us in networks of various services have already taken root, but I believe avatars will advance even further in a 6G society. Avatars will learn a user's knowledge and knowhow and operate independently. With 6G, the avatar will take on stylized work, translation, and business networking. These are merely examples, but I think 6G networks will prove to be very powerful for making transmission of hologram data and fast avatars possible.
Solving Society's Problems Through the Spread of 6G
Many people wish for a more convenient and comfortable 6G society. However, while 5G still has not been widely established, why move on to 6G? What does it mean to realize a 6G society?
MIYATA: The realization of a 6G society does not begin and end with the pursuit of convenience. The innovation from 5G to 6G continues without interruption, but you could say that 6G is different from 5G due to its capability to substantially resolve social issues with its improvements to convenience.
The realization of the popularization of holograms and fast avatars, as I mentioned as examples earlier, will greatly change the way that we work. Remote work will become smoother than ever and choosing where to work will no longer been an issue. It will be a world where communication will transgress space and time and experiences will be possible. In other words, ideas and knowledge can gather in a world where the limits of location, age, language, etc. can be crossed. If that is possible, then we can expect to solve more complicated social issues. By concentrating the world's knowledge, a world where everyone can live safely and securely can be realized. This is the 6G society we are aiming for.
Additionally, massive amounts of energy will be required for 6G to be even faster and have a higher capacity of data communication than 5G. Through our technological innovations, we aim to greatly limit the whole infrastructure's electricity consumption. Specifically, as in the IOWN initiative that NTT proposed with us, we have made it our goal to only consume 1/100 of electricity needed.
A 6G Society by 2030
Fujitsu is advancing toward a 6G society with NTT. What does Fujitsu envision for making this society a reality?
MIYATA: With NTT's cooperation, we want to create a foundation for realizing a 6G society. However, in order for 6G to actually benefit society at the consumer level, not just the foundation for infrastructure, but several new services must also be created. We've made it our goal to set up the platform technology for actualizing a 6G society, and this platform introduces innovative things like advanced computing technology, etc. We are aiming for an open approach so our many partners can participate. In 2030, several services will be born, and we are striving to realize a society where we can respond to the several issues that will arise in such a diverse and fast-changing society.
Though it may seem far away, we must take action now to reach our SDGs by 2030. We believe the partnership between Fujitsu and NTT is a great step forward toward a sustainable and futuristic digital society.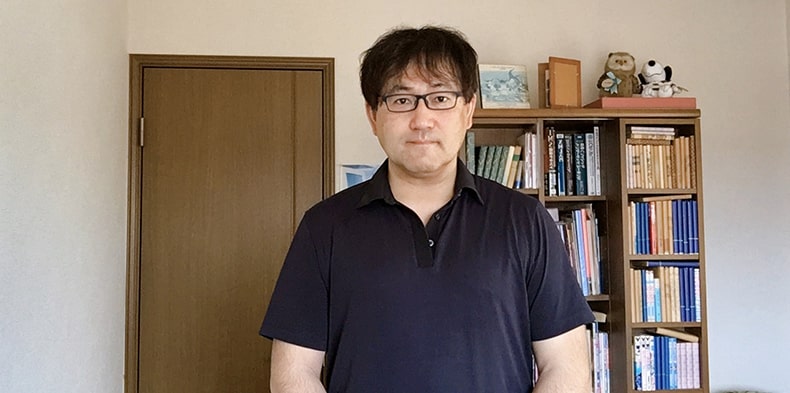 [1]

IOWN initiative

IOWN stands for Innovative Optical and Wireless Network and a concept proposed by NTT for networks and information processing infrastructure. Since March 2020, Fujitsu has been a Sponsor Member of the IOWN Global Forum (Established on Jan 2020), an international forum promoted by companies and organizations supporting the IOWN vision and joined the Board of Directors in April 2021.

https://www.rd.ntt/iown/ https://iowngf.org/
Related Articles