FUJITSU Software ServerView® Suite
Your key to efficient server operation
Automation of routine management tasks will increase efficiency and flexibility of your IT and free IT staff for new tasks supporting the digital transformation. Fujitsu ServerView Suite provides you with a well proven and comprehensive solution set to manage your servers throughout their lifecycle – from single systems up to large server pools.
Consolidate ServerView functions with the embedded Lifecycle Manager for more simplified, integrated and automated server management processes.
Increase data security with the help of ServerView Agentless Service and use new mobile solutions to get management information even when you are away from your desk.
Integrate your Fujitsu servers with ServerView Integration Packs easily in enterprise management solutions like Microsoft System Center, VMware vCenter, CA Technologies or Nagios and ensure investment protection while reducing administration efforts.
Boost efficiency of IT operations in heterogeneous data centers with comprehensive FUJITSU Data Center Management and Automation (DCMA) solutions integrated with ServerView.




Deploy:

Comply with any set-up scenario. reliable server deployment.
ServerView® Installation Manager
is used for safe configuration and for the unattended installation of operating system and management software. For all PRIMERGY servers and for free.

ServerView® Scripting Toolkit
an easy-to-use collection of utilities and sample scripts for individual script-based server configuration and installation. It helps to ease and automate the configuration and installation process of PRIMERGY servers in scripting environment. For all PRIMERGY servers and for free.
Control:

Centralized, consistently monitored and managed. Physical or virtual servers and storage.
ServerView® Operations Manager
ServerView Suite`s central management component consolidates and integrates all management tasks in one easy-to-use web-based tool. It monitors and analyzes physical and virtual servers and the associated infrastructure components as storage extension units in the network.

ServerView® Event Manager
Provides fast, reliable and detailed information about critical server states or failures at the central management station. Moreover, the highly flexible alarm forwarding to various recipients, such as pop up, email, mobile or pager, ensures support anytime and anywhere.

ServerView® Performance Manager
monitors the utilization of server resources. It enables long-term monitoring and a utilization analysis for specific server components; it helps to detect resource bottlenecks and to guarantee service levels.
ServerView® Threshold Manager
provides accurate warnings about the utilization limits for physical or virtual server resources being reached, thus helping to easily identify current performance issues and to ensure continuous service delivery.

ServerView® Power Manager
ServerView® Power Manager improves the efficiency of IT operations and generates high energy savings by extensively monitoring and managing the power consumption of PRIMERGY servers. All the functions can be accessed either via the Operations Manager or the PRIMERGY's onboard management.
ServerView® RAID Manager
provides uniform administration and monitoring of host-based hardware and software RAID solutions that are provided by different vendors for PRIMERGY platforms.

ServerView® Storage Manager
Is a uniform Storage Management Service based on SMI-S, the storage industry's standard from SNIA. It hides the complexity of storage vendor-specific interfaces and storage connections and provides precise information when monitoring storage devices. Moreover, it has additional management functions covering storage provisioning, management of data replication and statistical information.
Video: Comprehensive remote control of FUJITSU PRIMERGY and PRIMEQUEST servers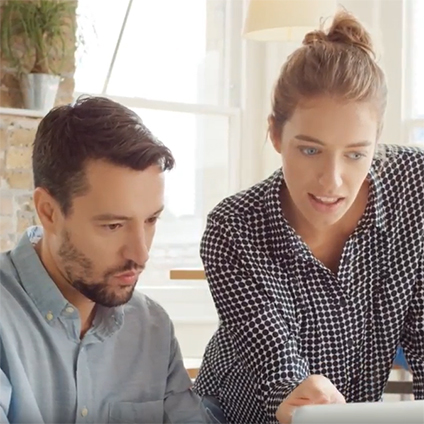 Video: Comprehensive remote control of FUJITSU PRIMERGY and PRIMEQUEST servers
Maintain:

Powerful tools and functions to prevent downtime, to recover more quickly and to save costs.
ServerView® Remote Management
enables fully remote control and analysis of PRIMERGY servers irrespective of their system status and location. In the event of a failure administrators or service providers can access the server in order to run failure diagnostics and maintenance tasks on a remote basis and in a highly efficient manner.

ServerView® embedded Lifecycle Management (eLCM)
greatly supports routine management tasks. eLCM consolidates and enhances ServerView functions directly available ("embedded") within the server – without the need of external media like USB / CD / DVD. System administrators benefit from simplified, highly integrated and automated server management processes.
ServerView® Update Manager Express
is used to carry out updates locally on the server via bootable media. See exactly how the servers are equipped and perform required BIOS, firmware or driver updates by simply pressing a button. ServerView® Update Manager provides fully automated distribution and installation of updates in the network.
ServerView® Asset Manager
creates and compares server inventory snapshots and easily identifies server configuration changes and possible problems. It increases uptime and helps to run systems more securely.

ServerView® PrimeCollect
enables the end-user to collect and store information about the installed hardware and software. In the event of failures this speeds up the analysis carried out by Fujitsu technical support and drastically reduces the recovery time involved.
ServerView® Online Diagnostics
it provides preventive component stress tests for managed servers so that potential failures can be determined at an early stage.

Customer Self Service (CSS)
for PRIMERGY servers greatly helps to reduce the service effort and time involved. Customers can easily identify faulty components, order these components online and replace the components by themselves. The PRIMERGY servers are equipped as standard with the corresponding LEDs on the server's control panel and on the rear helping so that the CSS components can be determined quickly. In addition, more detailed and convenient local diagnostics are available via the supplementary components ServerView® Local Service Panel and ServerView® Local Service Display.
ServerView® Local Service Panel
is used to easily determine a faulty component locally on the front of the server. In addition to the server's LEDs it clearly indicates the category of the defective component and whether self replacement is possible

ServerView® Local Service Display is used to determine easily the server's status on the front of the server via status messages and CSS information
Featured Management Products
How can you simplify the day-to-day challenges of a system administrator?

Integrated Remote Management Controller (iRMC S5)



 
How seamlessly can you run your server operations and integrate in to a hybrid IT environment?

FUJITSU Software ServerView Integration packs



 
Are you ready for a software defined datacenter?

FUJITSU Software ServerView Infrastructure Manager



 
 
 
 
Integrate:

Run PRIMERGY servers in heterogeneous environments with full investment protection.
| | | | |
| --- | --- | --- | --- |
| | | | |
| | | ServerView® Integration Packs and best practice information enable the seamless and easy integration of PRIMERGY servers in enterprise management systems or vendor management. PRIMERGY servers can thus be monitored and managed from a central management console as a single point of control and administration for heterogeneous environments. | |
---
Dynamize:

Simplify and accelerate provisioning of IT infrastructures. Become more flexible and make IT operation even more efficient.
| | |
| --- | --- |
| | |
| ServerView® Virtual-IO Manager radically eases data center tasks. It greatly simplifies the management of PRIMERGY rack and blade servers in LAN and SAN environments while providing highest flexibility at their deployment and operation. | |
Need more help?
Find out how Fujitsu can help you