Graduate programme overview
We want our graduates to shape our tomorrow
We support our graduates in delivering outstanding results. Additionally we provide the opportunity for you to get involved in a number of exciting activities alongside your chosen role and recommend that our graduates take these opportunities offered to them in order to stand out.
Alongside your chosen role and the training you undertake in your business area, you will embark on a comprehensive 24 month modular development programme. These modules will cover key skills such as self-awareness, leadership, business awareness and business knowledge. In addition to the modular development programme below, you will also be assigned a "buddy" (a Grad from the year above) and a professional mentor.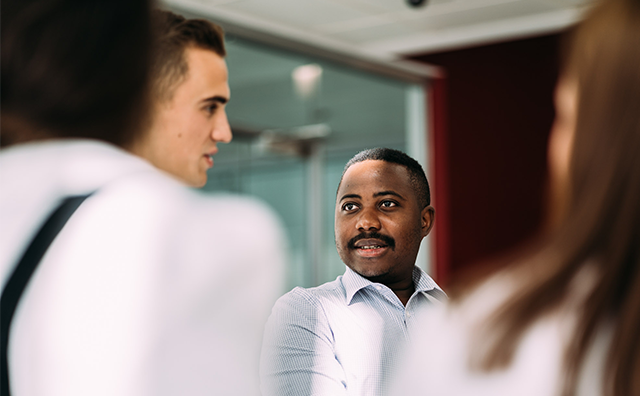 What to expect in Year One

01 Pre-joining
July
An introduction to the company, the brand,and most important, each other! This is not a mandatory event, but if you can make it along, it would be a great opportunity for you to meet some of our current graduates.

02 Induction
October
This is a great opportunity to find out even more about Fujitsu, to meet your peers and understand how you will fit into the company. You'll meet high level stakeholders, interact with current graduates and start building the network that will underpin your career at Fujitsu.

03 Learning to Sense
and Respond
November
This one day module will introduce you to the core of what Sense and Respond is, and will introduce key thinking and ways to identify improvements in the business which you can make within your sphere of influence. It has been designed to inspire you to make good change happen; share your successes and reward the application of what you have learnt through a credits based system towards different levels of Sense and Respond accreditation.

04 Business Awareness
April
What has made us successful? Where are we as a company? Where are we going? How do we make money? How do we add value? All of these questions will be answered in this event designed to foster an understanding of Fujitsu's commercial objectives.

05 Leadership in Action
July
This residential event focuses on understanding how you work in a team, both as a leader and as a follower. The team building exercises will push you as an individual but also strengthen you as a cohort.

06 Responsible Business
October
This will give you the opportunity to put your leadership skills into practice. Projects will take place over 12 weeks and will require you to manage a budget, create a project plan and interact with high level stakeholders. At your final review day, you will be presenting to senior members of the business.
What to expect in Year Two

01 Learning to see,
think and act differently
February
This module builds upon and further develops your understanding and application of Sense and Respond covered in Year One. This one day event enables you to explore your knowledge and experience of everyday business challenges, understand what really matters to your customer and visualise what happens in end to end processes. It has been designed to enable you to make good change a reality within and beyond your own sphere of influence; share your successes and reward the application of what you have learnt through a credits based system towards different levels of Sense and Respond.

02 Career Launchpad
May
This module is about assessing the skills you have acquired over the course of the programme and identifying where you want to go next. Using 360 feedback and a series of individual and group activities, this module will help you identify any skills gaps. It is an ideal opportunity to reflect on your learning over the course of the programme and identify your career path for when you complete the scheme.

03 Graduation
August
This is the final module in the Graduate Programme and an opportunity for you to reflect on your first two years in the company. It is a fun and interactive opportunity to celebrate with your cohort and recognise achievements, both on an individual and collective level.
Need more help?
Find out how Fujitsu can help you