Satellite-based internet connectivity
We're on the cusp of the next great internet revolution, a revolution that will deliver fast, low-latency internet access wherever people are in the world, enabling a truly connected global society and increasing digital inclusion.
Today, while internet connectivity has become essential in many aspects of our everyday lives, there are still over 3.5 billion people without internet access, that's nearly 40% of the world's population. Even in more developed nations, internet access is not uniformly available, with some areas suffering limited, slow or zero internet access, including rural locations that may not be cost-effective to connect.
Now, as the result of recent technology advances, new generation Low Earth Orbit (LEO) satellites have the potential to deliver fast, affordable internet access anywhere in the world, on land, sea or in the air.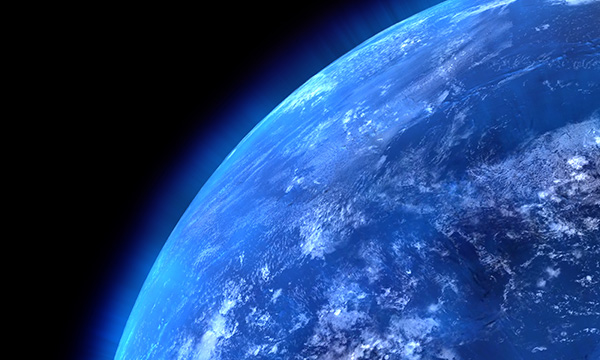 Satellite-based internet
Satellite-based internet access has been available for more than 25 years from geostationary (GEO) satellites in high earth orbit. The challenge has been that satellites operating at this altitude deliver an internet signal with minimum latency of 500-600ms, which is inadequate for many applications. Indeed, effective communication with these GEO satellites typically requires the use of a large, fixed dish, or a relatively powerful signal.
Figure 1: Satellite Orbit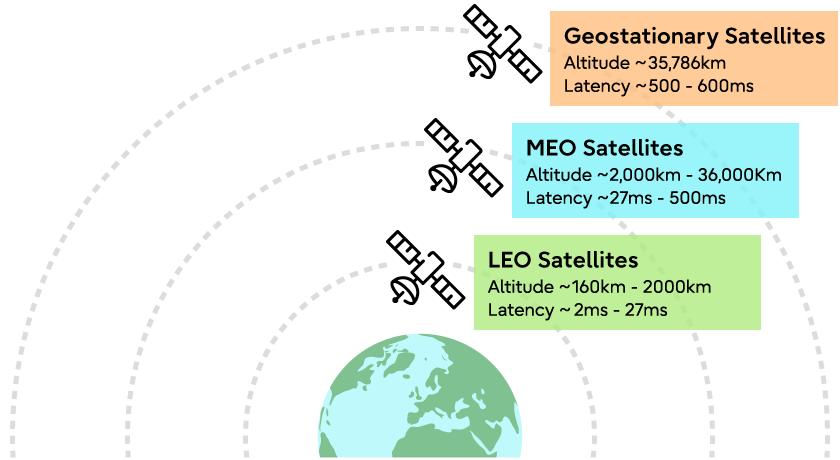 Source: Created by the author
New generation of satellites
Low Earth Orbit (LEO) satellites, the latest generation of satellites providing internet access, are smaller, lighter and less expensive than GEO satellites. Launch-ready Starlink satellites measure approximately 3.2m x 1.6m x 20cm, with a weight of 227kg (500lbs). The smallest LEO satellites are only now 11cm x 11cm x 2.8cm, weighing less than 1kg (2.2lbs). In addition, LEO satellites are mass-produced and can cost as little as $7,000 each, before launch costs are added. In comparison, the largest GEO satellites can be the same size as a city bus, weighing up to 6,500kg (14,000lbs) and costing $150m-$200m before launch costs.
Significantly, LEO satellites provide low latency (2ms to 27ms) and high bandwidth internet access, making them a viable alternative to both fixed and wireless internet for many applications.
As they operate at lower altitudes, LEO satellites can only cover relatively small areas. They also move quickly in the sky, so providers of satellite-based internet may need to deploy hundreds, even thousands, of satellites to provide the seamless connectivity required by users on the ground. On the plus side, the low altitude reduces the power needed to communicate with them, compared to GEO satellites.
To increase the resilience of these extensive LEO satellite constellations, Starlink and other network operators have equipped their satellites with laser-based satellite-to-satellite communication. This allows satellites in a constellation to communicate with each other, providing a continuous service even when some may not have a direct link to a ground station, for example when they pass over the sea or where a ground station is offline. Fujitsu's Digital Annealer technology has the potential to help operators adapt even the most complex routing of satellites to maintain optimum throughput.
Note: Medium Earth Orbit (MEO) satellites are also available. However, these are typically more expensive to deploy then LEO satellites and suffer from increased latency because of their increased orbit, making them less suitable for satellite-based internet access applications.
Why now?
The migration to using LEO satellites to provide internet access has been made possible by the development of new, small, solid state, low-profile, phased array antennas. These flat, pizza-box size antennas, referred to as Electronically Steered Antennas (ESAs), make it straightforward to track fast-moving LEO satellites. The antennas have the added advantage of being able to provide internet connectivity on moving ships, aircraft, trains and vehicles. Indeed, a competitor in the Baja rally recently demonstrated the ability to livestream the rally directly from their car using the Starlink network, despite traveling at high speeds across extreme terrains.
In addition, the availability of reusable launch vehicles has improved the economics around putting satellites into low earth orbit, providing the capability to put 60 LEO satellites into low earth orbit in a single launch.
What are the advantages of LEO satellites?
New generation satellite-based, fast, affordable internet access, available anywhere on earth, on land, sea or in the air, will help to deliver the next generation of business transformation. Historically, new levels of connectivity have unlocked new and improved use cases and business models. For example, the introduction of 4G, and now 5G, connectivity on smart devices has driven innovation and transformation, resulting in significant disruption in a wide range of existing markets. Similarly, the global availability of fast, low latency internet access is expected to be a powerful catalyst for innovation and digital transformation.
The capability to have internet access anywhere on earth opens a range of potential new and enhanced use cases and business models. Organizations will need to digitally transform to take full advantage of these, to gain or maintain competitive advantages and to avoid being left at competitive disadvantage.
Sustainability transformation
Sustainability and sustainability transformation has become an increasingly important management priority. Combining data with AI is going to be essential to drive the insights required to develop effective sustainability transformation strategies. Specifically, the ability to connect and gather data from remote IoT sensors can help to create accurate digital twin models, enabling us to test complex scenarios and develop strategies to manage infrastructure more sustainably.
8 ways that LEO satellite communications will drive transformation
We are already seeing exciting use cases for these new levels of connectivity. These are driving significant investment by encouraging providers to develop the new networks needed to meet growing demand. Recent early adoption examples include:
1. Autonomous vehicles
Vehicles are already becoming increasingly connected, with increasing dependance on 5G. Clearly, in the future, wireless connectivity will be essential to the successful operation of autonomous vehicles.
Autonomous vehicles need to update maps, traffic, weather and road hazard information in real time, as well as receiving regular software updates. In the background, remote, centralized traffic management systems will also need real time information to improve safety, for example by improving traffic densities and the efficiency of traffic flows.
Today, the only technology that can deliver a universally reliable connection at high speed and low latency is satellite. LEO satellites are also an enabler for Real-Time Kinematic (RTK) positioning. RTK is expected to play a key role in enabling the next generation of autonomous vehicles, with applications ranging from mining and farming equipment to drones.
2. Internet of Things (IoT)
The adoption of IoT is growing quickly. Indeed, in 2021, Statista estimated that over 75 billion IoT devices will be in use by 2025. One of the key challenges for IoT adoption is the ability to provide the levels of connectivity required by IoT devices. These devices are often located in places that cannot be easily or cost-effectively connected to wired internet connections and are out of range of Wi-Fi, 4G and 5G services. This has restricted their adoption in developing IoT markets from utilities, agriculture, transport and logistics through to environmental monitoring, emergency services and mining.
At Fujitsu, we've recently been helping a utility company to connect their multiple IoT devices across remote locations. We're combining IoT data with Fujitsu AI to help them manage and control their infrastructure in a more sustainable, cost-effective way.
It's clear that high speed, low latency, satellite-based internet access has the potential to enable far more IoT devices to be connected cost effectively. By combining IoT-driven data with Fujitsu AI and digital twin platforms such as Fujitsu Dracena, we can create advanced, real-time models that help organizations manage and control their infrastructure more sustainably, including the development of new generation smart city solutions.
3. Emergency services
Providing urgent medical care in remote and rural locations often presents extra challenges, as it typically takes longer for patients to reach hospital Accident and Emergency (A&E) departments. By providing connectivity anywhere, LEO satellites can help paramedics collaborate with hospital-based clinicians and specialists. For example, high resolution video, voice and clinical data can be exchanged both from the site of the emergency and whilst in transit to A&E departments, helping to ensure better clinical outcomes for patients.
In the UK, the Scottish Ambulance Service, NHS Highlands and the University of Aberdeen are currently trialing how Viasat satellites can be used to provide critical care ultrasound data for patients in transit to Highlands' only acute A&E department, located in Inverness. The technology used is based on military field hospital experience gained in Afghanistan, highlighting the added potential for military critical care applications.
4. Maritime and aviation
Royal Caribbean has already moved to Starlink to provide customers with improved internet access onboard their latest cruise ships. Indeed, they are also planning to retrofit their older ships with Starlink connectivity. Delta Airlines has also recently announced their intention to use the new ViaSat 300-satellite low-orbit network, when it comes online in 2023, to provide faster, lower latency in-flight internet access for its passengers.
5. Connecting rural communities and organizations
In developed countries, it is still often not cost-effective for providers to provide hard-wired, high-speed, broadband connectivity, or even 4G or 5G services, in some areas. This creates significant difficulties for organizations and individuals in these areas who are unable to access online services. In light of this, the UK Government has recently launched a trial to see how LEO satellites can be used to deliver high-speed internet connections to locations that are not economically viable to connect in other ways. The Wasdale Head mountain-rescue team in the UK's Lake District is one of the organizations supporting the trial. The team will be connected to explore how better broadband can improve operations in communication 'blackspots' for mountain rescue team radio and global positioning services.
6. Improving resilience
LEO satellite networks can also play an important role in maintaining key communications following natural disasters or damage to infrastructure. Recent examples include in Tonga, following the fracture of sub-sea cables, and in Ukraine, following the infrastructure damage caused by the Russian invasion in 2022.
7. Logistics applications
The ability to be always-connected will enable cold-chain and chill-chain logistics organizations to track and monitor their consignments in transit, ensuring they can provide their customers with accurate, real-time audit trails.
8. Combating digital inequalities
As expressed at the recent World Economic Forums, developing countries are keen to use satellite-based internet access to help address digital inequalities. In response, the World Economic Forum has launched the EDISON Alliance, the first platform of its kind, to accelerate new collaboration between the ICT community and other critical sectors across the global economy. The EDISON Alliance aims to mobilize a global movement to prioritize digital inclusion as a key means of addressing the United Nations (UN) Sustainable Development Goals. By using LEO technology, the Alliance aims to improve the lives of 1 billion people through affordable and accessible digital solutions, including healthcare, financial services and education, by 2025.
According to the UN, over 100 million people in Africa are still without broadband or cell network coverage. Satellite-based broadband offers the only cost-effective way to connect these remote populations.
LEO satellite provider options for enterprise IT
Competition is quickly increasing in providing LEO satellite-based internet access. We're seeing growing interest from both private enterprise and governments in developing LEO satellite constellations, with the aim of providing high speed internet access as part of their ongoing national infrastructure strategies. Indeed, sixteen organizations and governments have already announced that they intend to deploy their own LEO constellations before 2030.
Clearly, economies and trade have become increasingly dependent on internet connectivity, making robust internet access a key strategic and security priority. The move to online working forced by COVID-19, and the use of Starlink to maintain communication during the war in Ukraine, have both recently underlined the absolute necessity for high-speed, low latency internet access.
Viasat
Viasat has announced a 300-satellite low-orbit network of its own that will come online in 2023, primarily targeting business customers.
Starlink
Starlink is the current market leader, with a network constellation of over 3,000 LEO satellites and 145,000 users across 25 countries. Starlink recently reported that its user growth is being constrained by supply chain difficulties, specifically in getting the microchips required to build customer transceivers.
Amazon
As part of their Project Kuiper, Amazon intends to provide global broadband access to supply fast, affordable broadband to tens of millions of customers in un-served and under-served communities around the world, using a constellation of 3,236 LEO satellites. Amazon is designing and developing the entire system in-house, combining a constellation of advanced LEO satellites with small, affordable customer terminals and a secure, resilient ground-based communications network. Amazon has recently signed a contract with Arianespace, Blue Origin and United Launch Alliance to provide up to 83 launches over the next five years for these satellites.
Telesat
Telesat has a constellation of 188 LEO satellites and is expected to expand this to 512 in the future. Telesat uses polar and inclined orbits to give complete global coverage, reflecting their strong focus on the aviation market and offering speeds of 7.5Gbps to 15Gbps, depending on applications.
European Union (EU)
The EU recently announced at the World Economic Forum that it intends to develop a European LEO constellation to enhance EU broadband access. The EU also wants to increase EU cybersecurity and data protection by reducing its dependency on foreign-owned companies and infrastructure. This new network could back up terrestrial networks in the event of major outages or disasters. The network is expected to consist of 170 LEO satellites, launched between 2025 and 2027.
Kepler Communications
Kepler Communications is developing the ÆTHER constellation, a network of 140 LEO satellites focused on enabling IoT connectivity to support industrial, maritime, aviation and logistics applications.
OneWeb
OneWeb has delivered satellite access for over 30 years with a historical focus on maritime communications. Backed by the UK Government, Bharti Enterprises of India and Eutelsat of France, it has over 350 satellites in orbit and plans to double this number in its LEO constellation.
Airtel
Airtel in India and the UK government's OneWeb are also collaborating to bring LEO satellite connectivity services to India, following the Indian Government's decision to make universal broadband a priority under their Digital India program.
7 technical challenges for LEO satellites
1. Available orbits
There are a finite number of optimal orbits available for LEO satellite constellations. Orbits are allocated on a first-come, first-served basis to networks, giving early market entrants an important technical and strategic advantage. This will also limit the number of viable constellations that can be put in orbit, which in turn will inevitably constrain the number of providers in the market. To ensure potential operators are not requesting orbits but not using them, for example to block other projects, the World Radio Congress ITU Members agreed in 2019 that LEO satellite constellation operators will need to deploy:
10% of their constellation in orbit within the first two years after the start of deployment
50% within five years from the start of development
100% within seven years from the start of deployment.
For example, Starlink has permission to deploy 12,000 Starlink satellites from the US Federal Communications Commission (FCC) and the International Telecommunications Union (ITU) by 2026. Starlink also has the option to extend this to 42,000 satellites, in accordance with an agreed seven-year launch schedule.
2. Radio spectrum
There are also a finite number of desirable radio frequencies in the spectrum for ground to satellite communications, specifically lower-frequency L- (1-2GHz) and S- (2-4GHz) bands to the higher-frequency Ku- (12-18GHz), Ka- (26-40GHz) and V- (40-75GHz). Access to these frequencies is also being hotly contested by providers. Elsewhere, ground-based transmissions are subject to local regulation, meaning that some frequency spectrums are unavailable in certain locations. Some governments see ground stations and local frequency allocation as a revenue opportunity, in the same way that some countries have heavily taxed the main internet infrastructure operating in their territory. However, satellite-to-satellite laser communications can help to minimize the effects of local constraints and challenges.
3. Interoperability
The satellite-based internet market is already highly competitive. Like the early days of the cellular phone markets, different providers are operating in a proprietary way, looking to lock customers into their individual provider ecosystem. Enterprises will need to select the provider ecosystem of hardware, software and services that they wish to design and build their solutions around. The proprietary nature of solutions will clearly make it hard for customers to move between providers without incurring significant cost and disruption.
This will often have the effect of locking organizations into a particular provider, effectively reducing competitive pricing pressure from existing customers and reducing subscriber churn rates. The lack of interoperability between ecosystems will also make merger and acquisition activity less attractive, reducing the potential for market consolidation.
4. Ongoing costs for providers
Developing commercial LEO satellite constellations has a high upfront and maintenance cost, both in terms of the satellites themselves and the increased number of ground stations needed by constellations. Satellites in constellations will need to be replenished on a regular basis as they become defective or reach the end of life. Small satellites also lack the same level of shielding as larger satellites, making them more susceptible to solar storms, as they have less redundancy to damage. Indeed, in 2022, Starlink lost over 40 satellites to a single solar storm, and it's clear that a significant solar storm could have significant implications for LEO satellite constellations.
5. Space debris
Space debris represents a growing hazard to satellites, including LEO satellites. There are estimated to be up to 160 million pieces of debris in orbit, traveling at speeds of up to 16,700mph (25,266kmph). At these speeds, even a 1cm piece of debris can damage or destroy a satellite. The use of large LEO satellite constellations provides significant network redundancy to the damage or loss of satellites including from collisions.
However, the problem of space debris is growing, creating an increasing number of orbital collision hazards. This has made finding a cost-effective way to removing space debris an increasing urgent priority. Fujitsu is working with the UK Space Agency and the University of Glasgow, using Fujitsu Digital Annealer technology and the Fujitsu Quantum-Inspired Optimization Service to handle the incredibly complex missions planning needed to remove space debris cost-effectively.
6. Developing countries
The UN would like to see priority given to delivering satellite-based internet services to the 3.5 billion people living in developing countries, to help them benefit from the significant social, economic, financial and educational advantages that come with being online.
7. Low-cost launches
Innovation has driven down the cost of launches to low earth orbit, thanks to the availability of reusable launch vehicles for LEO launches. The cost of launch vehicles is one of the biggest cost components of launch costs. The shift from public sector to more competitive private sector operations is also significantly contributing to reduced launching costs.
LEO Satellites beyond internet connectivity
Earth Observation (EO)
One of the new emerging capabilities for LEO satellites is in Earth Observation (EO). LEO satellites can provide high-resolution, real-time imaging down to a resolution of only 30cm. The use of multispectral Imaging with AI can improve environmental monitoring, crop yield forecasting and micro weather monitoring and forecasting. In this way, EO can help farmers maximize crop yields and minimize the use of fertilizers and insecticide, by allowing them to target only the parts of field that need treatment more accurately.
Conclusion
The availability of high-speed, low latency global satellite-based internet access everywhere opens up the potential for many new and improved applications, applications that were previously not viable because of poor network connectivity. The latest generation of LEO satellite-based internet delivery will enable significant new possibilities to build innovative workflows, solutions and services, free from the constraints of today's ground-based networks.
Key recommendations
Understand the potential for satellite-based internet connectivity to create new working models, solutions and services for your organization.
Consider satellite-based internet, either when hardwired internet and 5G is not available or when you need universal connectivity.
When selecting a LEO provider, focus on creating the right SLAs to ensure your performance is not compromised by your providers' network capacity.
Consider working with Fujitsu to co-create the next generation innovative solutions you need.
---
Key references
Author biography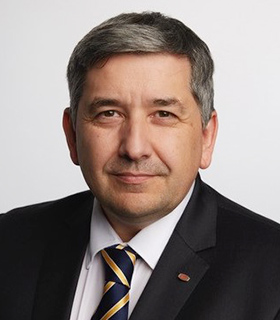 Nick Cowell
Nick is a Principal Consultant within Fujitsu's Technology Strategy Unit. Nick is a technologist with extensive experience in hardware, software and service development (including satellite communication and imaging), having previously worked for leading technology providers across the USA, Europe and Oceania.