<!-Subtext (optional)->
Quantum Computing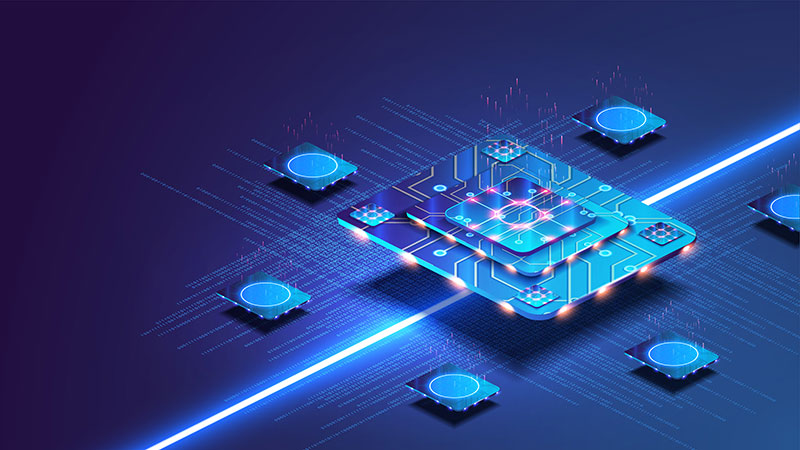 Optimise and innovate with Fujitsu's Quantum-Inspired computing technology
Fujitsu's Digital Annealer provides an alternative to quantum computing technology, which is at present both very expensive and difficult to run. Using a digital circuit design inspired by quantum phenomena, the Digital Annealer focuses on rapidly solving complex combinatorial optimisation problems without the added complications and costs typically associated with quantum computing methods.

Fujitsu Quantum-Inspired Digital Annealer improves precision and drastically reduces the time required to solve combinatorial optimisation problems across many industries, including: making space sustainable (optimising debris removal), faster molecular similarity search (drug discovery), banking and financial services (low-risk portfolio optimisation), distribution (warehouse inventory management) and retail (retail: personalised digital marketing).
Key trends from the Fujitsu Quantum Computing Summit
Tools have always been used to power through the limitations on what we can do.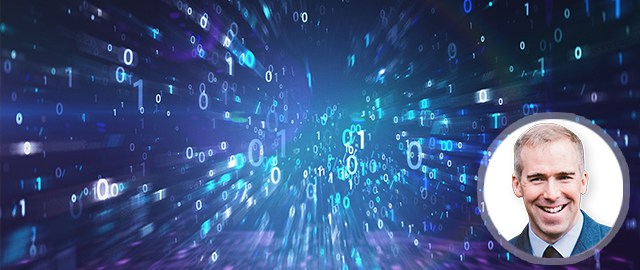 1. A technological race to develop the first practical quantum computer.
2. Supercomputing will drive the development of the next generation of machine learning tools.
3. Countries with agile bureaucracies will lead the race in quantum computing.
4. Co-creating national strategy.
Solving Combinatorial Optimisation Problems
The Digital Annealer computational architecture bridges the gap to the quantum world and paves the way for much faster, more efficient solving of today's business problems. Our quantum-inspired computing solution is designed to solve large-scale combinatorial optimization problems which are unsolvable using today's classical computers.


Fujitsu Quantum-inspired Optimisation Services are already making a difference across the UK, helping the UK Space Agency to optimise the removal of space debris, accelerating drug discovery processes for Novartis and supporting NatWest to optimise a mixture of their high-quality liquid assets.
Making space sustainable: optimising debris removal
There are currently approximately 160 million objects in orbit – mainly debris – which could collide with satellites vital to services we use every day.

Using the Digital Annealer, we were able to optimise a multi-debris mission scenario to ensure the removal of the right pieces of debris from millions of possible debris items with trillions of possible combinations.
Banking and Financial Services: Low-Risk Portfolio Optimisation
The Digital Annealer-powered portfolio solution finds the ideal investment allocation to maximize returns by grouping stocks that correlate with price variations, enabling portfolios to be managed with accuracy and reduced risk.

The Digital Annealer solution can instantly find the best permutation from among 20 or more stocks (equivalent to more than one quintillion permutations).


Distribution: Warehouse Inventory Management
In factories and distribution warehouses, the time it takes workers to walk around picking parts can be lengthy.

Using the Digital Annealer within its own factory environment, the Fujitsu IT services team was able to optimize routes and in-stock part placement, enabling workers to successfully reduce distance traveled by up to 45%, significantly increasing productivity.


Retail: Personalised Digital Marketing
Using the Digital Annealer, marketing agencies and retail companies can accurately and instantly deliver personalized content to existing and prospective customers through engaging and targeted web content, thereby influencing their purchase decisions.


Faster molecular similarity earch: drug discovery
Drug Discovery is ripe for disruption. A time-consuming and expensive process, taking years and costing billions, the industry is crying out for faster, more accurate drug targets to test at clinical trials.

However, the technology has not been able to keep up, until now.
What is Fujitsu Quantum-inspired Computing Digital Annealer?
How does Digital Annealer Quantum-Inspired technology solve complex problems rapidly?
In quantum mechanics, which inspired Digital Annealer, the phenomenon known as 'superposition' refers to the simultaneous existence of two different states, 0 and 1. This phenomenon is the basis of 'quantum bits' or qubits, which can dramatically improve calculation speeds. Digital Annealer emulates qubits in a digital circuit.

Among the various quantum computing methods that exist in the market today, Digital Annealer is categorized as an example of an enhanced annealing method, which focuses on solving combinatorial optimization problems and the achievement of successful results with rapid operational capabilities.
Unlike classical computers, Digital Annealer does not require programming; instead, simply setting parameters allows calculations to be performed.


Conventional Method:
Put the pieces in order; step back if a failure occurs.


Annealing:
Shake, and the pieces fall into place.

Unique digital circuit design inspired by quantum phenomena
Digital Annealer is the world's first quantum-inspired digital technology architecture, capable of performing parallel, real-time optimization calculations at speed, with precision and on a scale classical computing cannot.

It is a ground-breaking solution inspired by the key characteristics of quantum computing - superposition, quantum tunneling, and entanglement to enable the simultaneous evaluation of a staggering number of potential options and the delivery of lightning-fast insights.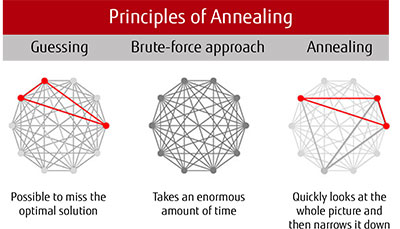 Complex large-scale combinatorial problems can be solved in seconds, which means problems that were previously impossible to solve with classical computers or needed to be processed by brute force, can now be solved in near real-time.

The fully connected architecture enables the free exchange of signals across all bits to rapidly solve large-scale problems. Optimum solutions are found in a process to drive out inefficiencies and improve productivity.



Digital Annealer features and benefits
enormous energy savings with small factor systems running at room temperature in comparison to power consumption intensive quantum computers
fully coupled 8,192-bit connectivity that allows for large-scale problem solving
64-bit (264) gradations allow high accuracy in expressing combinatorial optimization problems.
A key challenge in quantum computing is the requirement to contain the system and keep it free from interference, which can require operation at very low temperatures, close to 0 degrees Kelvin.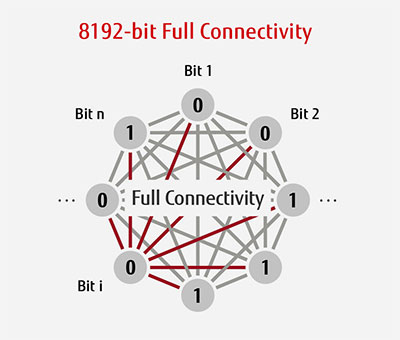 Digital Annealer does not require such a complex environment. With digital circuits, Digital Annealer operates at room temperature – without specific requirements or complex infrastructure.
Fujitsu Quantum-Inspired Digital Annealer Services
Fujitsu Digital Annealer End-to-End Solution
Our expert engineers work with you to understand your business problems, formulate and convert the problems into QUBOs, and use Digital Annealer to find solutions.

With Fujitsu Digital Annealer, combinatorial optimization problems are solved and become valuable business solutions.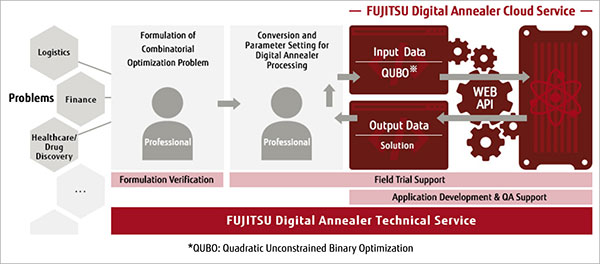 Quantum-Inspired Optimisation Services
Optimization services are provided over cloud or on-premises with technical and consulting services.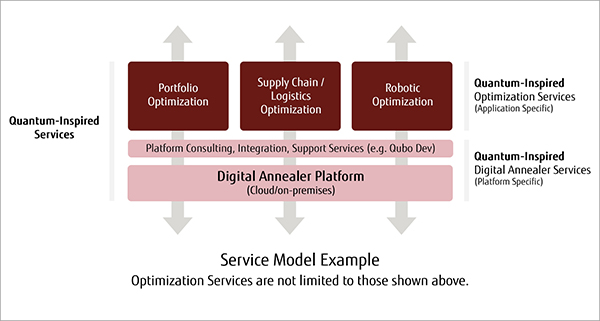 Fujitsu Digital Annealer Cloud Service
Available as a Cloud service, Digital Annealer can be deployed rapidly and easily accessed remotely via Application Programming Interfaces (APIs).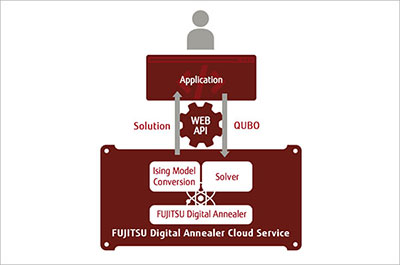 Fujitsu Digital Annealer On-Premises Service
The Digital Annealer Server can be installed at a customer site for a monthly subscription. Supporting 8,192-bit full connectivity and flexible partitioning for parallel operation and scaling to match problem size and precision requirements.

Contact sales for availability of the on-premises model in your region.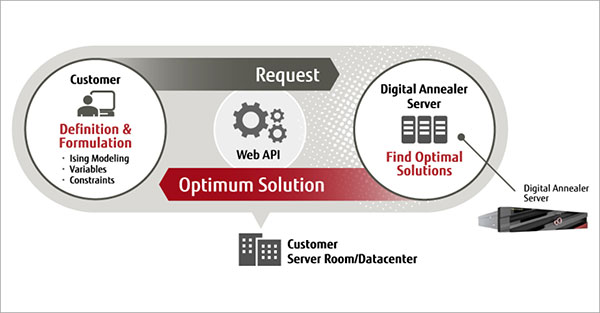 Fujitsu Quantum-Inspired Digital Annealer Technical Service
With Digital Annealer Technical Service, our expert Fujitsu engineers will support and work with you on site.



Formulation Verification – we begin by verifying that the customer problem can be formulated in a way that is solvable by Digital Annealer.
Introductory Support – includes customer-specific proof of concept (PoC) support, definition of all customer requirements from initial concept to required processes, and mathematical modelling for an effective execution.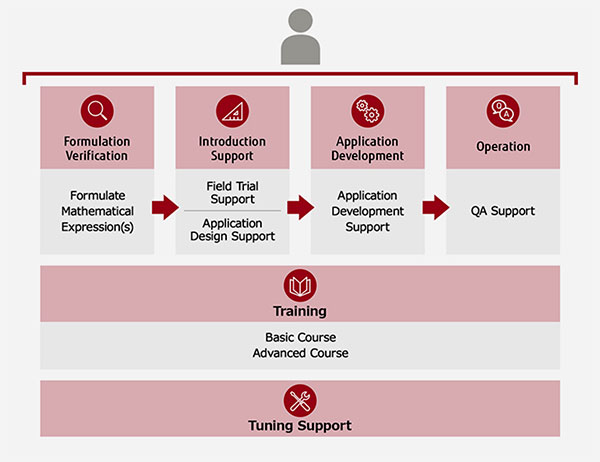 Application Development Support – includes the construction of the customer system in the form of an application that connects to the Digital Annealer service.
Operation Support – includes system support, quality assurance, and problem solving during and after implementation.
Training – includes both online and face to face formats.
Basic Course: learn about the features and function of the Fujitsu Digital Annealer.
Advanced Course: learn how to solve combinatorial optimization problems using the Fujitsu Digital Annealer Cloud Service.
Tuning Support – includes parameter tuning support.


A key challenge in quantum computing is the requirement to contain the system and keep it free from interference, which can require operation at very low temperatures, close to 0 degrees Kelvin.
The white book of Quantum Computing
This is a definitive guide to understanding what quantum computing can achieve today and in the future.
What would 'quantum ready' really mean? Quantum computing is becoming one of the buzz words of the decade – so now is a good time to step back and look at where we are on the path to a quantum future.

This is a definitive guide to understanding what quantum computing can achieve today and in the future.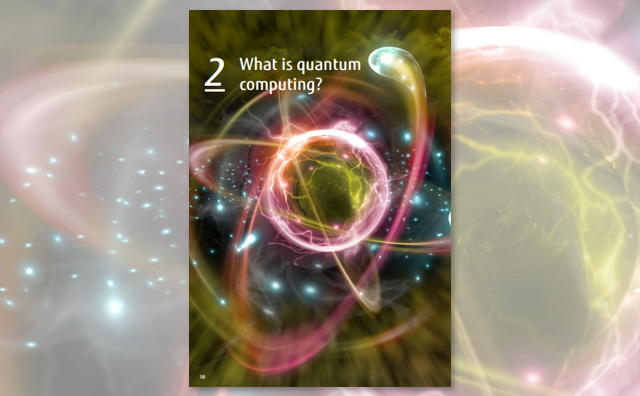 Public Sector Technology Report 2022
Post Covid, there has never been a better opportunity for cognitive and advanced technologies such as AI, super and quantum computing to make a difference to the UK's ambitions to become a scientific superpower.
To find out how innovations such as these can make a difference and why you don't have to wait – download a copy today.

Fujitsu is proud to sponsor this year's Public Sector Technology Report published by Raconteur and distributed in The Times on Wednesday December 8th 2021.


Our experts


Ellen Devereux
Ellen Devereux is working at Fujitsu in the role of Quantum-inspired Optimisation Services Consultant and she is project managing their inspiring Drug Discovery Platform bringing her passion and expertise in analytical thinking and complex problem solving. Ellen is inspired to realise the potential that technology and people have to digitally transform the world.



Dr David Snelling
Dave has a track record of theoretical and practical background being a Lecturer in Computer Science for more than 10 years before starting at Fujitsu Laboratories of Europe, prior to his move to the CTO Office at Fujitsu. He has been leading the work to develop the platform and is excited about the impact it will have on improving the drug discovery process.