Opportunities and Challenges in the 100-Year Life
How can we successfully unleash the power of people and wisely use digital technology in the100-year-living society?
How can we successfully unleash the power of people and wisely use digital technology in the100-year-living society? What should business leaders do now?
About half of children born today are expected to live over 100 years. Meanwhile, people have to find new ways to interact with rapidly advancing artificial intelligence and robots. What are the best strategies for facing the challenges of longer lives? What will be the priorities of enterprises and society?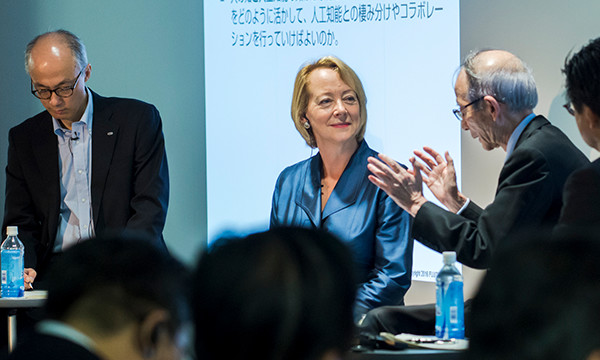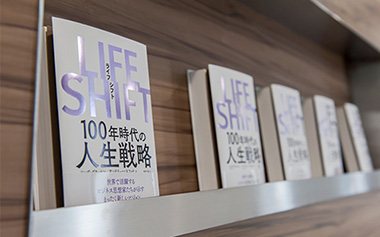 Fujitsu held an executive forum at the FUJITSU Digital Transformation Center

(Hamamatsucho, Tokyo) on October 26, 2016, entitled, "Opportunities and challenges in the 100-year life." Professor Lynda Gratton, the author of the recently published "The 100-Year Life: Living and Working in an Age of Longevity," delivered a special keynote. Professor Gratton is renowned in the fields of human resource and organizational theory globally. She is also known for her international bestseller, "THE SHIFT: The Future of Work Is Already Here." The executive forum also featured an insightful panel discussion: Professor Gratton had fascinating talks with Dr. Ikujiro Nonaka, Professor Emeritus Hitotsubashi University, known as the guru of knowledge management internationally.
Contributing to 100-year-living society with digital technology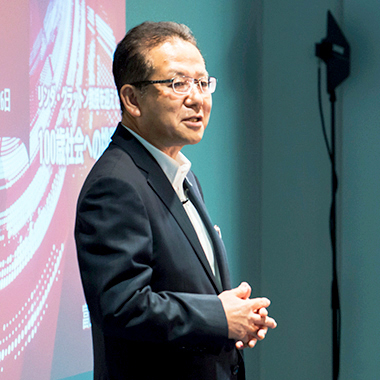 Professor Gratton is leading the Future of Work consortium. In it, over 100 companies including Fujitsu are actively discussing the work style of the future. At the outset of the forum, Tatsuya Tanaka, President of Fujitsu, said, "Fujitsu has been emphasizing the importance of putting people at the center of everything. This is our human centric vision. Now the rapid advance of digital technology is giving a profound impact on business, society, and everyday lives. In such times, it is even more important that technology will empower people, unleashing their creativity and maximizing their potential."
He concluded his speech, emphasizing "Not only technologies for empowering people but also a fundamental reform for enabling people to work more lively is crucial to the growth of any business. In this forum, I look forward to having insights on critical challenges enterprises will face and effective ways we will use AI in the 100-year-living society."
Keynote speech
Professor Lynda Gratton "The 100-Year Life: What should we do now?
The future of the 100-year life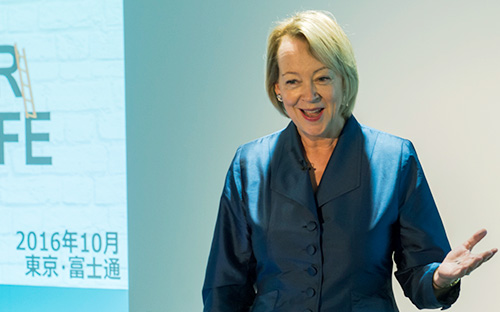 Professor Gratton began by pointing out that the average life expectancy worldwide has been increasing by 2-3 years every ten years since 1840. She explained that "half the children born in developed countries in 2007 are expected to live 100 years, and even 107 years for children born in Japan." Once life spans reach 100-years, a person can expect to have 218,000 productive hours in their lifetime. "There is ample potential for people to continue to be juvenile and work well into their 70s or 80s in such a 100-year life," she says.
The lives of three people from different generations
As examples, Professor Gratton presented models representing three people born in different generations: Jack, born in 1945; Jimmy, born in 1971, and Jane, born in 1998. These models were used to highlight how their lives differ. At Jack's household, Jack is a full-time worker and his wife is a full-time housewife. Jack stays with the same company from entering the workforce to retirement, and works to the age of 60. The family owns their home and eventually collects an ample pension. In contrast, at Jimmy's household both husband and wife work, and Jimmy himself has changed jobs multiple times. However, the pension system is on the brink of collapse.
There will be a massive difference between Jack and Jimmy's old age. Despite the lack of an adequate pension, Jimmy will have a longer post-retirement life due to a longer life span. In order to support his old age living, Jimmy will need to save at least 17% of his income every year. Compared with Jack, who only needs to save 4% of his income, it is easy to see the gravity of this figure. As Professor Gratton pointed out, "Many people who belong to Jimmy's generation are unable to achieve this target today, which has become a major problem in the US."
The three-stage life break-up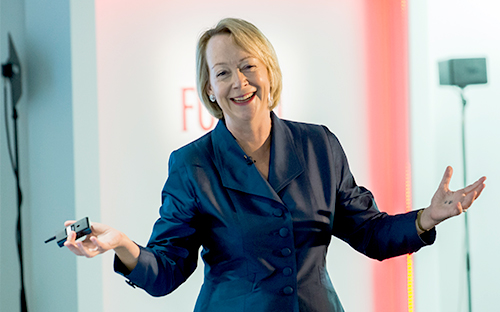 The youngest Jane is part of the 100-year-life generation, thus leaving an appreciable 35 years of post-retirement life. Jane would need to save 25% of her income every year to support her post-retirement life. If she cannot, then she needs to continue working to the age of 80. When this happens, what changes will it prompt for our society? Professor Gratton discussed the concept of work life comprising multiple stages.
Until now, the typical life was composed of three stages: Education → Work → Retirement. However, Professor Gratton emphasized, "In the case of Jane, education is not just a single event, but she will need to upgrade her skills several times in her lifetime." Jane will need to live a multi-stage life.
Professor Gratton says, "For living a multi-stage life well, intangible assets become increasingly more important in addition to tangible assets like savings and property." Intangible assets include such things as knowledge, peers, health, and a diverse network. People will have more fulfilling lives by enhancing these intangible assets.
The emergence of four new life stages
Professor Gratton revealed four new life stages that are emerging: 'Explorer', 'Independent Producer', 'Portfolio Worker', and 'Transitions'. She proposes that "as young people in their 20s take more time between graduation and entering the workforce to gain life experience, perhaps those in their 70s will take time to reassess the world as explorers to learn about different things."
Professor Gratton cites digital technologies as tools that will help people become 'Independent Producers'. She presented an example of young people that launched a website for a small village that sold hand-knitted sweaters locally, but now conducts sales around the world. "Digital technologies like artificial intelligence provide people with business opportunities," she says.
The 'Portfolio Worker' stage is one in which people work on a variety of pursuits simultaneously. The 'Transitions' life stage will also become useful for people in considering what they want to achieve. In the years to come, it will become increasingly more important to devote leisure time to reinvesting in oneself. "Jane will experience many moves and changes on a scale far beyond that of prior generations, and because of this she needs to invest recreation time to re-create."
So how should companies respond to these social changes? One response is a transformation of the hiring process. The age of lifetime employment, in which a person works at the same company from entry to the workforce to retirement, is over. Professor Gratton points out that companies need to re-evaluate hiring processes so that the door will even stay open for people who are 45 years old. She brought the keynote to a close saying, "The world has entered an age of trial-and-error now. We need to constantly think of what we can do - and should do - to transform difficult challenges into positive opportunities."
Fujitsu Presentation
Yoshikuni Takashige, VP, Head of Marketing Strategy "The key is people"
Following Professor Gratton's keynote, Yoshikuni Takashige, VP, Head of Marketing Strategy at Fujitsu, delivered a speech on the importance of people in the digital era.
Digital technology triggers massive changes
Business transformation capitalizing on digital technology is a priority today. Digital transformation is being triggered by four major waves of digital technology

. The first wave was the Internet. This was followed by the second wave, Mobile Internet. Today, the third truly big wave is developing around us. This is the Internet of Things (IoT). At the same time, the fourth wave is beginning to gather momentum. AI and Robotics are becoming a reality. Takashige emphasizes, "These waves are huge, and may smash and disrupt us. But if we can successfully ride them, we will be able to capture a tremendous opportunity of business growth." He stresses that digital transformation is bringing about a new Industrial Revolution, giving impacts on every industry.
The creativity of people drives innovation
Fujitsu proposes Human Centric Innovation

as the best way for driving digital transformation. This allows enterprises to create new value by using IoT to connect a diverse range of things and collect and analyze information from them; developing new intelligence by applying cutting-edge algorithms based on artificial intelligence; and using the created intelligence to empower people. Takashige says, "The creativity of people drives innovation. We have to use digital technology to generate new human centric value."
Digital technology empowers human creativity
here has been increasing concern over human jobs being replaced by advanced AI. Takashige points out that "the important thing is to support human intelligence with AI for realizing previously unthinkable breakthroughs." "We humans not only have our brains, but also our bodies, emotions, intuition, and above all else - creativity and rich social capability. These are outstanding charms of human intelligence," he stressed. He also added, "A big challenge in this digital era is how organizations can successfully develop cultures and rules placing emphasis on the creativity of people."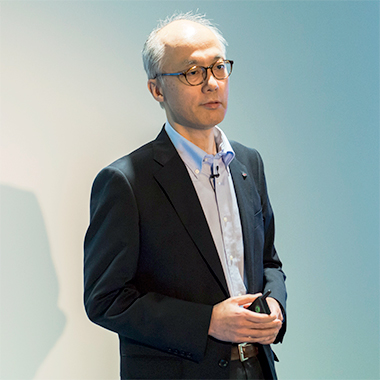 Fujitsu is operating many collaborative spaces to co-create innovation, leveraging the power of human creativity. The FUJITSU Digital Transformation Center

, where this forum was held, is an example. This is a place Fujitsu's customers experience digital technology and hold workshops using the design thinking methodology. In addition, Fujitsu is also running TechShop Tokyo

, a makerspace where anyone can enjoy making; Open Innovation Gateway

in California, a place which allows Japanese enterprises to co-create innovation with Silicon Valley startups and universities; and MetaArc Venture Community, a forum to engage with various startups. Takashige concluded by saying, "Fujitsu will continue to capitalize on the creativity of people and provide services and solutions leveraging digital technologies. We want to be your business partner, together shaping a different future."
Panel Discussion
"How should enterprises change in the 100-year-living society?"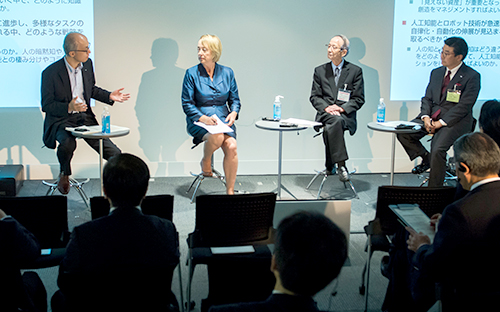 The last session of the forum was a panel discussion. Here, Professor Gratton was joined by Ikujiro Nonaka (Professor Emeritus Hitotsubashi University) and Tango Matsumoto (Corporate Executive Officer at Fujitsu Limited), who all took the stage to participate in a discussion facilitated by Takashige, who wrapped up his speech moments before.
A lively discussion took place under two major themes: (1) what kind of strategy will become important for enterprises in the 100-year life society? And (2) what kind of strategy will business leaders need to take in an environment of rapidly advancing AI and robotics?
The future_vision of companies in the 100-year life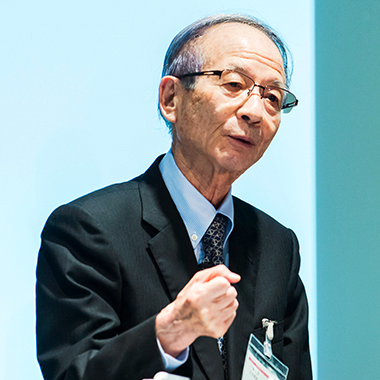 Professor Nonaka kicked off the discussion by stating that "'lifetime commitment' is ingrained as a core element of corporate management in Japan." The concept of lifetime commitment was featured as one of the strengths of Japanese style management by James Abegglen, who published "The Japanese Factory" in 1958. According to Professor Nonaka, it signifies that "workers and the workplace community share a strong connection throughout their lives." He gave further insight, saying, "Employees consider their companies as places where they can achieve personal growth, and because of this, the organization is able to continuously create and accumulate knowledge, which in turn serves as a source of competitive advantage." Nonaka stressed that "the essence of Japanese-style management is a community for accumulating knowledge. And creating a company worthy of a person's lifetime commitment is perhaps the most important mission for corporate leaders to accomplish in a 100-year-living society."
In response, Professor Gratton commented, "The way that lifetime commitment in Japanese companies creates sustainable knowledge is really quite amazing." At the same time, she said, "It's hard to imagine such a marriage-like arrangement, where one works for years at just one company, in the western countries. In Europe and the US, people would only continue to work for the same company for maybe four years at best. Of course in an environment like this, there is also a debate as to who is responsible for the development of employees. On the other hand, consulting companies such as McKinsey help to build up an employee's skills when they join, and also provide opportunities for them to connect with former employees and build a network of clients after they leave. You could say that this is a different form of relationship building - a relationship that is beneficial for both parties, and is the style seen in the West."
Professor Nonaka clarified, "Lifetime commitment is not lifetime employment. People are free to leave a company as they wish. However, they commit to a company once they enter it. Still, the important thing is to pursue a universal value that makes people feel that they worked for a great company, even if they change jobs." Companies like this build high-quality knowledge and continually strive to develop people's abilities. He continued, "Companies are expected to create an open community and openly share knowledge in a way that provides a connection for employees even after they leave." Professor Gratton nods in agreement, "Absolutely."
As we come to the close of this discussion theme, Matsumoto remarks, "Although it is most important to have communication in real physical locations, digital technology makes it possible to share knowledge in a way that transcends time and space. Digital technology amasses knowledge and passes it on to future generations to empower human creativity. The ability to share information with people everywhere in a single form is perhaps the most prominent benefit of digitalization." At this point, the discussion theme turns to "management strategies in an age of advancing AI and robotics."
What's the difference between human intelligence and artificial intelligence?
Professor Nonaka explains, "Knowledge generated by AI represents the extraction and formalization of universal information from specific contexts. AI functions to augment the creativity of people, and we should use it to enable collaboration with people in a human-centric way." "There are many things that only humans can do," Nonaka explains, "We all have a 'qualia' of what kind of life each of us wants to live in the past, present, and future. We accumulate knowledge by moment-to-moment whole human subjective experiences through our bodies in our lives. These things are difficult for IT, which runs on an "objective" perspective, to achieve. It is important for people to set the purposes and then fully take advantage of the power of IT."
For example, at the same time GE changed its management direction towards a strategy of leveraging IoT, it also changed its corporate mission to 'GE Beliefs'. They are taking full advantage of IoT with a clear intention and purpose, and successfully implementing collaborations of technology and belief in which IoT is used to achieve people's wishes. Nonaka points out, "AI does not replace people, but rather serves to enhance their creativity. This kind of complementary relationship is the key point."
Is AI and robotics a threat?
"This is really a discussion at the forefront of AI and people," Professor Gratton responds, "In the West AI and robotics is seen as a threat." In a media interview two years ago after a panel discussion at the World Economic Forum in Davos, she explains, "We discussed the intrinsic value that people provide in response to a question of whether or not robots would replace them, but the title of the article ended up as the robots destroying people." She points out, "This highlights how truly concerned people are about this matter. People are not fully aware of the areas in which they are more superior, or what role they will fulfill."
As an example, automated driving has become a huge dilemma in the US. If it spreads, it could lead to the loss of jobs for millions of people who drive for a living today. The immense uncertainty that many people feel needs to be taken seriously. "We have not yet fully addressed people's concerns of what will happen to their jobs," she remarks.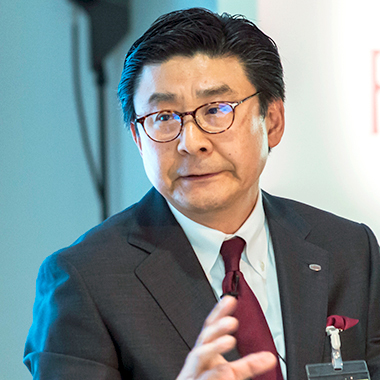 More people in Japan have a positive view of technology than in western countries, and while admitting that it is his own personal viewpoint, Matsumoto says, "It is not that Japanese people are necessarily optimistic, but perhaps we share common intent to contribute to society, and want to use new technologies for this purpose." And Japanese people, he adds, "May also hold the belief that the nature of robotics is fundamentally good," citing examples of Astro Boy and Tetsujin 28-go (Iron man No. 28). "Robots have always had a friendly image to Japanese people." Matsumoto also reveals that a warning has already been given to the consequences of science and technology in Japan, but the important point is that "people need to thoroughly discuss for which objective technology is going to be used."
People have experienced threats like this in the past, but technology advanced much slower at that time, so they had enough time to re-train to change career. However, technology is changing rapidly, for example autonomous cars are about to be introduced in the near future. Corporate leaders and academic researchers need to put effort into addressing how society and industry can respond to the impact when this happens.
Striving towards a society where people and AI will collaborate and co-create
As the session came to an end, professor Nonaka offered the following words: "Conventional neuroscience believed that the brain issued all orders, but the latest research has shown that we cannot separate body and mind. In other words, this is what we call the embodied mind. The brain is not able to sense the outside world directly. We are aware of subtle changes intuitively through our five senses. By synthesizing these direct sensations, tacit knowledge, and explicit knowledge, we are capable of generating concepts and exhibiting incredible creativity. We should focus efforts on augmenting this human intelligence with IT tools such as artificial intelligence."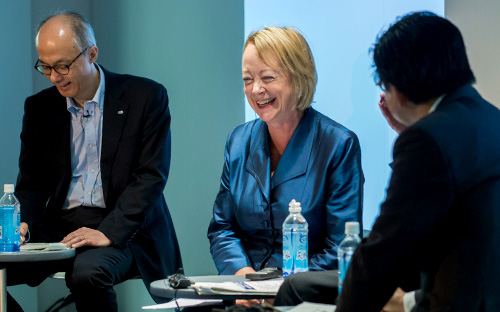 Professor Gratton relates, "Japan is at the world's forefront of AI and robotics. It is important for IT companies like Fujitsu to realistically depict the story of how technology will be used and what kind of future it will bring about." In response to this, Matsumoto wrapped up the session, saying, "At Fujitsu, we feel that our mission is to deliver technologies that bring people happiness. Now that artificial intelligence is closing the gap between machine and human, we believe that people need to be even more human than machines.
[ Published in December 2016 ]
Technical data subject to modification and delivery subject to availability. Any liability that the data and illustrations are complete, actual or correct is excluded. Designations may be trademarks and/or copyrights of the respective manufacturer, the use of which by third parties for their own purposes may infringe the rights of such owner.