<!-Subtext (optional)->
Move from mainframe to cloud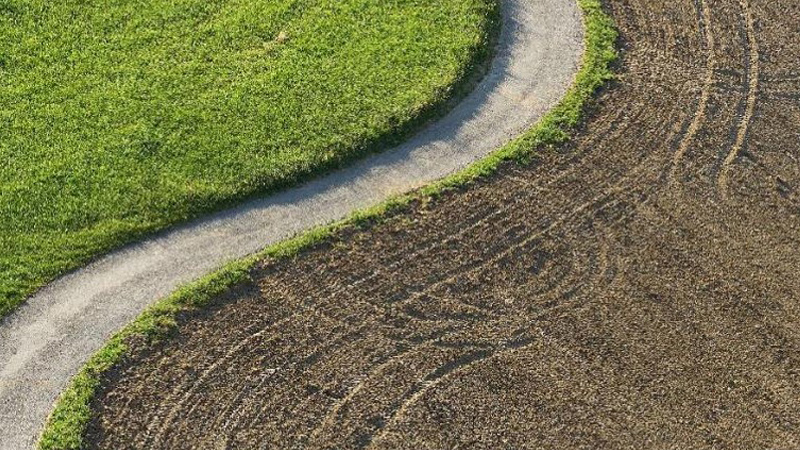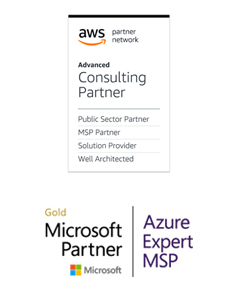 PROGRESSION from Fujitsu:
Mainframe modernization on AWS and Azure
In today's modern digital age, organizations need the agility to rapidly innovate and deliver new services in line with rising customer expectations. However, expensive mainframe platforms using COBOL, an outdated and increasingly unsupported language, were not built to meet this pace of change.
It's currently estimated that there are 220 billion lines of COBOL in use today, but with runtimes becoming more expensive and COBOL, now a programming language that's over 60 years old, it really is time to move on.
However, mainframe modernization can be complex, time-consuming, risky and expensive. That's why at Fujitsu, we've developed a highly automated solution to migrate legacy applications built with languages such as COBOL to modern languages hosted on on-premise or cloud platforms, such as Microsoft Azure and AWS.
Take mainframe to AWS and Azure with PROGRESSION
Fujitsu's PROGRESSION is the answer to your needs. It's a highly automated solution which takes legacy applications developed in COBOL and modernises them so you can quickly, easily and safely move from the mainframe to modern environments on-premise or cloud environments – including Microsoft.Net, Microsoft's Azure or Amazon Web Services using C­#.
Why move on from mainframe now?
The business-critical nature of mainframe systems and the traditional risk of moving or modernizing them are
understandably big concerns for IT and business leaders.
But standing still and refusing to evolve mainframe environments now causes a much bigger combination of risks:
Financial losses

Mainframe environments are an
unsustainable drain on your capital,
consuming spend that could be
invested on digital initiatives
Slow and inflexible

Reliance on mainframe
systems can also hold you back
from reacting to change, driving
innovation and maximizing data value.
Rarity of resources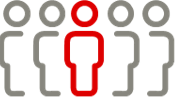 Many mainframes supporting critical
business functions are reaching end-of-life
and the expertise to maintain and move on
from them is becoming scarcer every year.

PROGRESSION is proven to help organizations move on from these burdens and minimize risk as they transition from mainframe towards cloud.
How can you overcome migration complexity and risk?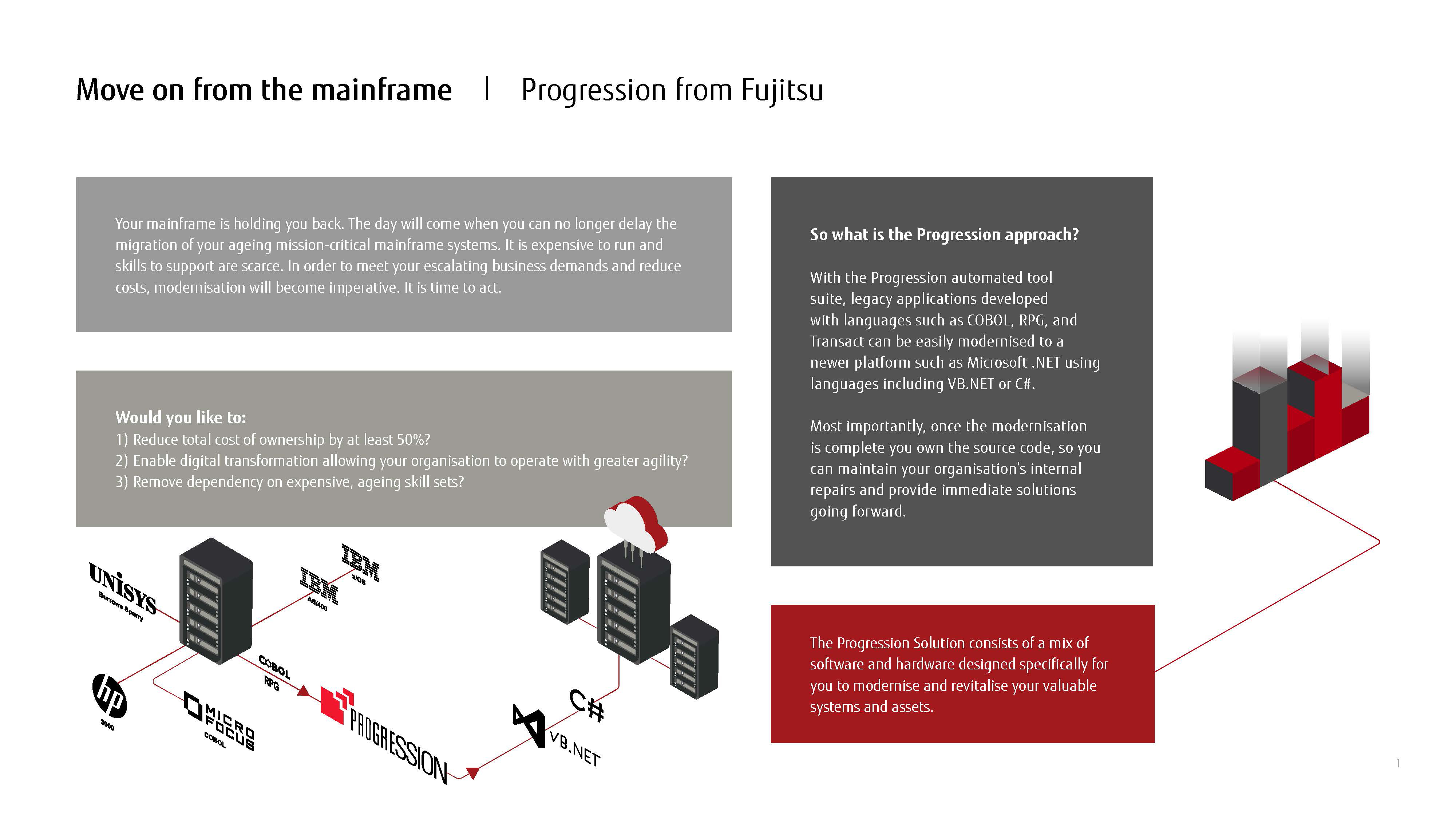 Snapshot:
Transitioning safely from mainframe to cloud
Mainframe modernization can be complex, time-consuming, risky and expensive.
That's why we built and continuously develop PROGRESSION as a highly robust enterprise solution. It's been proven to deliver and de-risk mainframe modernization for over 15 years, by using automation to convert 100% of legacy code and migrate it to state-of-the-art platforms, either in the cloud or on-premise.
There's also no expensive run-time licensing with PROGRESSION, because there's no 'lift and shift' involved. You own the source code, which means you can use your own people and partners to maintain and develop things further. As they are migrated, applications are put into an automated application DevOps lifecycle, helping you to speed up development and deployment. And, in a cloud environment, functionality, micro services and other services can be easily plugged in.
What is included as part of our PROGRESSION service?
PROGRESSION gives you an easy, cost-effective and proven way to move on from the mainframe. It's delivered as end-to-end managed service, covering all of the steps you need to automatically convert 100% of your legacy mainframe application code from languages such as COBOL – and migrate it towards modern platforms using languages such as C# or Java.
You can expect fast business benefits with PROGRESSION – including:

Reduced total cost of ownership
of up to 80%.

A simple & clear cost plan and quick
return on investment.

Reduced vendor lock-in as you
own the source code.

No runtime required – applications are
automated in a DevOps lifecycle.

Intuitive web-based UX, replacing the
traditional green-screen interface.

Ability to maximize data through cloud
and micro-service integration.
Moving on to Amazon Web Services
For heritage organizations, technical and commercial constraints in application modernization, in particular Mainframe applications, make adoption of cloud difficult.
Fujitsu and AWS offer a commercial and technical solution, which finally makes this last and material stage of cloud adoption not only possible, but also sensible.
Discover how make mainframe modernization work in highly regulated sectors, like Financial Services, with PROGRESSION.  Read the paper »
Moving on to Microsoft Azure
Microsoft Azure offers a robust environment for evolving mainframe environments with PROGRESSION from Fujitsu.
Our capability with Microsoft offers an ideal solution to support modernization from traditional mainframe environments, towards the Azure public cloud or Microsoft.NET.
Discover how PROGRESSION works with Microsoft technologies and platforms as the chosen route forward.  Read the paper »
Why Fujitsu?
We're proven experts in end-to-end Hybrid IT and Multi-Cloud – from heritage legacy and mainframe environments, to cutting-edge public cloud platforms and technologies.
We've built, maintained and modernized critical business systems for highly-regulated organizations across the world.


How to get started fast
With Fujitsu and our partner ecosystem, it's easy to kick-start your move from mainframe to cloud.
Contact our 'Ask Fujitsu' helpdesk below to book your mainframe assessment
Our experts will be in touch to accelerate your move to cloud.