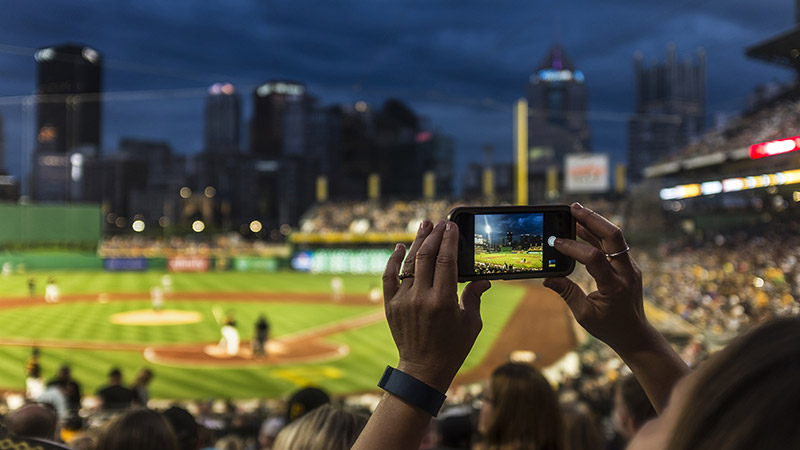 Radio Access Network Solution (RAN) for Mobile Networks
Mobile operators must respond flexibly and dynamically to growing market demands by installing numerous high-capacity/high-speed base stations over a wide area. To help them achieve this, Fujitsu is supporting the 5G evolution with open, customizable equipment and an integrated network architecture. Open interfaces are essential to enable mobile operators to introduce their services, or customize their network to adjust their unique needs. Mobile operators will face challenges in installing 5G architecture to use available spectrum efficiently and reduce deployment operational costs.
The Fujitsu RAN solution enables the flexible network configuration and extension required in the upcoming 5G network, reducing cost in several ways:
Fujitsu's RAN solution is composed of flexible and scalable solutions across multiple technologies with Open standards.
Fujitsu ensures that this entire ecosystem is tested and pre-integrated as a complete solution. Fujitsu may also offer each product separately.
This approach provides assurance that all components work together and meet Fujitsu's quality standards, which also helps customers to control costs.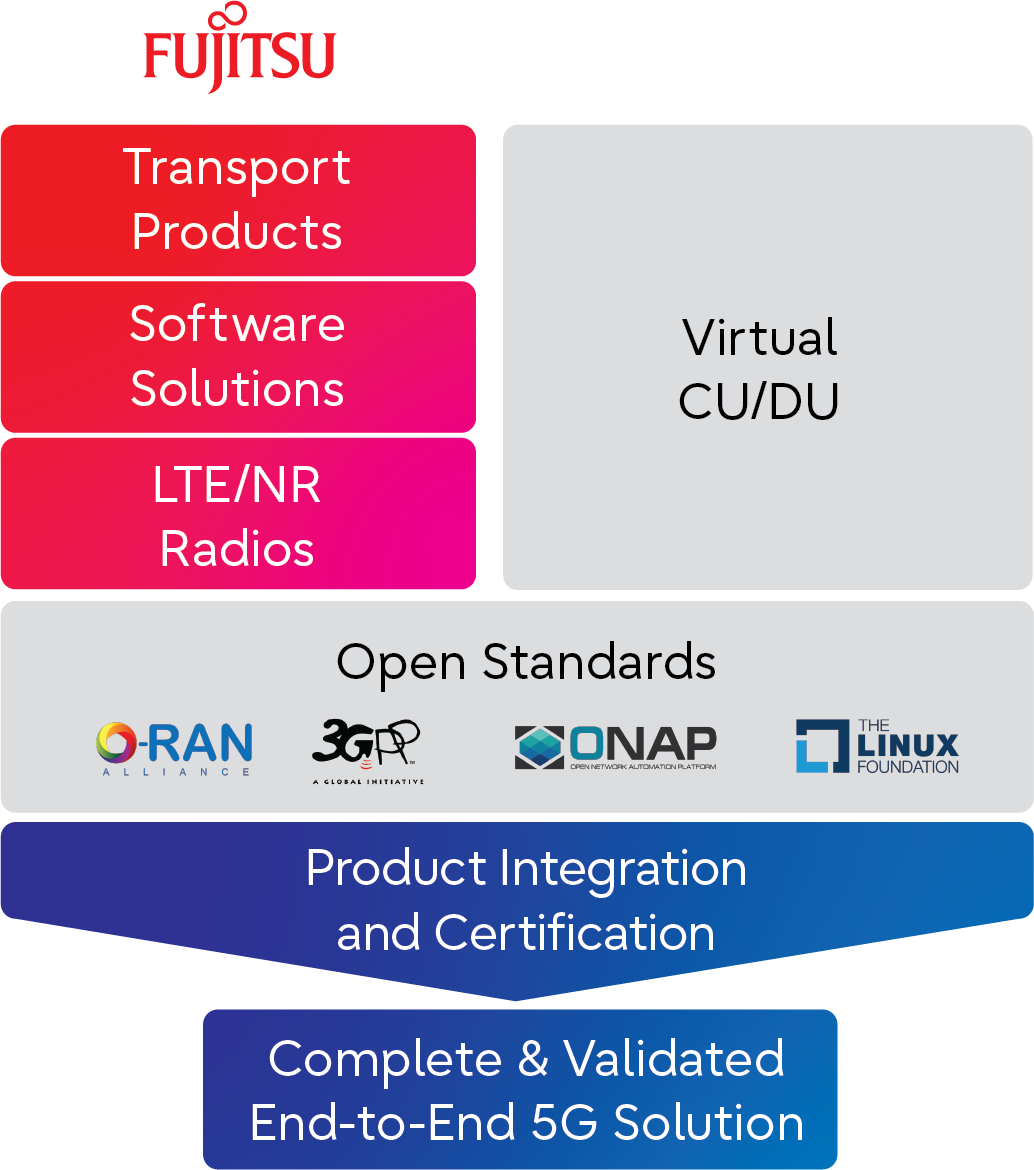 Fujitsu Radio Proliferation
Fujitsu has a successful track record as a global RAN solution vendor:
Fujitsu first supplied RAN infrastructure in 1995 (PDC system)
Fujitsu's RU (Remote Radio Unit) was the world's first to be shipped, in 2004 (W-CDMA)
Fujitsu has supplied wideband RU to the North America market since 2013
Fujitsu has designed and supplied customer-specific frequency band combinations for dual- and triple-band applications since 2014
Fujitsu has supplied 5G-RU and CU/DU since 2019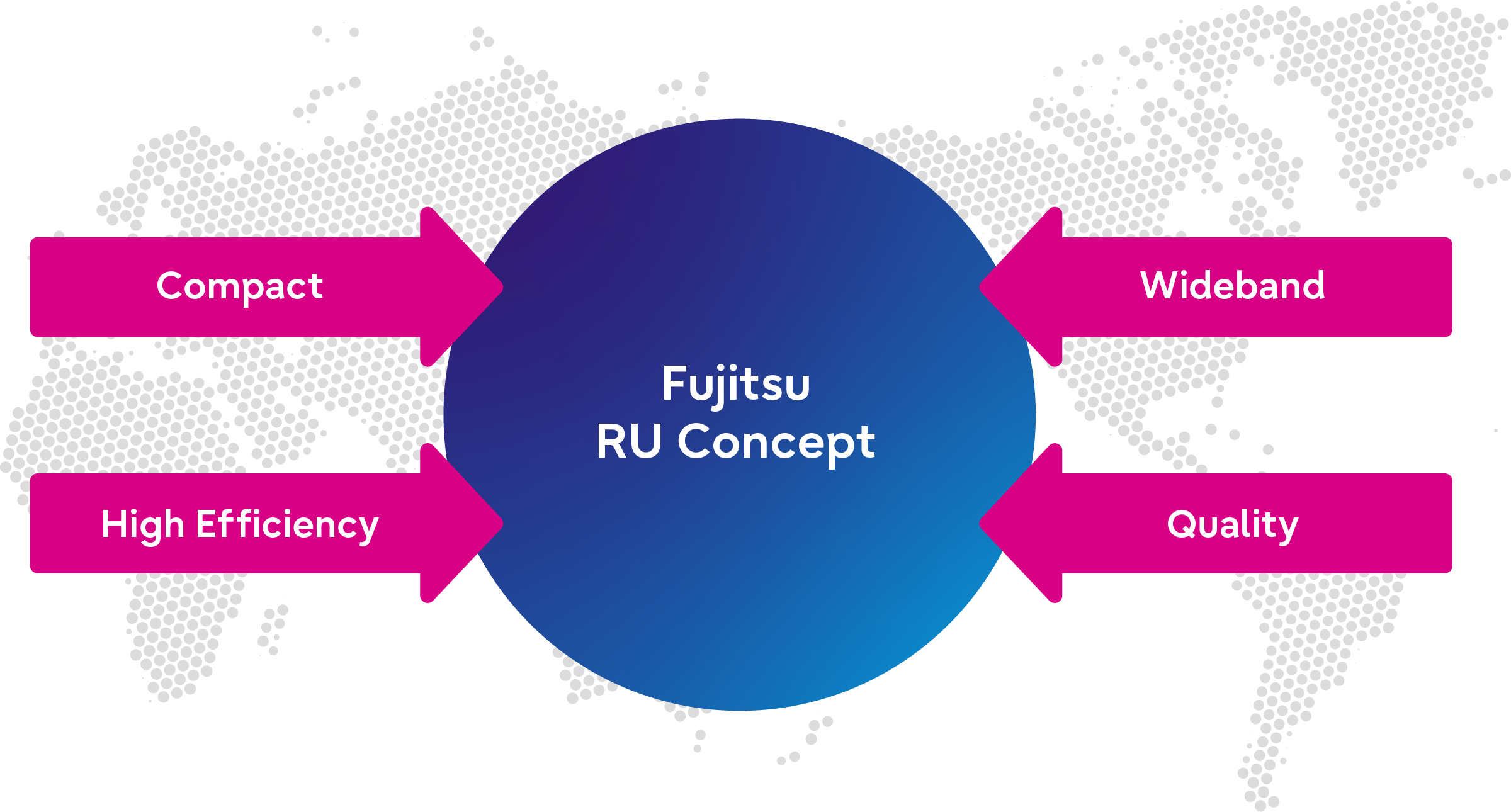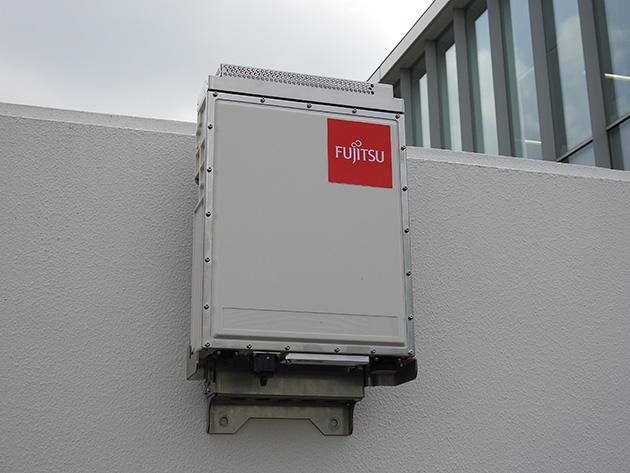 Fujitsu RU Features
Fujitsu provides the Open RAN solution for Global customers.
Open Interface
RU supports ORAN standardized interface to CU/DU, EMS, OSS.
High Efficiency
World-class power efficiency cuts consumption and reduces operational cost.
Multi-Technology
Multi RAT Technology supports LTE/5G simultaneously in one RU.
Wideband Innovation
New algorithm for Digital Pre-Distortion compensation (DPD), and new amplifier technology optimized for wideband signal transmission.
Multi-Band
RU supports two different bands with Fujitsu miniaturization technology.
Product Lineup

Antenna Integrated Type

Antenna External Type
Basic RU Specification
Frequency Band
Sub 6 Band: 600 MHz – 5.0 GHz *
mmW Band: 24.25 GHz – 29.5 GHz, 37 GHz – 40 GHz *
Access Technology
Multi RAT Technology (LTE/5GNR)
Number of TRX
4TRX – 64TRX Configuration *
Antenna type
Integrated type or External type
Fronthaul Interface
ORAN/CPRI
* Customizable