<!-Subtext (optional)->
Software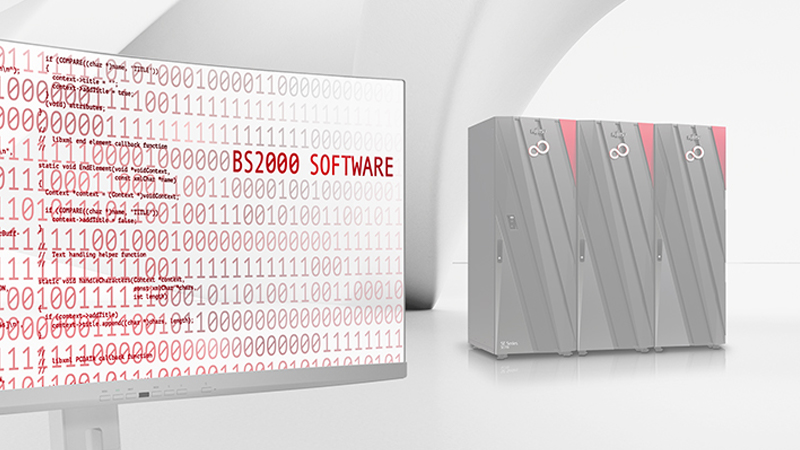 Fujitsu Software BS2000 VM2000
Virtualization enables simultaneous operation of multiple virtual systems on one server
Current version: V12.0


A virtual infrastructure like VM2000 reduces IT costs by increasing efficiency, flexibility and response capability. It provides IT resource allocation on-the-fly in response to new business requirements and service requests. Extremely high levels of server utilization are a byproduct.

The virtual machine system VM2000 supports the concurrent operation of several BS2000 systems on a single server. The operating resources of a real server can be allocated to up to 32 virtual BS2000 systems (guest systems). The guest systems are totally segregated from one another, i.e. problems in one guest system (up to total crash) have no impact on the rest.

The guest systems running under VM2000 have the same functionality as in native mode in terms of command set, networking capability, and testing and debugging tools. A central VM accounting function is available for global accounting of the guest systems.

The advantage of using VM2000 as compared with the use of multiple servers is the possibility of consolidation with the aim of providing more efficient use of hardware resources, human resources and infrastructure.

VM2000 offers the Live Migration functionality for SE servers - the uninterruptable relocation of a running BS2000 guest system from one server unit to another.
---
Main Features

Benefits

Concurrent operation of up to 32 BS2000 systems on one server unit x86 and up to 15 BS2000 systems on one server unit /390
Totally segregated system environments
Work load balancing between the systems
Server CPU capacity quota can be allocated to the guest systems
Uninterruptable relocation of a running BS2000 guest system

Enables consolidation with the aim of providing more efficient use of hardware resources, human resources and infrastructure
Production, development, testing or sensitive applications can be insulated from one another
Computing power not required from one system can be used by another system
The computing capacity assignment to the systems can be ensured corresponding to the business priority
Reduce planned downtimes
---