Fujitsu Cloud Service K5: Platform as a Service
Develop, deploy, digitalize. Get the edge with K5 PaaS.
As part of MetaArc, K5 provides the engine for your organization to digitalize with confidence. Whilst K5 IaaS lays the foundation through infrastructure modernization, Platform as a Service (PaaS) gives you the toolkit to truly transform, delight your customers and get the competitive edge.

This starts not only with the support, integration and transformation of both your Systems of Record and Systems of Engagement – but by enabling your developers to rapidly create and manage new digital applications at scale, without the complexity of building IT infrastructure.

By working closely with our customers, Fujitsu is helping to address the biggest challenges in digitalization, including:
Digitalization Challenges

Efficiencies
By extending beyond the infrastructure layer and removing complexity from applications systems and processes.

Business growth
By leveraging application services and open systems, introducing new business models and getting closer to customers.

Collaboration / co-creation
Through working together to create new value chains, underpinned by real-time, joined up information systems, delivering connected intelligence.

Complexity and responsibility
Managing and integrating enterprise systems and data in order to orchestrate effectively, whilst minimizing vendor lock in through use of open systems.

Innovating and the user interface
Unlocking value in traditional IT applications via APIs and improving efficiency with new agile processes.

Flexibility
For creating customised systems quickly, enabling a shift to proactive IT to support business innovation, new business value and an enhanced customer experience.
K5 PaaS: Bringing Digital Transformation to life.
Fujitsu Cloud Service K5 tackles these challenges head-on by enabling you to take advantage of the four building blocks of digital transformation: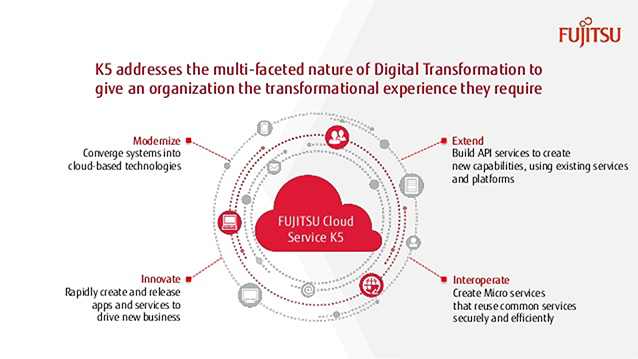 At Fujitsu, we understand that these building blocks mean something different to every organization depending on your risk profile, legacy systems and your pace of change. With K5, we give you the flexibility to transform on your own terms and provide your developers with the market-leading tools they need to get the job done.
Tools to bring the incredible within your reach…
K5 PaaS offers a wide range of custom development capabilities for modernization and the rapid development and deployment of new digital services, these include:
Fujitsu System Factory Service

Templates and automates infrastructure sets as code, making it easy to create and deploy workloads to cloud infrastructures, enabling:

re-use
automation of system build and operations tasks
Fujitsu PF

Provides pre-configured infrastructure for Java based, critical applications that:

shorten system set up time
improve developer productivity
optimizes the use of infrastructure assets.

PF also provides an app development framework that can be used to enhance Java applications and add new features and functionality.
Fujitsu Cloud Foundry Service

Enables app developers to build, deploy, run and scale apps on both public and private clouds. Users can select from a wide range of development languages such as Java, Node JS or PHP. Cloud Foundry creates the required app environment, allowing developers to focus on creating code and deploying at speed.
Fujitsu K5 APIM

Allows app developers to provide web API management to access services such as control and governance, as well as protecting API infrastructure by accessing configuration options within APIM not through programming code.
Apigee Edge

API Management based on the market leading Apigee Edge platform, simplifies the delivery management and analysis of back-end APIs and apps for faster dynamic service development. These can also be used as 'wrapper services' around existing robust IT systems, exposing them as new digital assets without re-platforming and with minimal recoding.
Explore the entire Hybrid IT portfolio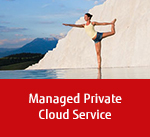 Nach oben