Transformative 5G in the IoT Era: how to realize its potential, from verification to implementation
Optimal Enterprise 5G model selection, based on functionality, safety, and cost performance
5G is one of the key digital infrastructure technologies that support digital transformation (DX), with its spread beginning to accelerate considerably beyond that of conventional communications network technologies. The industry is paying close attention to its principal advantages such as ultra-high speed, low latency, and multiple simultaneous connections, all of which proved difficult with conventional enterprise communications technology. Despite this, however, we are only seeing a small number of 5G network implementation cases in the industry.
In this article, Dr. Jianmin Jin, Chief Digital Economist of the Fujitsu Global Marketing Unit, assesses the most appropriate models for Enterprise 5G, as well as providing an explanation as to why enterprises are hesitant when it comes to adopting 5G networks. He also discusses how we can eliminate the main factors that are hindering the active introduction of 5G, as well as which factors are contributing to its successful deployment around the world.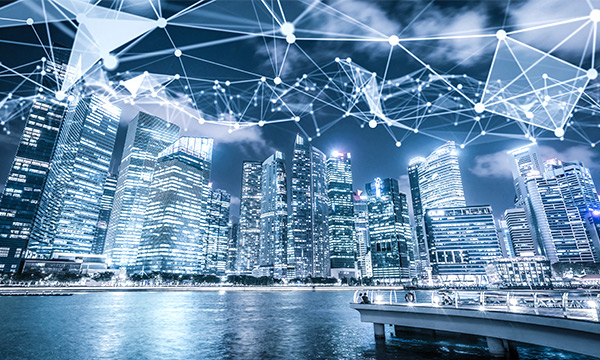 Outpacing conventional 4G and LTE – the spread of 5G is accelerating
In addition to the consumer communications services targeted by 4G/LTE, 5G is expected to strengthen the myriad Enterprise 5G services being developed for various industries. 5G networks with features such as "ultra-high speed and large capacity," "ultra-low latency" and "multiple simultaneous connections" have the potential to provide significant value to businesses entering the IoT era. There are, however, a number of issues regarding the usefulness and feasibility of the technology, its capability to ensure data security, and indeterminate cost performance that are causing companies to hold off adoption, despite its potential.
On the other hand, we are seeing an accelerating investment in 5G networks, as the world's next-generation communications infrastructure, with more than 80% of carrier capital expenditures likely to be allocated to 5G networks. In fact, the early consumer implementation of public 5G is already starting to spread more than four times faster than 4G and LTE. In addition to a private 5G network that uses the spectrum dedicated to an enterprise, there is also an Enterprise 5G, which uses part of a public base station and core networks virtually. In short, by combining 5G's unique slicing technology and telco edge computing, it becomes possible to create an enterprise proprietary network (for the exclusive use of Public 5G) that balances both cost performance and security requirements. These multiple application patterns can meet the diverse needs of enterprises. In fact, in the Enterprise 5G, whose usefulness has been verified and which has already been introduced in multiple countries, there are diverse examples where a company's own network has been created partly using public 5G, in addition to private 5G.
Major carriers, leading IT vendors, telecom equipment manufacturers, and start-ups around the world are accelerating their business activities in the Enterprise 5G field. We anticipate that user companies will also start to ramp up their shift from 5G network verification to implementation in the near future.
What is edge computing? : A computing process that is done closer to the user side in communications network. It is also called "MEC" or (Multi-Access Edge Computing) these days.
Understanding the Gap between 5G's technological superiority and its low adoption rate
We now recognize the effectiveness of digital technologies, thanks in no small part to the pandemic caused by a new coronavirus infection. The DX (digital transformation) is rapidly spreading from industry and government to reach all parts of society. In response, the expectation levels for 5G as a next-generation network infrastructure are also rising. In particular, the deployment of 5G in various industries, characterized by "ultra-high speed and large capacity," "ultra-low latency" and "multiple simultaneous connections" is highlighting potential 5G killer applications that bring about innovation. To date, the industry has evaluated the wireless network technology based on how it impacts consumer use cases. In the 5G era, however, enterprise use cases are expected to play a more important role. Enterprise 5G technology is moving beyond the boundaries of consumer public network commercialization, with verification taking place around the world as well as selective use case implementations.
One of the reasons why corporate users, who are on the demand side, are paying attention to Enterprise 5G is that the number of smart devices has rapidly increased and the IoT era, which is the era of big data utilization, has already started (see Figure 1). In particular, the number of industrial IoT devices is poised to surpass the number of communications devices used by people in general. Furthermore, by providing a 5G network infrastructure capable of reliably transmitting large amounts of recorded data and real-time data, it becomes possible to fully utilize next-generation digital technologies such as AI, IoT, edge computing, AR/VR, and blockchain. This will lead to the arrival of a Digital by Default era (true digital age).
Figure 1: IoT Device Numbers - World Transition and Forecast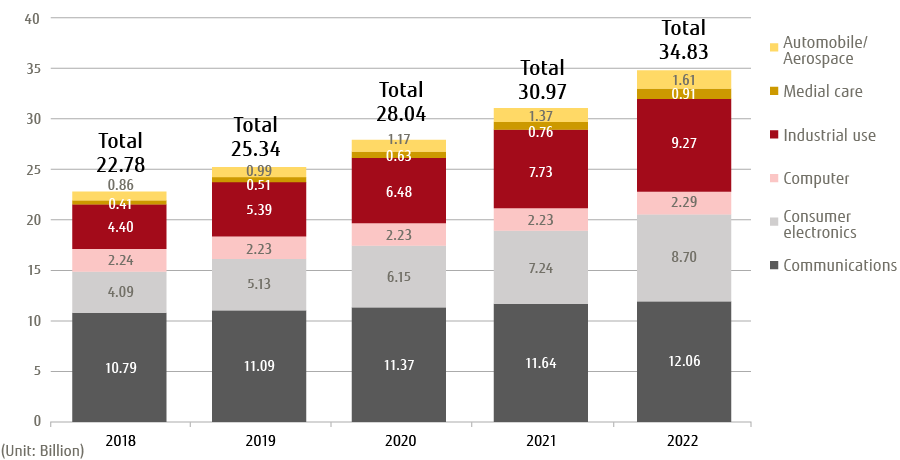 Source: Author's summary based on 2020 White Paper on Information and Communications in Japan
5G is also characterized by its slicing technology that prioritizes control of network functions according to the needs of individual companies, its flexibility to choose where to install 5G units, its power-saving capability that saves up to 90% of the power consumption of IoT devices, and its enhanced security (Encryption) function that scales up from 128 bits in 4G to 256 bits. However, there is a clear gap between the technology's superiority and its adoption rate by enterprises as users. Although they recognize the advantages of 5G, they are reluctant to switch from the existing network infrastructure to 5G. This is because there are multiple barriers to 5G's deployment, including its availability, network safety, introduction costs, and a general lack of internal understanding and expertise. These factors encompass the issues on the supply side such as carriers and IT vendors, as well as those on the demand side. For example, the delay of investment recovery in the existing 4G networks may hamper the extension of 5G networks on the carrier side. On the other hand, in the Enterprise 5G market, as needs are diversifying or fragmented, and the integration of OT (operational technology) and ICT is required, it becomes difficult to predict business models and revenue models. In addition, there are issues such as high introduction costs, plus the lack of human resources and know-how to utilize digital technology including 5G on the user side. ABI Research, a leading UK-based research firm, published an insight report indicating that many use cases are sales-oriented, not needs-driven, and do not meet corporate expectations*8.
However, these issues in Enterprise 5G adoption are steadily being resolved around the world. As Figure 2 shows, more than 80% of carrier capital expenditures (Global investment estimated at $900 billion between 2021 and 2025) in major countries are allocated to 5G, accelerating the deployment of public 5G networks and development of equipment and applications for Enterprise 5G use.*2,*3 According to Gartner, global investment in 5G is estimated to be approximately $19.1 billion in 2021, of which $9.1 billion will be spent in Greater China, $4.3 billion in the United States, and $1.6 billion in Europe, with these regions holding 80% of the total*9.
Figure 2: Prospect for Carriers' 5G-Related Share in Capital Investment (2021 -2025)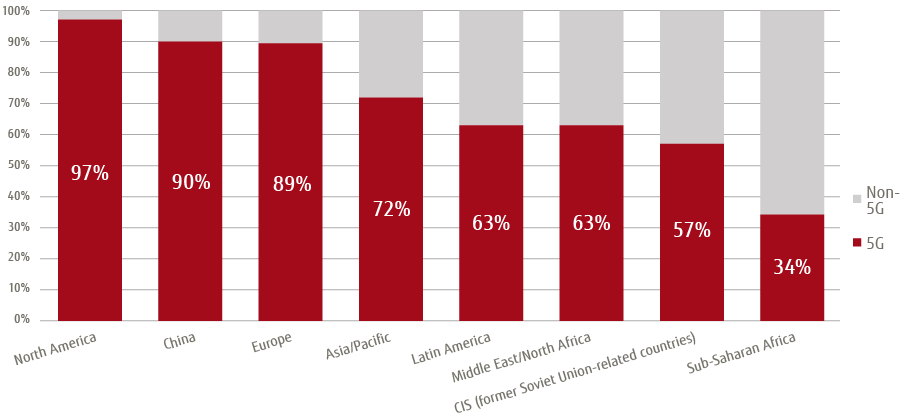 Source: Author's summary based on GMSA (2021)
Against this background, industry needs to act in preparation for the arrival of a new era of digital transformation.
Bridging the gap by expanding the use of public 5G
According to the GSMA (GSM Association), 142 public 5G commercial network services were launched in 57 countries at the end of 2020, and this number is expected to expand to 178 in 61 countries by the end of 2021*7. At the end of 2020, there were 230 million terminals connected to these networks, and there were more than 300 commercial 5G devices. By the end of 2021, the number of terminals connected to these networks is expected to reach 540 million*6. Due to the rapid spread of 5G, the U.S. industry trade organization (5G Americas) estimates that the introduction speed of 5G is four times faster than that of 4G, making it the fastest ever mobile communication technology to be introduced*14.
The rapid spread of Public 5G will lead to the expansion of 5G's area coverage, the maturation of its technology and facilities, the training of human resources, and the formation of an ecosystem around 5G, all of which will encourage the development of Enterprise 5G. In addition to enterprise-specific Private 5G (Physically Independent Enterprise 5G), as shown in Figure 3, 5G slicing technology enables the logical partitioning of a single physical general-purpose network (including a base station and core network) into enterprise-specific networks that meet different communications service requirements.
Figure 3: Network Slicing to Meet Company/Industry Needs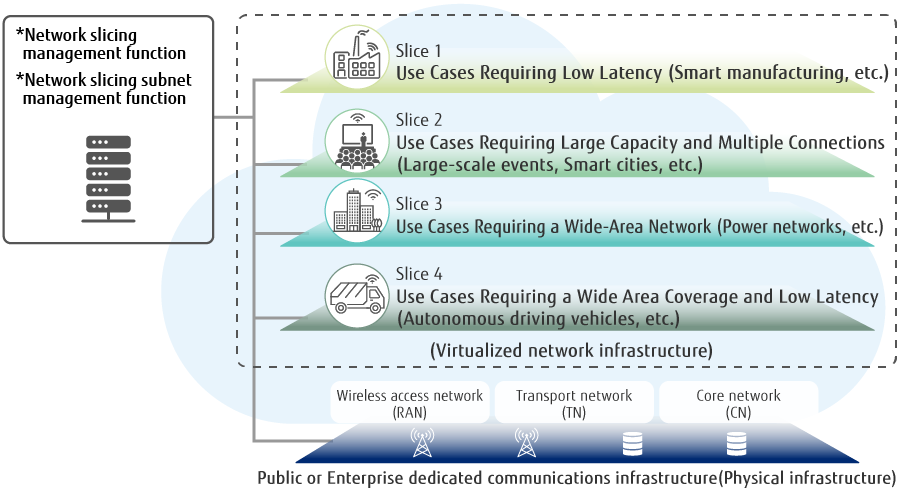 Source: Author's summary
The overall market for Corporate 5G (exclusive use of Public 5G and Private 5G) is expected to expand rapidly due to the increased availability of 5G networks as mentioned above, complemented by the growing needs and advancement of enterprise digitalization. According to US-based research firm Keystone Strategy & Huawei SPO Lab, the Enterprise 5G market (5G vertical market) will be worth approximately $600 billion in 2025, with $232 billion invested in 5G and $370 billion invested in related markets (Data collection, data management, secure data storage and analysis services, etc.)*12. Ericsson estimates that the market created by 5G network slicing will reach $200 billion by 2030*10. Healthcare, Government, Transportation, Energy, Public services, and Manufacturing are among the most active industries in the use of slicing technology.
In the future, it will be very important for companies to envision and implement a value creation model for business innovation utilizing a dedicated 5G platform.
Enterprise 5G Network Selection Models and Use Case Examples
5G is expected to play an important role in enterprise digital transformation (DX), but unlike public 5G for consumers, which is provided for uniform needs (one-size-fits-all), the needs for Enterprise 5G are diverse and fragmented. How to build a dedicated 5G for each enterprise is a big challenge for stakeholders such as carriers, IT vendors, and enterprise users.
As noted above, there are two implementation models for dedicated Enterprise 5G networks.
The SNPN (Stand-alone Non-Public Network) model, called Private 5G in Japan and Germany, which does not depend on the function of public communication networks. This includes cases where a carrier offers a service to allow a particular company (customer) to use a part of frequency range assigned to a carrier.

The model that logically builds a corporate dedicated network PNI-NPN (Public Network Integrated Non-Public Network) by slicing a public 5G network.
Figure 4: Enterprise 5G and Public 5G Network Configurations (Conceptual diagram)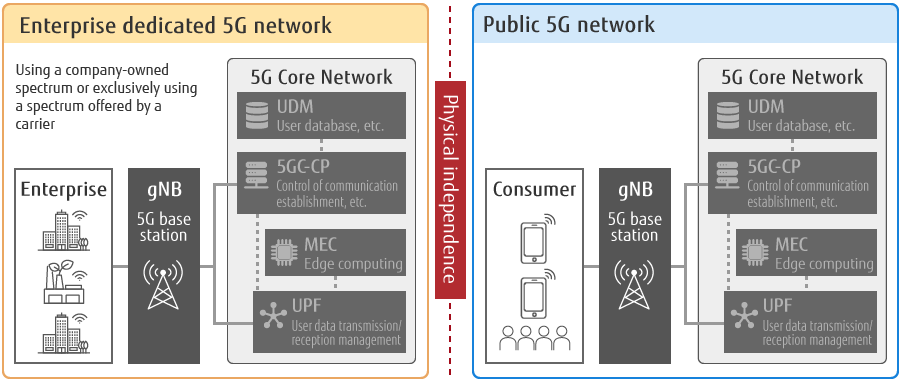 Source: Author's summary
1. SNPN Model (where the network is physically independent)
As shown in Figure 4, a company must physically build the entire base station, core network, and data transmission network that make up a 5G network. An available frequency range can be one of the following:
Spectrum acquired by the user company
Spectrum offered by a carrier for exclusive use by the user company
There is another business model that can be implemented by asking a trusted third party to create a dedicated SNPN, and the company (customer) can use it on a subscription basis. The concept of the SNPN model is not dissimilar to that of the enterprise network model in the 4G era.
The principal advantages of the SNPN model are its level of privacy, the high level of data security, ultra-low latency, plus its inherent flexibility based on a company's own design, and its resilience. On the other hand, there are disadvantages, including the high cost for acquiring a frequency range (or an exclusive lease from a carrier) and building networks, as well as the need to secure highly skilled operators.
Example 1: Physically independent Enterprise 5G models, based on frequency range acquisition - Fujitsu Shin-Kawasaki Technology Square and Oyama Plant
In February 2020, Fujitsu obtained Japan's first private 5G license (using a dedicated 5G frequency range allocated to each qualifying enterprise) and built the NSA network (5G wireless system that realizes 5G data communications in conjunction with LTE equipment) within its Shin-Kawasaki Technology Square. In March of the same year, Fujitsu began operating a security system, which is the first commercial operation of a private 5G network in Japan. It realizes high-capacity/high-speed transmission of high-definition image data collected by multiple cameras, as well as the operation of a security system for the early detection of suspicious behavior based on video analysis.
In March 2021, we began commercial operation of a private 5G system at our Oyama Plant to automate on-site operations and provide remote support. As shown in Figure 5, the private 5G system comprises two parts: a middle-band SA (Stand Alone: 5G wireless system including the core network implemented only by 5G technology), which enables the automated movement of an unmanned vehicle (AGV = automated guided vehicle) via position control. The second part involves a high-band NSA (Non-Stand Alone: system consisting of a 4G LTE core network and 5G base station), which is used for work training facilitated by MR (mixed reality) functionality, and remote support through high-capacity/high speed data transmission, and work assessment by AI image analysis.
Figure 5: Private 5G Utilization at Fujitsu Oyama Plant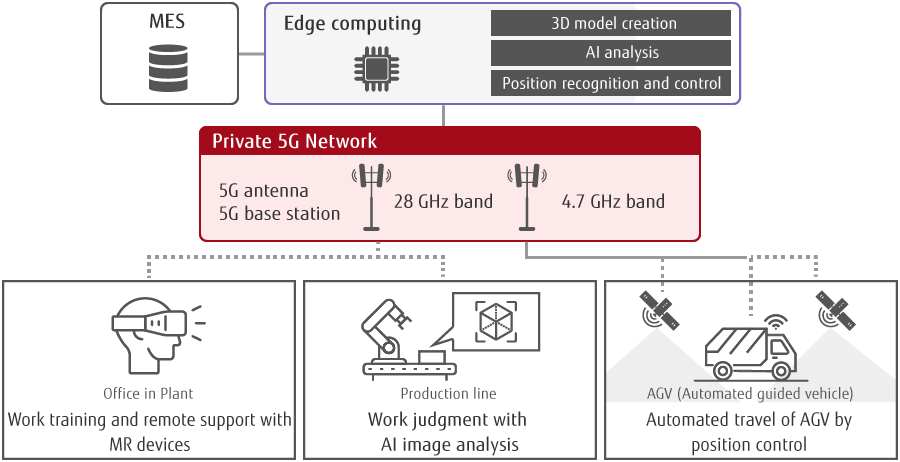 Source: Author's summary based on Fujitsu news release
The Oyama Plant's private 5G solution, based on the locally built Enterprise 5G communications network, was verified to realize a smart factory, utilizing advanced technologies such as AI, IoT, AR/VR/MR. The plan is to offer this to other companies as a service in the future. This example from the Japanese manufacturing industry, ranked as one of the world's leaders, has proved the viability of an Enterprise 5G. It was realized by overcoming the challenges of a manufacturing system to ensure data security, network availability, production system resilience, etc. even in situations where the deployment of public 5G networks is not particularly widespread.
Example 2: Independent Enterprise 5G Network implemented by part-leasing of carrier-owned frequency range - Ericsson Nanjing
Ericsson Nanjing (ENC: Nanjing Ericsson Panda Communication is a joint venture between Ericsson and four Chinese telecom equipment vendors, including Nanjing Panda and Potevio.) is the Chinese production base of Ericsson, a telecommunications equipment manufacturer, and is positioned as a global technology commercialization center.
In November 2019, Ericsson Nanjing teamed up with partners such as China Mobile and the wireless solutions provider (Quectel Wireless Solutions Co., Ltd.) to start collaboration on the physically isolated Enterprise 5G project, involving China Mobile's 5G spectrum being dedicated to Ericsson. The system's operation started at the end of March 2020, on completion of the implementation phase. This use case details an example of building a private 5G system that exclusively uses the carrier spectrum in China, where Enterprise 5G dedicated frequencies have not yet been allocated.
This project covers a large number of plant lines, warehouses and other facilities located on the site of Ericsson Nanjing, occupying more than 10,000 m2 (square meters), and connecting over 100 5G network facilities. Based on the Industry 4.0 architecture, the project was completed with the grand design of the 5G Smart Factory, which consists of three layers: a dedicated 5G network, an industrial network platform (IIoT), and applications. In this project, the 5G dedicated network was further divided for production, office work, and monitoring to connect different devices and isolate data, thereby improving productivity. At the same time, Ericsson Nanjing reports that it has developed and implemented applications for use cases such as 5G cloud AGV (automated guided vehicle), 5G-powered drone inventory, AR training and remote instruction, and 5G wireless industry PC (Industrial Personal Computer — IPC) based on 5G dedicated networks.
Ericsson intends to deploy the technologies and applications accumulated in the use cases of the 5G Smart Factory at Ericsson Nanjing at other Ericsson factories.
This example involves an independent model use case, and although it is physically isolated from the public 5G network, the slicing technology is used inside the company according to application needs. In addition, in China, where frequencies are not allocated to vertical industry 5G use, only the carriers' frequency ranges can be used. Although policies for limited frequency allocation vary from country to country, leading companies have built a global network, and the use of 5G in each market is proving to be worth the overall optimization. In this sense, this is one of just a few unique cases.
2. PNI-NPN Model (Model to share public 5G physically)
The PNI-NPN model uses carriers' frequency ranges and a slicing technology, a new technology in the 5G era, to share all or part of a public 5G network and logically build an enterprise proprietary network. In China, where Enterprise 5G implementation is being promoted, most use cases are PNI-NPN models. The development of public 5G networks in China may therefore be driving the adoption of Enterprise 5G.
There are three main types of PNI-NPN models (shared model). (Figure 6)
Sharing only the base station in an enterprise (logically isolating the enterprise core network)

Sharing the base station and some parts of the core network, which are the subscriber database called UDM (Unified Data Management) and 5GC-CP (5G Core Network-Control Plane) for controlling communication establishment, etc. in an enterprise

Sharing the base station and the whole part of the core network in an enterprise (End-to-end sharing)
Figure 6: Conceptual Diagram of PNI-NPN Models (Shared Models) for Enterprise Dedicated Networks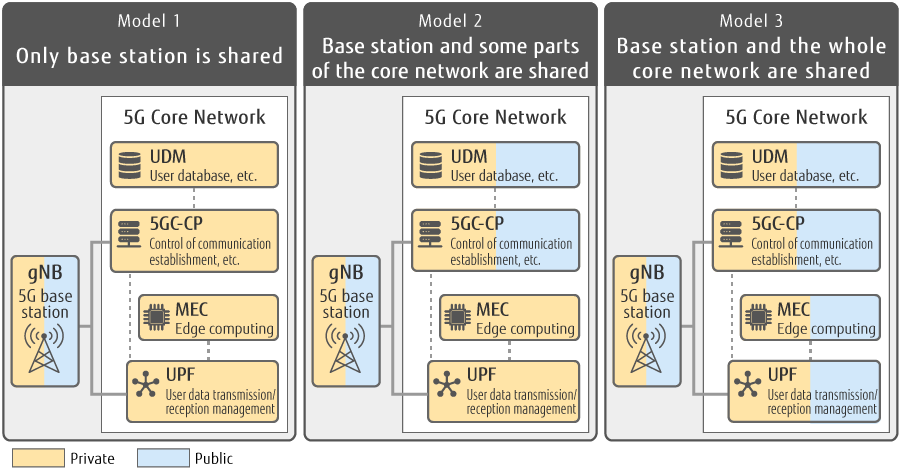 Source: Author's summary
In Model 1, the entire core network is physically located within the company. Business data such as internal facility control data and image data, as well as user data (subscriber data) and operational data such as profiles, all reside within the company, ensuring data security. Since only the base station is shared, the possibility of data leakage at the RAN (Radio Access Network: Multiple base stations-connected network) level is very low. This model is also expected to reduce costs to some extent and to achieve ultra-low latency effects.
In Model 2, an enterprise base station, its subscriber data, profiles, and control management (UDM and 5GC-CP) are shared with a (logically isolated) carrier, UPF (User Plane Function), which controls the transmission and reception of user data (business data), and MEC, which stores and manages user business data, all of which are physically installed in the company. Although data security depends in part on the trust relationship with a carrier, the benefits of ultra-low latency can be enjoyed, and cost savings can be expected.
Model 3 is an end-to-end slicing model in which an Enterprise 5G base station and its core network are logically isolated, and all their resources are shared with public 5G resources. While this model is likely to deliver the highest cost savings, there is a concern about system resilience, as the data security is influenced by the public 5G network, and the distance between 5G devices in the enterprise and the UPF or MEC at the carrier's edge may eliminate the benefits of ultra-low latency.
In Japan, the model of building a completely independent 5G network (Private 5G) within a company is currently leading the trend. In order to use a private 5G network, a company applies for the dedicated frequency range for their own use. Accordingly, the availability of private 5G systems is increasing, and the reliability of relevant equipment is being improved along with the development of necessary applications. On the other hand, telecom carriers are accelerating the deployment of 5G networks and beginning to use the pubic 5G that can cover a wide area, which is impossible for the private 5G to address. Its inherent cost effectiveness is a strong plus point for a Public 5G network.
Example 3: The hybrid network model combining private 5G and public 5G interconnections - Fujitsu/NTT DOCOMO
Focusing on the flexibility of private 5G and the wide area coverage of public 5G, Fujitsu and NTT DOCOMO started a field trial of hybrid 5G. This interconnects private 5G and public 5G networks to build an end-to-end (E2E) Enterprise 5G, mainly in the supply chain field. (Figure 7)
Figure 7: Hybrid 5G Network Example Fusing Private 5G and Public 5G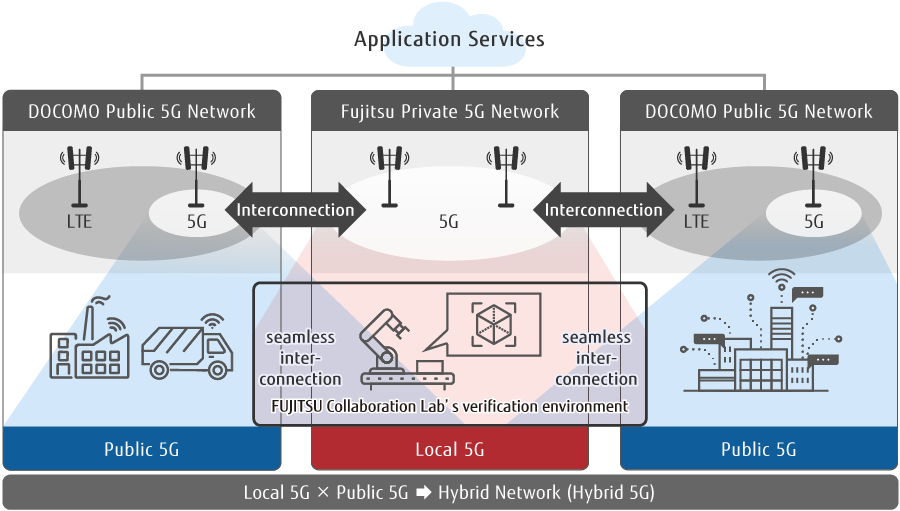 Source: Author's summary based on Fujitsu news release
As the frequency bands used for the private 5G and the public 5G are different, this field trial sets out to determine whether it is better to adopt an interconnection method that requires frequency conversion with an interface (horizontal integration), or an interconnection method that realizes Enterprise 5G by slicing technology to use only public 5G frequency bands (vertical integration). Instead of simply connecting public 5G and private 5G networks, an effective hybrid 5G architecture is required.
SoftBank and KDDI have also announced that in 2022 they will provide a slicing solution that shares public 5G resources to build Enterprise 5G. In Japan, the use of public 5G networks for building an enterprise proprietary 5G network is expected to increase in the future, and companies will be able to choose according to their purposes and needs. In fact, while some countries (Japan, Germany, etc.) are pioneering private 5G by allocating a corporate frequency spectrum in areas where public 5G networks are not deployed or where security is prioritized, there are many cases involving the build of Enterprise 5G by sharing resources of public 5G in China, South Korea, the U.S. and Europe.
According to a survey and analysis by 5GDNA (The 5G Deterministic Networking Alliance), the Enterprise 5G industry trade association inside 3GPP (a consortium of telecommunication standards organizations), the number of Enterprise 5G related projects worldwide reached nearly 6,000 in 2020, and more than 20 leading telecommunications carriers released Enterprise 5G solutions. The industry needs to take a broad view of the Enterprise 5G implementation model and strategically consider various network building models.
As mentioned above, in China, where public 5G is widely used, the private 5G dedicated frequency ranges are not currently available for allocation. Therefore, the implementation of Enterprise 5G using slicing technology is progressing. As of the end of June 2021, there were 1,600 Enterprise 5G networks, with the declared target being to build another 3,000 networks in the next three years to the end of 2023, and to increase the utilization rate of 5G by large industrial companies to 35%. It is important to pay close attention to Chinese companies' efforts to build Enterprise 5G using public 5G.
Example 4: Public 5G-based Enterprise 5G Network - Haier China
Haier, a general home appliance manufacturer, has been working to create connected factories using IoT technology for long time. In 2019, they launched their own 5G network solution by slicing China Mobile's public 5G network. In September 2020, they completed a slicing verification test and started system operation, before proceeding to implement a smart factory with Enterprise 5G*13.
Haier's examples include use cases such as 5G + image analysis (quality control), 5G + AR (human-robot cooperation), 5G + smart facilities (custom-made) and 5G + smart logistics. While the value of the public 5G is under verification (specifically regarding its wide coverage), Haier implemented a model (equivalent to Model 2 in Figure 6) in order to make a balance between "utilization of resources and know-how of the public 5G" and "assurance of safety of business data and ultra-low latency". This model physically installs the UPF for both the transmission and reception management of user business data and the MEC for the storage and processing of user business data in the company. It also shares the carrier resources such as the base station and subscriber data authentication function. Throughout the verification to implementation, the system is reported to be running successfully.
Figure 8: Dedicated 5G Slicing Network Utilization at Haier Industrial Park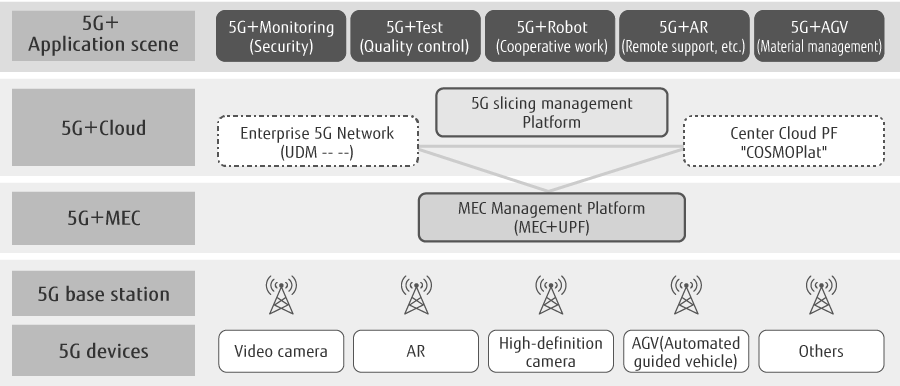 Source: Author's summary based on 5GDNA (2020.11)
In this use case, they achieved 5G enhanced smart manufacturing, resulting in a 28% improvement in product quality, a 25% reduction in equipment failure rate, a 40% improvement in productivity, and a 30% reduction in investment costs.
This is a case study in which almost all of the use cases assumed for Enterprise 5G in the manufacturing industry have so far been verified and implemented, and is considered to be close to the two applications at Fujitsu mentioned above. However, in contrast to Fujitsu's case of private 5G, the Haier case uses slicing technology logically to create a dedicated network by sharing the resources of the public 5G network. Besides, the MEC is implemented on the company premises for business data processing. This configuration enables a balance to be made between data security and flexible allocation of network resources suitable for each application. In China, there is no government policy to allocate a dedicated private 5G spectrum to companies, and hence the Haier model is typical for enterprises to strike an appropriate balance between shared public 5G resources and data security*7.
Enterprise 5G selection criteria: Balancing functionality, safety and cost
In summary, the user side requirements for 5G networks revolve around the following three points.
Meeting the different needs of each use case for 5G functionality (Diversity and Flexibility)
Satisfying data security (safety)
Possibility of self-definition/self-designing/self-management (Network agility)
However, when considering specific use cases, it is not necessary to satisfy each of these requirements simultaneously to the same degree. In many cases, businesses hesitate to adopt 5G networks due to the trade-off between network security and the introduction costs, even though they recognize its business value.
Table 1: Features of Enterprise Dedicated 5G Networks
Implementation model
SNPN Model
(Independent model)
PNI-NPN Model (Network sharing model)
Base station sharing
Base station and UDM/CP sharing
End-to-End sharing
Degree of isolation from public 5G
High
Medium-High
Medium
Low
Degree of delay
Small
Small
Small
Depends on the distance from MEC installation point
Complexity of building
Complex
Relatively simple
Simple
Simplest
Building/Operational costs
High
Relatively high
Medium
Low
Required skills
High
Relatively high
Medium
Low
Target company
Industries and large companies that require independence
General companies
General companies
Companies operating in a wide area /
Small and medium enterprises
Source: Author's summary
Table 1 summarizes the features, and the pros and cons of the major models for building Enterprise 5G networks mentioned so far. As innovation in communications technology advances, such as the separation of hardware and software, attention also needs to be paid to the diversification of Enterprise 5G models.
In fact, in China, where the 5G infrastructure is under development, there was a controversy over whether Enterprise 5G should be a private model or a network-shared model. Proponents of the shared model, centered on carriers with 5G licenses, are opposed to the allocation of corporate dedicated frequency ranges. Their argument centers on the need for the effective use of radio frequencies, the low cost and simplicity of network building and operation (economic rationality), the assurance of exclusive network use by slicing and other technologies, and the experience gained through field trials and implementation of use cases (commercial deployment). The GSMA also notes that it does not recommend the allocation of corporate dedicated frequency ranges, because of the inefficiency in the use of limited radio frequency resources and the negative impact on the development of 5G capabilities.
On the other hand, advocates of independent enterprise networks raise questions about the coverage issues of public 5G networks, data security and resilience to public network failures, and whether ultra-low latency can be achieved through slicing technology. They are advocating privately allocated frequencies, citing examples such as in Japan and Germany where dedicated frequencies are allocated to enterprises. To address these concerns, carriers and suppliers in China, as seen in the case of Ericsson Nanjing mentioned earlier, offer a service menu to lease specific frequencies to specific industries with a high demand for security assurance for their network building, or to large companies with operational expertise and human resources. For use cases in China, they are developing and implementing solutions that enable the local installation of a core network (UPF and MEC). They are also offering the option of local deployment of a control plane (5G Core Network-Control Plane) as an emergency backup function for an enterprise network operation in the event of a public network failure.
Based on the above considerations, the deployment of Enterprise 5G is likely to be promoted as a dedicated hybrid model, combining public 5G slicing and physical dedication via the local installation of some features, as well as from the following five perspectives:
R16 (5G Standard Release 16) and the upcoming R17 are designed primarily for enterprise networks and they are moving in the direction of connecting the conventional public and private networks, which were previously independent of each other.
Unlike the conventional public networks that aim to connect "humans", they support innovative services associated with the connection of "Things" (IoT).
Getting rid of issues such as siloed networks and cost increases caused by incompatibility of conventional dedicated network technologies (UWB: Ultra-Wideband Wireless Communications, Industrial Wi-Fi, LTE standards for IoT devices such as NB-IoT, etc.), 5G networks can meet various needs such as in production, office management and logistics by slicing technology based on a single standard.
Encryption level has been enhanced to 256 bits from 4G's 128 bits.
Independent models are appropriate for specific geographic locations such as within a factory, and they require the end-to-end carrier resources for broader use cases such as autonomous driving.
In the future, 5G technology will take the same direction as the cloud technology that handles on-premises and public cloud systems, and its systems will eventually converge into a hybrid form according to enterprise objectives, productivity, and the maturity of cloud technologies.
In contrast to the independent model, which is a company's proprietary model aimed at ensuring higher security, availability, and ultra-low latency, the network-shared model is an asset utilization model that is intended to ensure security, ultra-low latency, cost performance, and simplification of system implementation and operation, by optimizing the network configuration via the installation of all or part of the core system on the corporate premises, and by utilizing 5G slicing and advanced encryption technologies.
As a result, companies must assess the best combination of implementation methods, system functionality, safety, and costs for maximizing the value according to their objectives. They need to design a well-balanced 5G network deployment plan, based on their objectives, expertise, the "coverage and availability of public 5G," and the requirement to acquire dedicated spectrum or to possess proprietary network assets, as well as the associated costs.
An agile strategy based on a needs-driven approach
As we have seen, alongside the progress of Public 5G, Enterprise 5G is also undergoing technical verification, implementation, and operation in parallel, which is in turn prompting a new set of dramatic innovations in communications technology, which are quite different to those achieved up to 4G. At present, countries and companies are competing fiercely in the technological development and implementation of 5G in each industry. We need to watch future trends in 5G and 6G technologies carefully, particularly in the fields of where it is in essential component, such as in autonomous driving, telemedicine such as remote surgery, and work automation in production facilities.
On the other hand, in order to implement Enterprise 5G, it is necessary to select a network model through a needs-driven approach. This involves a detailed investigation, confirmation, and grasp of different application scenario requirements. In the selection process, it is realistic to take a multidirectional approach, for example by examining the 5G slicing model which service will come into service in Japan in 2022, in addition to the existing private 5G models.
The introduction of the Enterprise 5G network is without doubt the foundation for transforming company systems to address next-generation needs. We need comprehensively to design and implement a digital innovation architecture by combining AI and IoT technologies, as well as business applications that will enhance corporate productivity and promote innovative activities that create new value. We also need to monitor innovative and rapid transition efforts, from the verification to the implementation of Enterprise 5G networks, taking into account their overall design from infrastructure to applications.
---
Key References
GSMA (2020) "Mobile Connectivity Index" (MCI-data -2020)

GSMA (2021) "The Mobile Economy"

GSMA (2021) "The Mobile Economy China"

GSMA (2021) "Global Mobile Trends 2021 Navigating Covid -19 and beyond"

GSMA (2021) "The State of Mobile Internet Connectivity 2020"

GSMA (2021) MWC Shanghai 2021 Presentation materials

GSMA & CAICT (2021) "5G Use Cases for Vertical China 2021"

ABI Research (2021) "Despite the Massive Potential, Private Networks Still Fail to Reach Scale – and the Window of Opportunity for Telcos is Closing"

Gartner "Wireless Network Infrastructure Revenue Forecast, Worldwide" (2021.08)

Ericsson (2021) "Network slicing: A go-to-market guide to capture the high revenue potential"

Mobile World Live (2020) "Developing an Edge in 5G Services"

5GDNA (2020.02) "5GDN Industry White Paper"

5GDNA (2020.11) White Book on "5G Deterministic Network and Industrial Internet" Integration

"5G is the Fastest Growing Mobile Technology in History"

https://www.5gamericas.org/5g-is-the-fastest-growing-mobile-technology-in-history/
About the author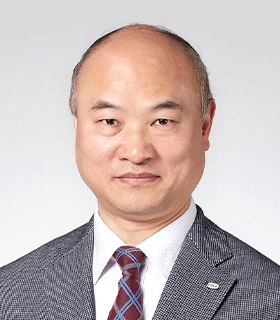 Dr. Jianmin Jin
Chief Digital Economist, Marketing Transformation Division, Global Marketing Unit.
Dr.Jin is engaged in mega trends insights of global political, economic, social and technology (PEST), and the research and analysis of advanced cases of digital innovation / digital transformation (DX).
Dr.Jin's latest book is "Towards the Creation of the Japanese Version of Silicon Valley: Ecosystem Innovation Learned from Shenzhen" (Co-authored).