How can we explore future vision in uncertain times?
The COVID-19 pandemic has changed the world and forced us all to come to terms with a 'new normal.' In this uncertain time when traditional growth strategies no longer apply, how should business leaders envision the future and navigate a course to success?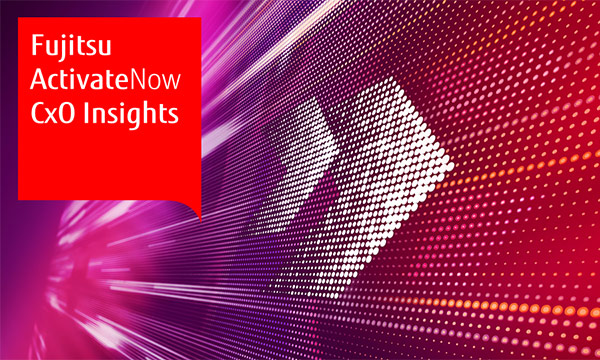 I'm Yoshikuni Takashige, Chief Strategist at Fujitsu's Global Marketing Unit. On February 4, 2021, we held the Fujitsu ActivateNow CxO Insights Future Vision Conference, with Amy Webb, CEO, Future Today Institute as our keynote speaker. We have organized Fujitsu Executive Forums for CxOs of Japanese companies and organizations since 2016. But this time, we renewed its name, and held it online for the first time. The conference theme was Vision-Driven Management in Uncertain Times. To explore this theme, we invited Professor Webb, one of the world's foremost futurists and author of the bestselling book, The Signals Are Talking. What did she talk about management in this age of uncertainty? And what role does she think digital technology will play? Read the following conference summary to find out.
Welcome speech
Before Professor Webb's keynote address, opening remarks were made by Fujitsu COO and CTO Hidenori Furuta and the Head of Private Enterprise Solution Business Group Shunsuke Onishi.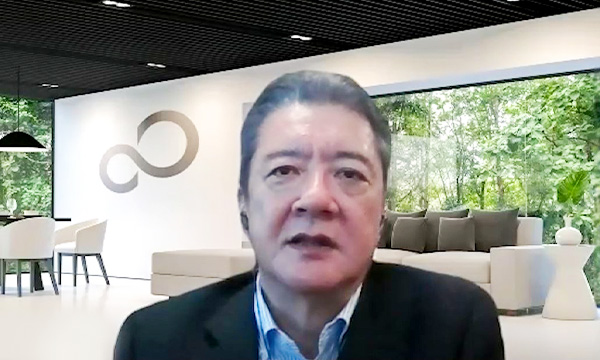 Greeting 1
Hidenori Furuta
COO and CTO
Fujitsu
Thank you for joining us today at Fujitsu ActivateNow CxO Insights. We have linked the flagship Fujitsu ActivateNow event we held last October with the Fujitsu Executive Forums held annually since 2016. This online conference is designed to provide decision-makers at companies and organizations with the latest business insights in an interactive format.
The COVID-19 pandemic has posed new challenges to Japanese business and industries, and forced us to reexamine the roles companies play in society. At Fujitsu last year, we set out our corporate purpose, and positioned all business activities to realize it. The business environment for ICT is changing dramatically, and I expect the same is true for many of you here today. Faced with an unprecedented level of change, the need for digital transformation (DX) has taken on new urgency for us all.
In this situation, we Fujitsu are transforming ourselves from an ICT company to a DX company that helps customers proceed with digital transformation. It is our goal to support your business and contribute to Japanese society with the power of digital technology.
---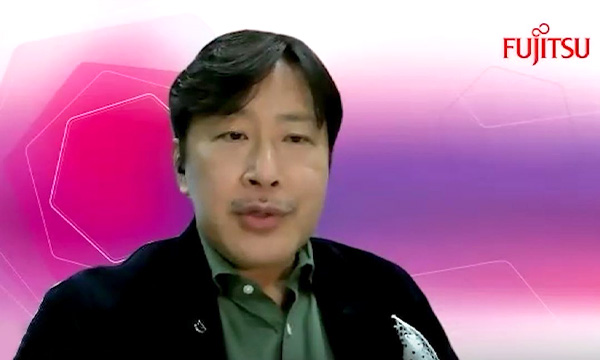 Greeting 2
Shunsuke Onishi
Head of Private Enterprise Solution Business Group, Global Solutions Business
Fujitsu
Let me also thank you for joining us today. My name is Shunsuke Onishi, and I head Fujitsu's manufacturing, retail, automotive, and global service business operations.
Since late January last year, we have seen drastic changes in the world of business, and also in the way people work and live.
In the first few months of the pandemic, our customers' businesses were disrupted in a variety of ways. Many of them adjusted, rethinking their product development strategies and restructuring their business operations drastically to meet the demands of a changing market landscape. But some still face a range of difficult challenges.
This is not the first time that businesses have had to adjust to dramatic change. For example, the bankruptcy of Lehman Brothers triggered a global economic downturn that affected us all. Business is inherently subject to such changes in the external environment, and what is essential is to read the signals and dynamically adapt business strategies in response.
So I'm particularly pleased that Professor Amy Webb is here today to share her ideas with us.
---
In her keynote address, Amy described how companies can succeed by acting as 'pathfinders' to the future with some case studies.
Vision-Driven Management in Uncertain Times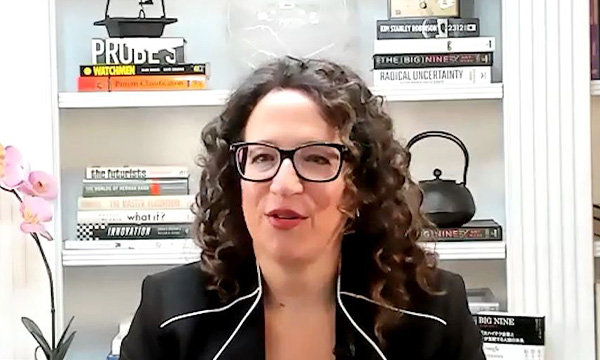 Hello. My name is Amy Webb and I'm thrilled to be with you today to talk about vision-driven management in these incredibly uncertain times.
I'm a quantitative futurist, not a fortune teller. I use data to model emerging signals and trends, and then use that information to build models that show next-order outcomes—future scenarios that are rooted in data. I work with lots of different organizations all around the world. I lived in Japan for six years and so I know the challenges that you are facing.
I know how difficult that digital transformation can be. There is an impetus to avoid risk, especially when you are a successful company; a reluctance to engage in future scenario work or in deep futures work, or even to look outside your company or your industry for signals of change. But there are macro forces that are shaping society that will influence your future. Things like an aging population, growing tensions between the United States and China, and cyber security threats that are increasing. I'm here because I believe very strongly in Japan and Japanese companies, and I want you to develop a clear vision of your future.
A pathfinder company and business success
So that's where we are going to start. What does vision-driven management look like to you?
Right now we are in the middle of a significant amount of change, and I've found that deep uncertainty about the future tends to produce two kinds of organizations. These are organizations I call 'pathfinders' and 'bystanders.'
I'd like to give you an overview of what a pathfinder company looks like. Pathfinders are companies that:
Intentionally look for signals of change
Confront their cherished beliefs about their business
Explore alternative ideas about the future
Confront uncertainty using data
Have strong vision, but are flexible on details and willing to recalibrate their strategies
My favorite example of a pathfinder company is a Japanese company, Nintendo.
Nintendo was founded in the 1880s. Originally, the company made hanafuda cards with highly skilled workers and game developers. But by the 1920s, Nintendo had a problem, and it came from outside the hanafuda industry. The problem was that other forms of entertainment were emerging. First came radio, and it was soon followed by television.
These were big signals of change, and if Nintendo had only been looking at other companies making playing cards, they would have missed these signals and would have been out of business. However, they did something very unusual. In the 1950s Nintendo acquired a license from Disney to produce games. It was an absolutely stunning, brilliant move.
Because Nintendo was good at looking for signals from the outside, it saw how society was changing. By the 1970s, personal computers were making their way out of businesses and into homes. Nintendo saw the dawn of the computer age, and it helped invent the console game, and it helped invent the arcade game.
Nintendo continued to look outside, and people were spending more time with on-demand forms of media, such as tapes, CDs and minidiscs. This led to the invention of portable handheld games. This continued from decade to decade until the latest Nintendo Switch, which launched in 2019.
Why was Nintendo able to deliver these hit products? It's because they were able to accurately forecast a constellation of shifts, signals, forces, trends in consumer behavior, in gaming, in streaming, in cloud architecture, in digital transformation, that would shape their future.
What insights can we gain from this? First, a pathfinder company is good at identifying emerging customer or market tensions. Second, it is also very good at seeing emerging signals of change and disruptive forces early, not just within its own industry, but also far outside of it. Third, it works really hard to resolve tensions by creating new demand spaces, by leveraging those signals and forces.
How to be a pathfinder
To be a pathfinder that sees tensions in the market that will shape the future, you need to be able to identify macro forces of change, signals, and long-term trends.
There are 11 macro forces of change that represent external uncertainties. They include things like the economy, wealth distribution, geopolitics, and demographics. Technology is one of those 11 macro forces of change. However, it's sort of tied to all of these other areas because technology underpins everything that we do.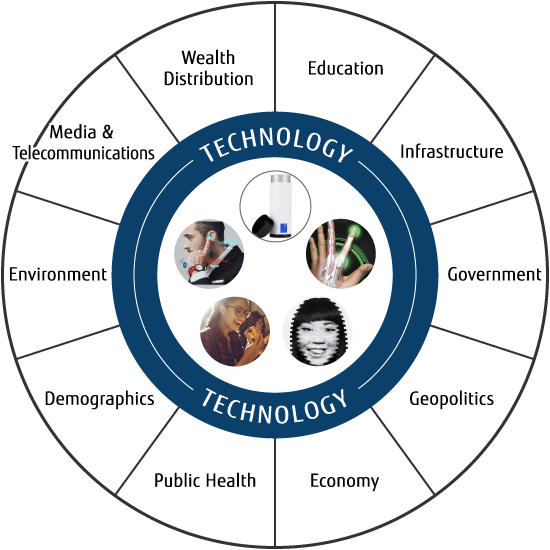 Signals indicate emerging change. There are weak signals and strong signals. Weak signals are things like a new technology development that has not yet entered the mainstream, or a new market strategy, or a new product, or a new service that is entering a space that's not yet competitive. They could be small innovations, incremental changes, minor developments. Strong signals, on the other hand, are things like bigger innovations, a new market strategy, a new product, a new service that's entering a competitive space where others are likely to follow fast.
Trends emerge from the intersection of those macro forces and signals. They develop over longer periods of time. Forecasting longitudinal trends is what enables us to see change early, and to identify risk and opportunity.
Three trends shaping the future
Now I'm going to show you some emerging clusters of trends that will shape the future.
The first trend cluster has to do with 'collaborative robotics + 5G', which relates to macro forces like media and telecommunications, and also infrastructure.
Collaborative robotics are robots that work together as part of a big ecosystem. They make up just about three percent of the current installed robot base around the world, but that's going to change and that's because of 5G, which is an accelerant as it comes online and reduces latency. In the very near future, collaborative robots will play a key role in warehouses and distribution centers, and start to automate tasks that were previously performed by humans. Also, they will start to help on construction sites, in factories, and even during military operations. In the farther future, we can look forward to fully automated supply chains, logistics services, and delivery networks.
You may say this is like science fiction. Well, where this starts to get interesting is 'metadata'. There's a startup in Palo Alto called Maana. Using metadata, they're trying to reveal previously unknown relationships within a space. Spark Cognition is another company that does a lot of this work, they use metadata for predictive maintenance, especially in airlines. Are you making really good use of metadata in your workplace? If not, I would say that you're missing a big opportunity here, and this is one way that you can advance into the future.
So again, a pathfinder company would be looking for signals and tensions, and for some way to resolve them. So what are the tensions here? I would say comfort versus risk.
What are the signals in play here? There's a ton—ranging from metadata and artificial intelligence to things like robots as a service. Google and Amazon are all building cloud-based systems specifically for robotics. Signals also include things like 5G and the processing systems that can be implemented at the edge and up in the cloud.
And what's the resolution then? It is just to make small bets. You can make a series of small bets: meaning investigate, make small changes, see what works and continue to evolve and to innovate.
I actually think that Japan should be the global leader in this space, but right now it isn't. I think this is because of an avoidance of risk rather than embracing the exploration of doing things a little differently.
The second cluster of trends has to do with something called the 'You of Things.' We are transitioning from a simple Internet of Things to a much more defined Internet of X, which includes a broad constellation of things that people wear or hold all the time. These would be wearables and embeddables, as well as things like home appliances, vehicles and accessories. Each individual person is the connective tissue between all of these devices.
As the next generation of network infrastructure, 5G, comes online, life is going to shift away from just one smartphone and our on-demand consumer culture, to instead a whole bunch of devices and continual demand. It will mark the beginning of the end of the smartphone era.
When we look at smartphone shipments in Japan and the US, the trend line is not steady; it is leveling off or declining. In the meantime, smartwatch sales are actually up 91 percent over the past three years.
So Amazon, Apple, Facebook, Google, Microsoft—every company is investing in smart glasses. There are also rings and smart earphones, and wristbands. And all of the things in your home, like your washing machine, your lights, your television sets, and even your toilets—they are all being connected to the internet.
We have a tension now between on demand—people thinking they should get things whenever they want, versus continual demand, which is devices and data anticipating what we'll need and delivering it to us, whether that's information or products and services.
What are the signals here? Well, obviously artificial intelligence and wearables and 5G. The resolution to these tensions and signals is to accelerate your digital transformation. The 'You of Things' will lead to more and better data collection, eventually change how you operate, especially in retail, finance, and the public sector.
I want to end on this last cluster of trends, which is 'artificial intelligence + data + recognition' combined with these bigger forces—so wealth distribution, geopolitics and public health. In order for our AI systems to work, they need both our data and a framework for making decisions. Which means that everybody alive today is being scored in some way or another.
Recognition systems use hundreds of different data points to identify and monitor us, and to predict our likely future actions both online and in the physical world. Persistent recognition systems will allow your companies to learn more about consumers, and to provide levels of personalization that would not be achievable in any other way.
Not too long ago, Amazon launched a voice-powered, Alexa-powered microwave. Why would we need to talk to a microwave? It turns out if we're talking to our devices, then our devices can recognize us, can assign us quantified scores, and then do something with that information. This new area is called 'behavioral biometrics'.
Alibaba is doing a really good job in this area. Alibaba makes use of behavioral biometrics during China's national shopping event on November 11, Singles' Day. To prepare for Singles' Day last year, they refined AI algorithms to predict orders, and were able to pack 500,000 boxes in advance. And here's the crazy thing—they were more than 80 percent accurate, and were able to ship out those boxes on the same day. That's insane.
So we've got a microwave that's generating household data and listening and understanding. We've got glasses that can take your temperature. We've got wristbands that can infer how you're feeling. And potentially, in the near future, we've got toilets that have sensors that can perform a urinalysis to assess your health. This becomes a totally different type of data ecosystem, and if any company can build trust with users and get privacy right—while proving that it can improve their personal well-being—it could unlock massive new revenue streams. What would it mean if the value of the data that's being generated is more valuable than the financial transaction itself.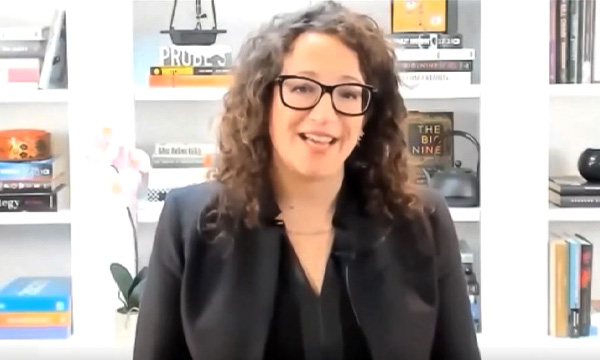 What are the tensions here? Data creation, versus who gets to own those data. Signals from the outside tell you something about who will have the rights to this information; it could be China; it could be Google, Amazon, Facebook and Apple. And there are signals from AI with data and algorithmic scoring. How do we resolve this? As a company, you have to go all in on transparency, trust, and making what you do tangible. You have to be transparent in how you use data, earn trust, and transform data into tangible assets that return value to your customers and partners.
Towards the future
Lastly, I want you to see what the hallmarks of a bystander company are, because I don't want you to follow in that path. They usually:
Do not address emerging tensions or signals
Believe they control the future
Closed to alternative ideas about the future
Ignore uncertainty until there's a crisis
Prefer known ROI and concrete answers
Often vulnerable, never realize it
You have to chase the future. Your long-term management views are what's made you successful. But with so much uncertainty and so much change, that can also make you vulnerable. You must develop your vision using outside perspectives, but you have to be willing to explore alternative ideas.
To take lots of small bets, to challenge the status quo thinking by imagining next-order outcomes. Lastly, invest in digital transformation. You have to be faster. The future never shows up fully formed. We create the future today with every decision we make.
Fujitsu's approach to vision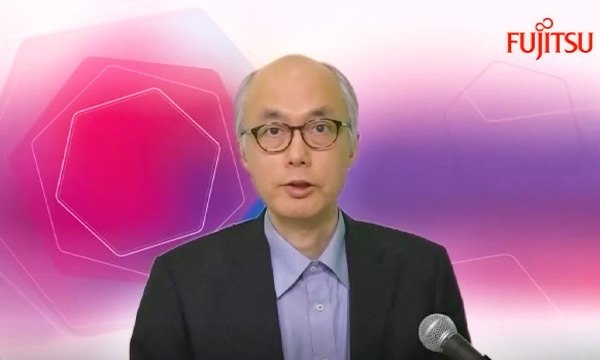 Following Amy Webb's speech, Yoshikuni Takashige spoke about Fujitsu's approach to vision for the future and two key trends that are shaping it.
We are doing business in an age of uncertainty. That's why business leaders need a compass that points the way towards the future. In a pre-conference questionnaire, 85% of the respondents said, "digital innovation will change their industries within 3 years," and all found that "vision and future scenarios are important."
Strategic foresight based on a future vision
Since 2012, my team has been working on our vision for the future, publishing the Fujitsu Technology and Service Vision.
We knew that we couldn't develop a perfect vision from the beginning, so we updated it annually to make it better.
To develop our vision, we first defined the future world we want to realize as a human-centric and sustainable society empowered with technology. Then, we backcasted from that vision to the present to think about what we should do now. We also simultaneously forecasted macro factors and emerging technology into the future. We have developed key messages to business leaders based on insights obtained from both backcasting and forecasting.
We focused on digital transformation from the start, delivering thoughts in 2014 on how to innovate in a world where everything is connected through IoT. In subsequent years we discussed ecosystem-based business models, the new industrial revolution, collaboration between humans and AI, how enterprises can learn from data to innovate, the growing importance of digital trust. Last year, we focused on how to align business and social goals.
Macro factors and new technology
Now, let's look at how macro forces and technologies will shape our future.
According to the results of the pre-conference questionnaire, the macro factors that will have the biggest impact on business are demographics (shrinking and aging population), industry structure (digital disruption), environment (climate change / industrial waste), and energy (carbon-neutral).
I was impressed by the high priority that many business leaders are placing on environmental and energy issues.
On the other hand, AI and digital twins were most frequently cited as the technologies that will have the greatest impact on business. I think this means that prediction and control of the physical world using these technologies will be big business agenda. I also think that the question to ask is how we can solve macro issues such as the shrinking and aging population with these technologies.
Two trends
In addition to the three trends that Amy discussed, I would like to introduce two more trends that I think will shape the future.
One is 'Borderless Work and Life.'
Around the world, COVID-19 has radically changed the way people work and live. According to a PwC survey in the U.S., the percentage of corporate employees working remotely has reached 70%. Interestingly, 83% of employees considered shifting to remote work to be a success, and 52% of management feel that it has improved their productivity. Even after the pandemic has subsided, many business decision-makers intend to implement an office-remote hybrid working model.
In Japan, however, the rate of remote work was only 25% as of last November. In large companies with more than 10,000 employees, the rate was 45%, but in small and medium companies with less than 100 employees, the rate was only 13%.
There are a variety of reasons for this. IT environment suited to online work is not ready, and many businesses still rely on paper-based approval processes that require seals. But I think the fundamental issue is mindset and culture. Remote working requires individuals to work autonomously. In Europe and the United States, that kind of employee autonomy is ingrained in mainstream business culture. But Japanese society values cooperative collaboration among people.
Fujitsu launched a program called 'Work Life Shift,' in which employees work remotely in the ordinary course of their duties. We aim to significantly improve wellbeing of individuals who are connected both physically as well as digitally. This initiative consists of three key components: Smart Working, the Borderless Office, and Culture Change.
Of the three, the most important is Culture Change. We have departed from a seniority system and started to apply a job-description based system for Japanese employees. We are working to transform our corporate culture so that our people work more autonomously and openly collaborate with others sharing common goals.
Currently, more than 80% of our employees work from home. With the exception of a few occasions that required my presence, I myself have not gone into the office for nearly a year.
As digital is becoming a mainstream, however, we need to revisit the premium value that direct human interaction offers. The digital age requires us to be more creative in our work than ever before. Our workplace must be transformed from a place where people work efficiency into a collaborative space where people connect with empathy and innovate together. We need to use digital technology to allow people to enjoy frictionless working experiences across the borders of physical and digital spaces.
This drastic change in the way to work also affects the landscape of a city. The population in Tokyo decreased for the first time in five consecutive months in 2020. With a growing number of people working remotely and living in rural areas, companies are starting to decentralize their offices. In light of this emerging trend, we need to think about a shift from an urban-centered society to a decentralized society where people will work in the proximity to places they want to live.
Another trend to note is 'Digital Sustainability.'
Today, the mindset of business leaders is changing rapidly. In a global survey of business leaders we conducted in February last year, 92% of the respondents told us that delivering value to society is important in order to be sustainable in mid-to-long-term.
The respondents cited four main reasons:
Value to society increases the value of products and services and the brand value (50%)
The young generation is conscious about social challenges and their opinions are having a real impact (47%)
ESG investment is becoming important among investors (45%)
Customers are looking to companies to solve social challenges (43%)
All these mean that stakeholders are urging companies to provide value to society through their business activities.
So, what should we do? Digital technology is the key. In our survey, 89% of the respondents told us that digital transformation has helped their organizations to deliver value to society.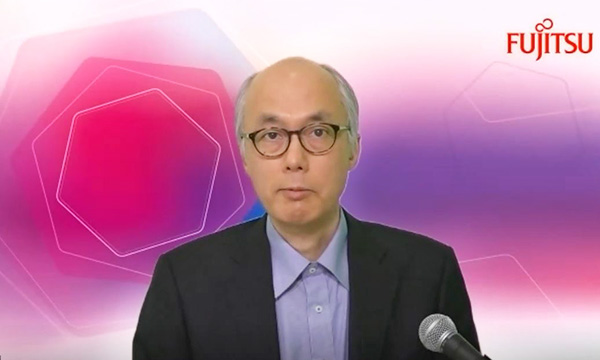 There will be big growth opportunities in the space where technology meets macro forces of social challenges. Technology-based innovations must address the difficult challenges of an aging shrinking population, sustainability of cities, and environment. We need to think about automating more work to cope with the declining working-age population, while allowing people to engage in more creative work. Quantum computing can contribute to longer healthy life expectancy through accelerating the discovery of new drugs. Digital twins can be used to enable better urban mobility. Supercomputer simulations can help make society more resilient to natural disasters. Blockchains will enable end-to-end traceability. And there are more possibilities toward a better future.
Trusted Business
It is not easy for any companies to balance the need to increase profit with their responsibility to deliver value to society.
To overcome this dilemma, companies need to align their business goals with common societal goals. This is where a well-defined corporate purpose becomes essential.
Last year, we announced Fujitsu's purpose. It is to make the world more sustainable by building trust in society through innovation. Our purpose drives every action of every person in Fujitsu.
We think there are three steps in digital transformation:
Enhance resilience through digitalization

Transform existing business to deliver greater value to customers and stakeholders

Evolve into an ecosystem business model that co-creates social value
No one company alone can solve the complex social challenges. We need to create ecosystems where many players share their knowledges and skills to co-create solutions.
This is the roadmap of transformation to a more trusted business and society. Without trust from stakeholders, businesses will not be able to stand in the mid to long term.
We look forward to working with you to shape future visions together and co-create new business.
Turning uncertainties into opportunities
Discussions by all
In the presentations, Professor Amy Webb discussed three trends: 'Collaborative Robots + 5G', 'The You of Things', and 'AI + Data + Recognition'. Following that, Yoshikuni Takashige discussed 'Borderless Work and Life', and 'Digital Sustainability.' Participants then separated into small groups to discuss which trend among these five trends would impact their businesses or their industries the most.
Following the breakout session the speakers and participants shared their thoughts, which we have excerpted below.
Takashige
How was your breakout session? Please share some of the thoughts you discussed in your group.
Group A
In our group, there were three main insights. Of the five trends discussed, we generally found 'Borderless Work and Life' to be the most important, although some participants observed that all of the trends are interrelated. Second, we thought that results would be different significantly depending on which mindset and culture a company had, whether it was a pathfinder or a bystander. For example, to collect and analyze customer data, bystanders may take a conservative approach, and prioritize data protection over data usage. They may even choose not to collect data at all. Our third insight was that these trends have different implications to different industries. For example, the way to work has changed dramatically for office workers, but stayed almost the same for essential workers at factories.
Takashige
Thank you. As you pointed out, the trends are interrelated, and a company's mindset plays a key role in how initiatives are implemented.
Group B
We discussed 'AI + Data + Recognition.' We concluded that transformation based on technology alone would be insufficient because different companies and groups collect and use data in different ways. To succeed, it needs to extend to changes of rules and regulations, applicable laws, as well as corporate culture.
Takashige
So it's about data collection and differences in culture. Amy, can you share your thoughts regarding data in this respect?
Amy Webb
Sure. I know that in Japan there are restrictions on privacy, but I would encourage you to think bigger. It's important, not only running inventory tracking predictive analytics or looking at shifts in the market, but also understanding what's happening within your retail locations, how that translates to the broader organization. I don't know if you have data science teams, but there are critical decisions you have to make in the next few years. Now would be a good time to position yourselves to do that because you will have foreign entrants coming into your marketplace, who are better at it.

Takashige
There are so many topics to cover. Now, I want to ask Amy a key question. How can Japanese companies overcome the challenges involved in strategic foresights, and what should we prioritize? Please give us your advice.
Amy Webb
Well, I think that Fujitsu is a very good leader and role model in this space for effective methodical signal tracking and developing models about their implications. A friend of mine is the head of a Japanese bank in North America, where he runs the Innovation Group. I think he has been very successful, but it has been a challenge because thinking about the future requires a different mindset. It's not predictions. It's simply making connections and working backward. Takashige-san was talking about backcasting. All of the best companies do it all the time.
My advice is this: Be more flexible, please. So, I think there is an opportunity for Japanese companies to develop strategic foresight capabilities, and to take a more flexible approach to strategic planning. Now is the right time to take some bets and experiment. Some of the rigidity that I observe in Japanese companies is why you have been so successful, but I think it is holding you back now. If you can adopt more flexibility in some of your business practices, in your approach to strategic foresight, in your approach to innovation, I would love to see Japan rise up again as one of the dominant players across many of these industry sectors. I would much rather that it's Japan than China. But my concern is that you are not moving fast enough. You should move faster, and be more flexible in your thinking.
One of the things you are very good at is three-to-five year planning cycles. You do that very well, but now it's time to accept uncertainty and build more flexibility into those plans, I think.
---
To conclude the event, Fujitsu's Head of Japan Region, Masaki Kubota gave a closing address.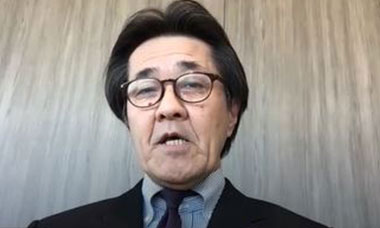 Greeting 3
Masaki Kubota
Head of Japan Region
Fujitsu
To Amy and all of our guests, I extend heartfelt thanks for joining us online here today. Your participation added tremendous value to this conference.
As Mr. Furuta said earlier, Fujitsu is currently trying to transform itself from an ICT company into a DX company. We will continue to support your initiatives to shape the future in these uncertain times with the very best of our technologies and services. We look forward to working together with you in the years ahead, and wish you the greatest success.