The Fourth Industrial Revolution and the New Lifestyle
What will happen to the economy, society, cities and civic Llfe?
Not since the digital revolution ushered in by personal computers and the internet has the world seen the type of transformative change that such new technologies as artificial intelligence, big data and the Internet of Things promise. These and other technologies together make up the so-called fourth industrial revolution, which is bringing about the convergence of the digital and physical worlds – and having broad implications for our daily lives.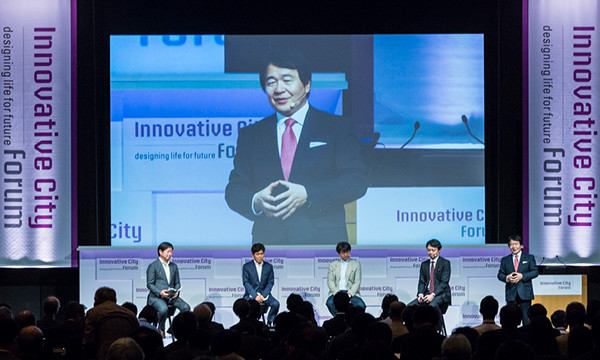 Organizers of the Innovative City Forum 2017, held Oct. 12 to 14 at the Roppongi Academyhills in Tokyo, brought together opinion leaders from around world to participate in a dialogue on the future of modern cities and the widespread lifestyle changes. The event featured a brainstorming session that included a representative from Fujitsu, to talk about how urban and social infrastructures would be redefined with the leading-edge technologies in the Fourth Industry Revolution.
Experts moderated four breakout sessions, each covering a different theme to assess the pace of change the fourth industrial revolution will create and what it means for how we will live and work in the cities of the future. The themes were: "urban infrastructure", "organizations and work style", "sharing economy" and "AI and art".
Redefining Urban Infrastructure / Social Infrastructure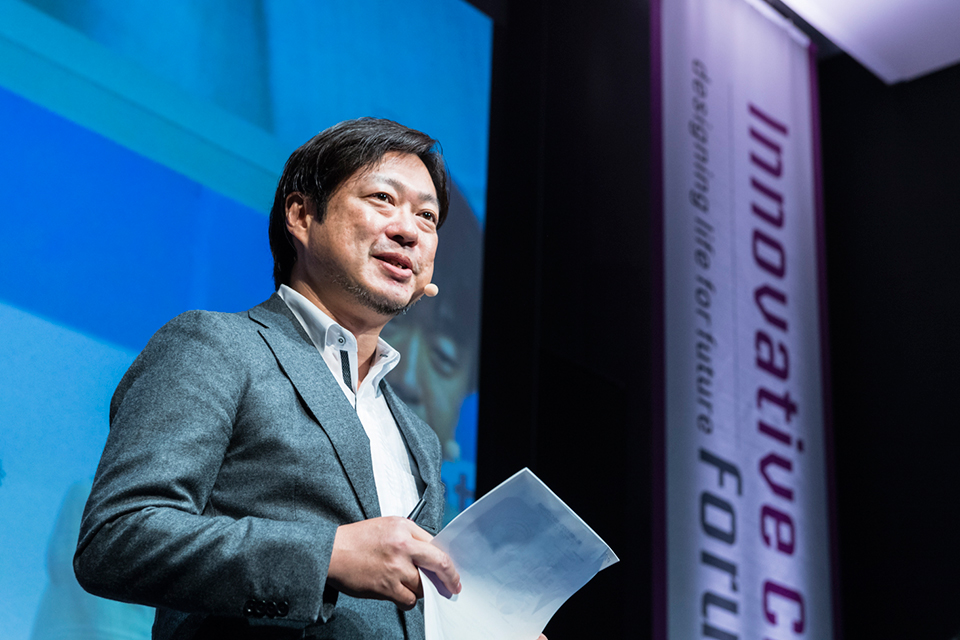 Moderator: Ken Jimbo, Assistant Professor,
Faculty of Policy Management, Keio University /
and Senior Research Fellow,
The Canon Institute for Global Studies
Changes being brought by the new technologies are penetrating into every industry sector, including manufacturing, financial, medical, construction, retail and education, explained Jimbo. One estimate forecasts GDP growth of JPY 30 trillion (USD 265 billion) in Japan alone.
"Today, we are witnessing a convergence of the digital and physical worlds at an astonishing scale," he said. "We can say it is a new industrial revolution after those that we first saw in the 18th century, then at the beginning of the 20th century and lately in the 1980s."
In the context of this fourth industrial revolution, the advancements are a result of the ever-closer interconnection of the various arenas in our daily lives, including the home and corporate, government environments, Jimbo said. These connections are creating new value. But there will be challenges, he warned.
One of the most important considerations may be how to secure the information infrastructure. The personal data of citizens is valuable for delivering such services as healthcare and education. But in order to make it available for the common good, there has to be a secure, yet open and transparent system of information sharing.
Japan's Ministry of Internal Affairs and Communications is planning to promote this concept by implementing ICT (information and communication technology) across the country by 2020. The plan will face a challenge in connecting traditional infrastructures to new ones.
"We can say it is not the only challenge," said Jimbo, adding: There are others, including the digital divide between the senior population and younger generations, the late start in ridding cash from the economy, underdevelopment of the national data center and the small pool of innovation leaders, to name a few.
Drastic Change in Enterprises, Work Styles, and the Livelihood of Indivisual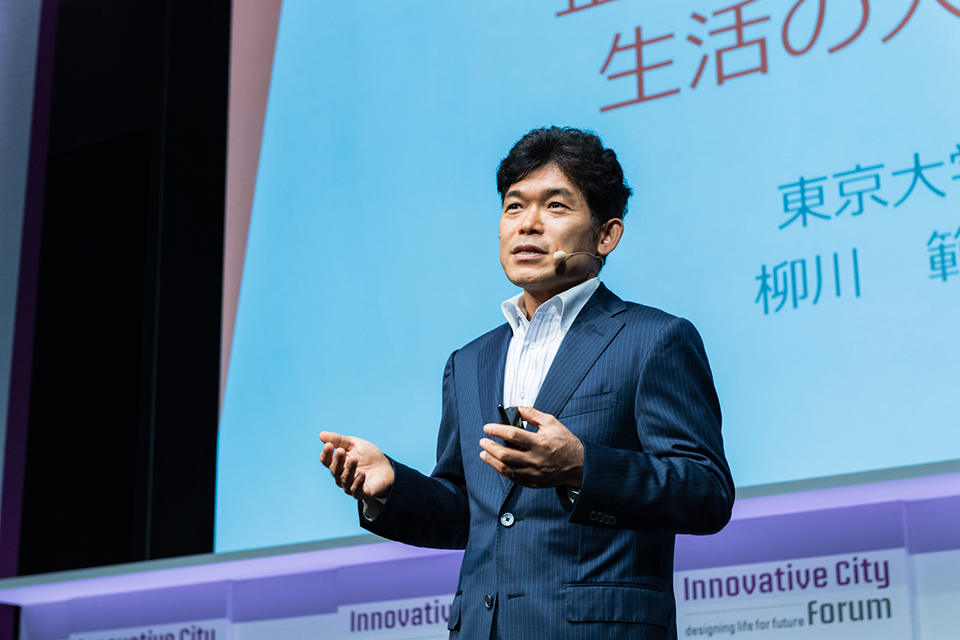 Moderator: Noriyuki Yanagawa, Professor,
Faculty of Economics, The University of Tokyo
It's been a decade since the iPhone popularized the smartphone and helped to bring about far-reaching changes in the lifestyles of people around the world, said Yanagawa. And he recognizes a dramatic change in our "work style," as well.
"The most notable aspect of this change, as I see it, is mobility in work," he said. "Today, we can do our jobs outside of the office. It is not surprising at all to see people work at a café with their laptop PCs on a table."
As more flexible working hours and work venues grow more routine, there will be more pressure on companies to accommodate this trend.
Yanagawa suspects that more and more of us are asking ourselves if it is really necessary to work at one fixed place with the same people for such long hours.
"Imagine how our relationship to a company could change when technology, such as blockchain, allows entrepreneurs to instantly generate a virtual organization to drive a project," he said. "Then, we will see the company stop being what it was before, that is, a location to gather, a community, a place for professional training or a personal identity. At this point, we need to redefine the relationship between individuals and companies."
Innovative technologies have not helped us build the promised society yet, however, Yanagawa concluded. They have not yielded a society that allows the typical employee to say that he or she derives both fulfillment and fun from their work. We must ask ourselves how can we solve this problem.
The Future of the Sharing Economy and People's Sense of Trust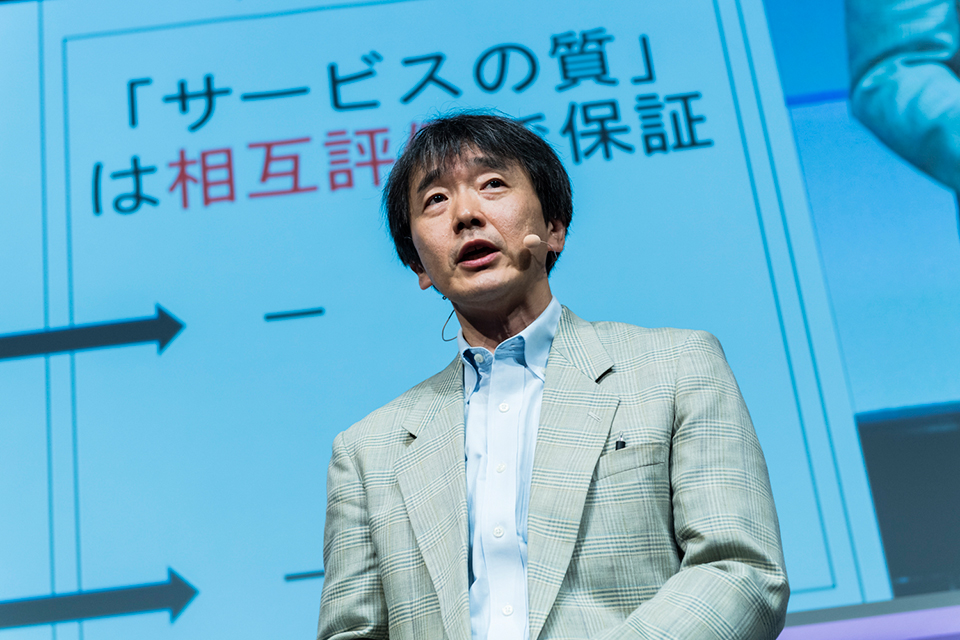 Moderator: Eiji Hara, President,
Public Policy Planning & Consulting Co.
There are three phases in the evolution of a society, said Hara. The first phase is what we call a traditional society, in which people occasionally share their property, such as tools, vehicles, even their homes, based on their trust in members of the community.
The second phase is a society in which the community sharing custom is replaced by commercial services. Companies provide consumers with paid services, including rental of apartments, cars and hotel rooms, with their trustworthiness ultimately assured by the government.
The third phase is a society in which the sharing economy comes into being, where new technologies enable individuals and companies to digitally assure their trustworthiness, Hara said.
"Just a tap on your smartphone could make your credit score available and your purchase would be instantly accepted without any agency to guarantee the payment," he said. "In this phase, the role of the government also shifts from that of regulator to that of a supporter (and referee) for a community in order to drive the economy."
However, in Japan, the shift seems taking too much time, lamented Hara. Established political and bureaucratic interests and regulations, such as the Hotel Business Act in the hospitality industry, Road Transportation Act in the taxi industry, and Education Personnel Certification Act in the education industry, are keeping the sharing economy from flourishing here.
Still, there is a chance for late starters to bring about revolutionary change. For example, in Ghana, an African country with no legitimate system for real estate land title registration, an NPO developed a new system for real estate land title registration using aerial photographs and blockchain.
This type of nimble innovation must be available to Japan, as well, Nara said.
The Role of Art in the Era of Artificial Intelligence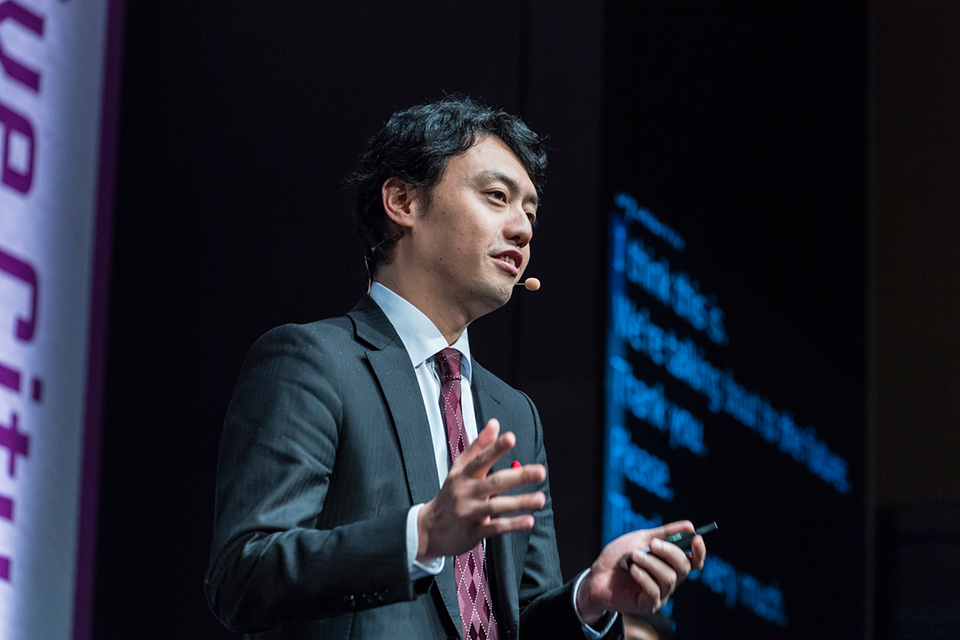 Moderator: Yutaka Matsuo, Project Associate Professor,
Department of Technology Management for Innovation,
Graduate School of Engineering,
The University of Tokyo
A revolution of vision is taking place in the world of machinery, remarked Matsuo. Back in the prehistoric Precambrian age, no animal had the faculty of sight so the world was more peaceful.
But once trilobites developed refined vision, things started to change. Eyesight gave trilobites an enormous competitive advantage over other animals to propagate themselves on a large scale, and their prey also acquired vision as a survival strategy. Some theories attribute the subsequent Cambrian explosion in the diversity of animals to the acquisition of eyesight, he said.
"Until today, machines have not had vision. They have been equipped with cameras and image sensors, which are equivalent to the retina of our eyes, but they still needed the intelligence to process the data they were receiving from the cameras and sensors," Matsuo said. "They did not have the refined recognition ability that humans possess, thanks to the visual cortex of our brains." Therefore, machines could not yet "see."
But deep learning made it possible for them to do so, he said.
The machines with vision can do a lot more jobs than before. For example, now they can not only gather potatoes or rice plants but also pick tomatoes, recognizing which ones are ripe.
These machines can easily find jobs in every industry. In a medical field, for instance, they are considered by many to be better than human doctors in image diagnosis. Refined recognition ability has been a faculty exclusively reserved to humans. But in coming years, it will be distributed to every corner of our society through machines.
But this transformation in machines raises questions for our uniqueness as human beings, suggested Matsuo.
"For us, refined recognition was not only a faculty but an identity. It made us human. So, what will happen to humanity when we lose the exclusivity of this gift?," asked Matsuo. "What will be our role? Is there any job that only humans can do? What society should build in this reality?"
Brainstorming Theme 1: Redefining Urban Infrastructure / Social Infrastructure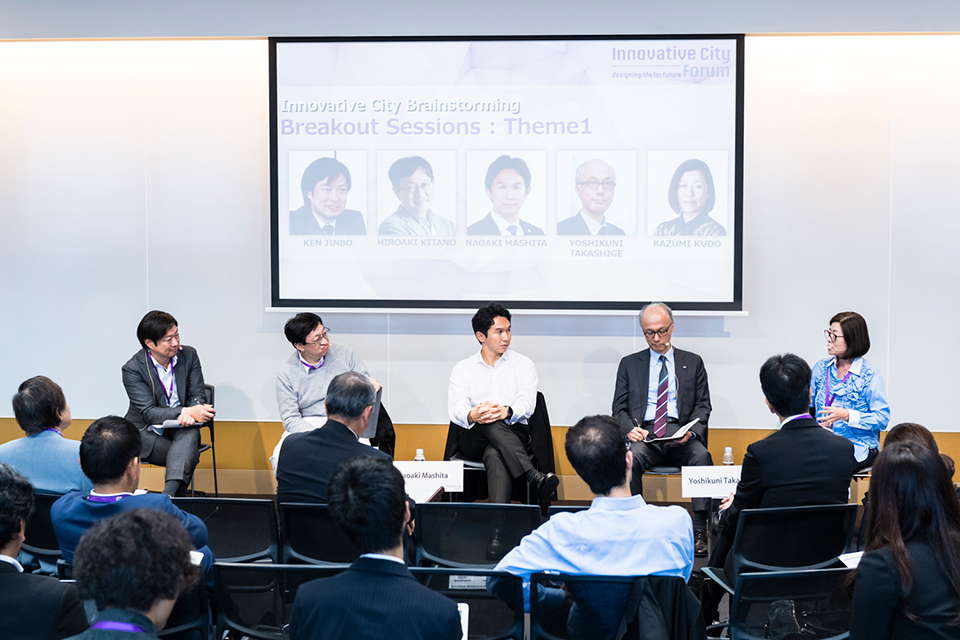 Fujitsu took part in a lively brainstorming discussion during the first breakout session, Redefining Urban Infrastructure / Social Infrastructure.
Yoshikuni Takashige, Vice President of Marketing Strategy and Vision, Fujitsu, joined fellow panelists: Keio University's Jimbo, Hiroaki Kitano, President and CEO, Sony Computer Science Laboratories, Inc.; Naoaki Mashita, President and CEO (Founder), V-cube, Inc.; and Kazumi Kudo, Representative Director, Coelacanth K&H Architects Inc. / Professor, Tokyo University.
As part of the Forum's main theme – to describe a concept for the urban lifestyle of the future, participants discussed what they believe is required for a society entering the fourth industrial revolution.
The key topics included (1) assessing the validity of the government-driven collection of personal data and use of AI for social reform; (2) dealing with the challenges of coordinating the three layers of the city; social infrastructure, community and technology; (3) managing a new ICT-enabled work style and closing the generation gap in technology literacy; and (4) designing public architecture and civil participation.
The brainstorming started with a question about the necessity of collecting personal data for social purposes, which is regarded as one of the foundations of the fourth industrial revolution. The ayes and noes for the question were evenly divided among the panelists, while most of the audience agreed that a society should promote the rollout of AI despite its negative impact on the existing labor market.
One of the panelists pointed out that these questions are not fully valid today as a choice for the future because the trends have been firmly set, and no one will be able to stop them.
Another panelist called implementation of new technologies into the city infrastructure a challenge, especially to synchronize a city's older infrastructure with new technology and the needs of its citizens. City buildings and architecture could last more than a century, while a technology would become obsolete in a year.
During the brainstorming discussion, the moderator asked Fujitsu's Takashige about the company's business vision in the context of the city in the age of the fourth industrial revolution.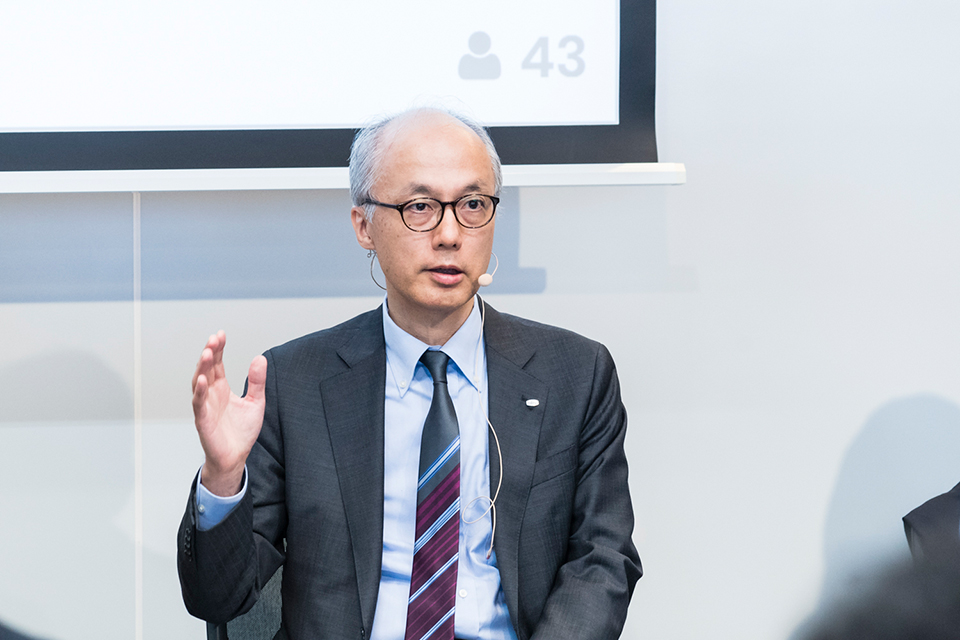 Takashige said, "Our company has a "Human Centric" vision." "Because technology could become more threatening to us and our jobs, we must put people in the center of everything we do and try to deliver new values to the society in a Human Centric approach," Takashige said.
Above all, it's important for the company to build a "trusted community," using technology, he continued. "If people can trust each other, they can easily share their information for social benefits."
He noted that one of the kickoff presentations of the forum discussed AI and sought to foresee how the faculty of refined recognition would be extended from humans to machines. Would this faculty be lost to humans eventually? Or would this the augmentation of human capability? "We at Fujitsu stand with the vision of Human Centric and work to redesign the society accordingly," he said.
Takashige gave the example of the San Carlos Clinical Hospital in Spain. Fujitsu and the hospital's clinicians worked to create an AI-enabled diagnostic support system, which helps to quickly prescreen patient records for risks of depression or suicide, giving clinicians significantly more time to spend with patients. The clinicians have realized a positive change in the quality of their own work since implementation of the system.
"This case study can show you the way we think technology should be in the Human Centric approach," he said.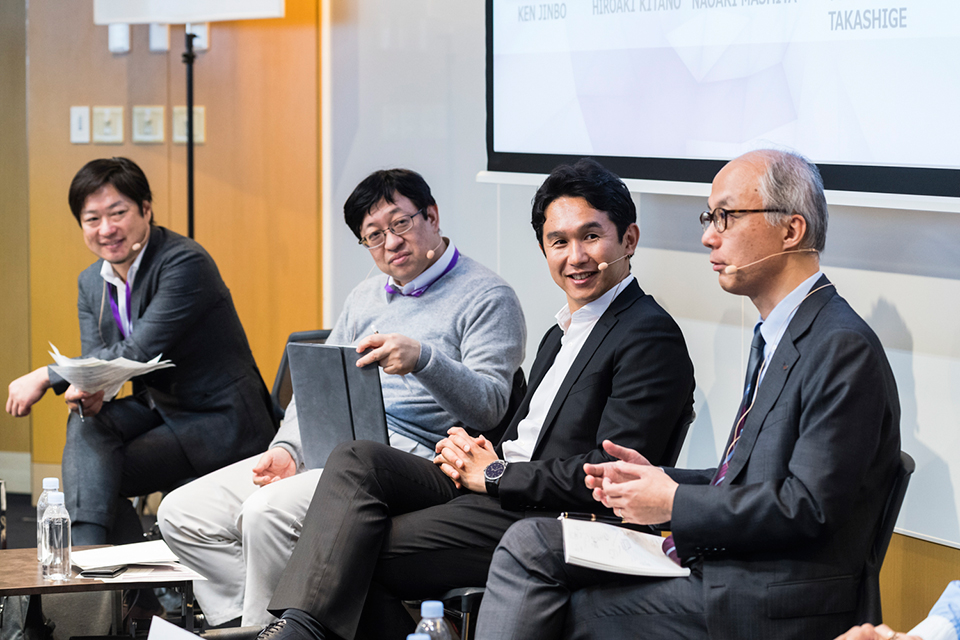 As part of the discussion, another panelist raised a question about the changing work style in Japan, in which the size of the workforce is declining and working hours remain long.
"AI might be a solution," he said. "Also, providing mothers with a new work style to allow them to work comfortably at home with baby care might be another solution."
In general, satellite offices and remote communication technologies enable workers to work at home or in offices near their homes, which would help ease urban congestion. Telehealth and remote education are also welcome changes to work style, he added.
And another panelist spoke about changes taking place in the construction industry, with such concepts as smart buildings, smart offices, smart homes and space sharing.
She suggested that city planners and local governments use new technologies to reach citizens of all ages, especially those in a working generation who are usually unable to attend community hearings. "Wider input from citizens would make architecture better and more valuable for them," she said.
Also, one of the members of the audience noted that a more detailed discussion is needed on methods and milestones to deal with the impact of physical and digital conversion upon urban infrastructure.
And an audience member from abroad introduced the example of a citizen ID number successfully being implemented nationwide in Singapore to deliver city services.
That stands in contrast with the unpopular "my number," or national ID number, in Japan, which is generally not used to enhance delivery of digital services for citizens.
The audience member suggested appropriate benefits be given to providers of personal data to help to enhance the social security system, including the way the pension, tax and health care systems are managed.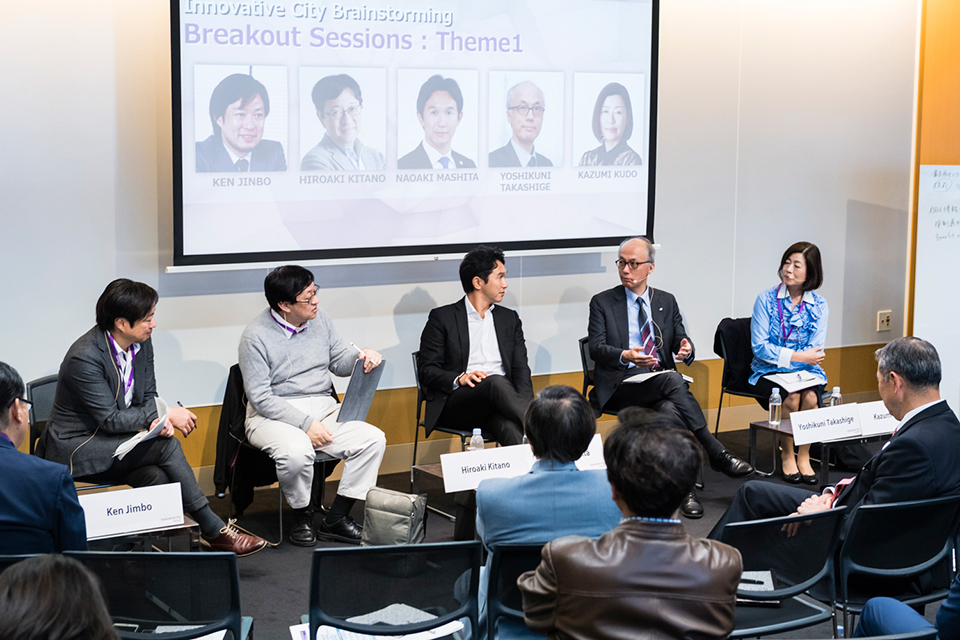 Japan appears to be behind a number of other countries in use of personal data for improving social programs. Those countries are well-positioned to further their policies of building smart cities, even a "smart nation."
But, it is still not an easy job to successfully drive such a social transformation, while securing the well-being of the people and society, because of the inherent conflict between the government's tendency to push forward with national strategy and the people's need to protect privacy and democratic values.
"We don't need to rush into any conclusion today but should bring back the ideas learned in this session to further deepen our thoughts at home and work places," said the moderator. "I hope you will come back to the session next year to share your updated thoughts."