Symfoware Server Features
Features
Easy installation
Easy setup
Easy recovery
Simplified migration
PostgreSQL fully compatible
Oracle compatible SQL layer
Support for Oracle packages and functions
Standby clustering
Database multiplexing

Secure data encryption
Web-based and command line interfaces
Application development support
Guaranteed 5 years standard support from end of sales period (extendable)
Symfoware Server provides effective solutions to common business challenges.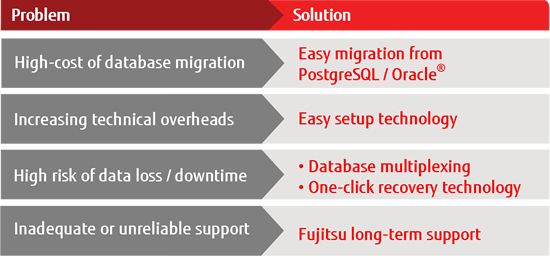 Easy Migration
Symfoware Server has been designed to be fully compatible with Open Source PostgreSQL databases, and also offers enhanced compatibility when migrating from existing Oracle® systems.
Previously, migration has proved problematic due to high workload and expenditure. This problem is resolved by significantly reducing migration time so that budget restraints and business disruption are no longer a major concern.
The use of PostgreSQL technology enables integration with a wide range of software bundles, information utilization systems, development tools, and application runtime environments. This means that there is no need for additional investment in new software systems. User disruption is also avoided due to the ability to retain familiar software products.
80% cost reduction when compared to Oracle
90% compatibility attained when evaluated by the Fujitsu Migration Support Center
Migration Tool Set: Assessment tool / Migration tool / Migration Guide & Case Study
PL/extJava: Support for developing stored procedures using Java, based on PL/Java (OSS)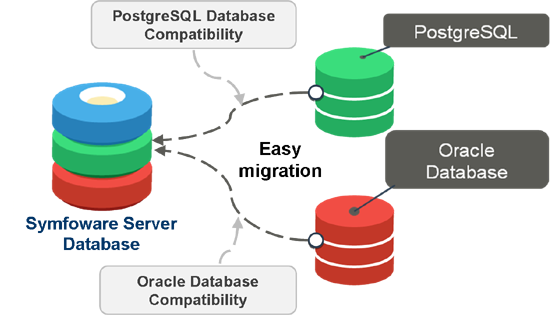 Reduced Setup Costs
Symfoware Server employs a minimal setup process based on optimized resource deployment. The setup process performs dynamic hardware resource detection during installation and the software is automatically tuned with the customer's server configuration. This simplified installation and setup process allows the system to be implemented within a very efficient time frame, allowing for significant savings in technical labor costs.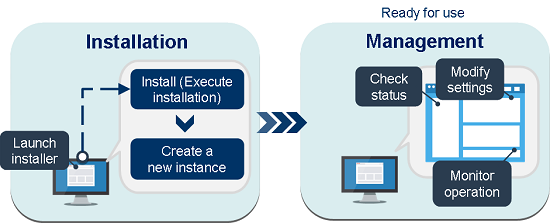 Database Multiplexing

Database multiplexing provides enhanced database redundancy by not using shared disks; instead it works by multiplexing the database itself. The allocation of a disk to each server means loss of important data can be prevented, even if a fault occurs on a disk.

In Symfoware Server, databases are multiplexed using the streaming replication feature of PostgreSQL. In addition, you can also use the independent features of Symfoware Server to detect faults in processing, disk errors, network issues, or to automatically execute database switchover or disconnection (when using the Symfoware Server Mirroring Controller option).

These features enable fast and reliable resumption of operations.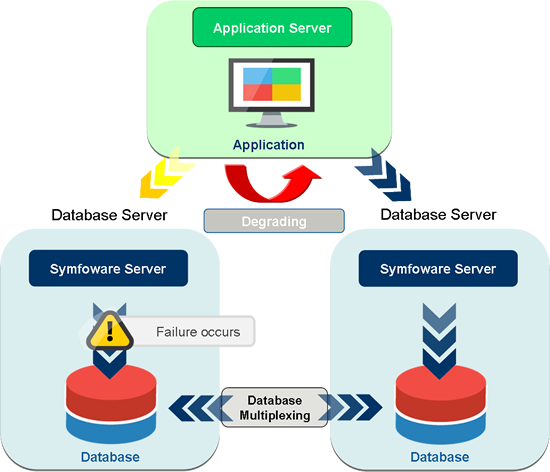 Maintaining Data Integrity
If a database problem occurs or if data is accidentally deleted, recovery can be performed with a single click, so there is almost no need for technical user intervention. Media recovery can be executed using GUI or server commands.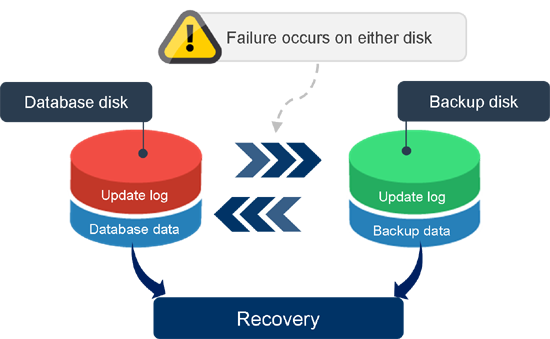 Enterprise-class Support
The Symfoware Server Development Division works in unison with the Support Division to provide a permanently aligned best-of-breed support service. Long-term standard support is provided for a period of five years, starting from the end of the sales phase for the product release. In addition, an extended support option is also available to customers for ongoing assurance, so that future support and system confidence is a guaranteed business outcome.

Contents Navigation
Symfoware Site Navigation