Smart backup operation with VSS
VSS (Volume Shadow copy Service) is an infrastructure technology for backup operation, implemented with Microsoft Windows Server 2003 or later. VSS provides the common flamework and API to allow backup software, business applications and storage systems to cooperate with each other.
Configuration of VSS frameworks
Category
Content
VSS requester
Backup software.
The component that orders creation, manipulation and deletion of snapshots to VSS.
VSS writer
Server application.
The data management application comoponent supporting VSS.
It ensures data integrity is maintained during data backup/restore.
VSS provider
The component that processes read/write operations to disk and snapshot creation. There is both a "software" provider associated with the OS plus a "hardware" provider which forms part of the ETERNUS AF/ETERNUS DX.
VSS (OS)
The base service that ensures proper control all VSS requestor, VSS writer and VSS provider transactions.
VSS supports a "snapshot" capability that creates copies of data at certain points in time. Snapshots created using only a software provider covers only a segment of such data (e.g. the address information) and therefore can not be used for secure backup. A hardware provider, that supports high-performance backup capability and which can cooperate with the high-speed copy functions of external storage devices is also required.
ETERNUS AF/ETERNUS DX provide the ETERNUS VSS Hardware Provider. This enables the Advanced Copy functions of ETERNUS AF/ETERNUS DX work in conjunction with VSS. This intimate combination means independent backup data can be aquired and secured and a robust backup achieved. This is because the data itself is copied and not just the minimized snapshot output by a software provider.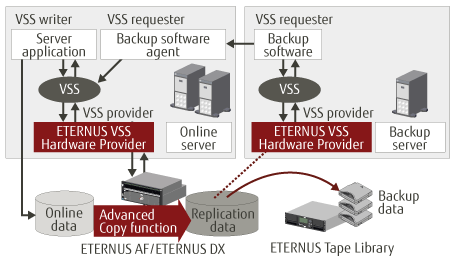 Backup starts with the backup software (VSS requester) requesting VSS to process backup. VSS then orders the registered server application (VSS writer) to synchronize with the backup target data.
By conforming to the Microsoft API, the back upsoftware, server application and storage hardware can coopoerate with each other and automatically process the opartion. This also simplifies configuration of the backup operation environment.
As a result VSS achieves automation, streamlined and non-stop operation of online backup in Windows environments providing smart operation of highly reliable and performance systems.
Benefits of VSS
Backup and replication of application data and guaranteed data integrity, without requiring the business to halt.
Broader and improved data usage in conjunction with the high-value copy functions of ETERNUS AF/ETERNUS DX.
Seamless interoperability designed around Windows APIs. As long as user devices conform to Windows no specific programs are required, ensurring expanded versatility.
Excellent reliability and high-performance by the combination of fully functional software products and reliable ETERNUS AF/ETERNUS DX, all fully conformant with VSS.
Product Requirements
ETERNUS VSS Hardware Provider is availabe on the ETERNUS VSS Hardware Provider Download page. Please confirm the Product Requirements on above download page.