Sustainability Management
Message from the Chief Sustainability Officer
Guided by the Fujitsu Way, we are aiming to
promote transformation that encompasses the sustainability of business and society, while
building relationships based on genuine trust
with our stakeholders.
Yumiko Kajiwara
CSO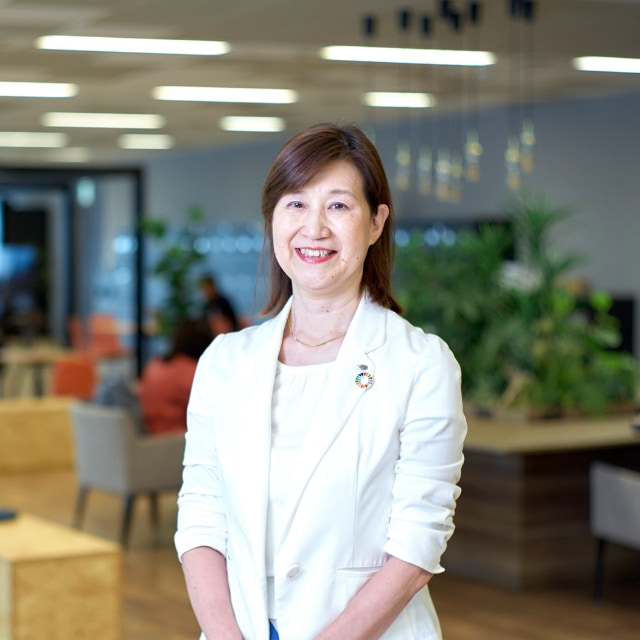 Driving Transformation to Encourage New Value Creation
COVID-19 has demonstrated to us once again that we are one global society, posing an equal threat to people throughout the world. At the same time, competition has emerged among countries trying to secure medical supplies and vaccines for their people, casting divisions in society into sharp relief and underlining persistent inequities for communities unable to access the same opportunities for treatment and economic recovery. Cooperation and competition are vying with one another around the world, and against this backdrop, I was appointed as CSO of the Fujitsu Group in April 2021. I believe my mission is to foster understanding within the Group regarding these problems facing global society and to drive our transformation to encourage the creation of new value for all, as well as to externally communicate the Group's efforts to solve social issues.
Revision of the Fujitsu Way Aimed at Moving to a New Stage
The Group first formulated the Fujitsu Way in 2002. Since then, we have steadily expanded our sustainability initiatives, which can also be described as the practical implementation of the Fujitsu Way, earning a certain amount of recognition from external groups and evaluating institutions. However, our activities have been driven mainly by certain, mainly corporate, divisions, and we must acknowledge that not all Group employees have a full sense of their own role in our efforts toward sustainability management.
The context for the 2020 revision of the Fujitsu Way is that of an accelerating global movement to create a new capitalism designed to overcome the challenges of climate change, social division and other social issues. In this environment, we were determined to take the Group's sustainability management efforts to the next stage. To ensure that the Group will continue to be trusted by society and have an essential part to play in the future, we felt that each Group employee needed to consider the value that the Fujitsu Group provides to society.
The revised Fujitsu Way is centered on Our Purpose, which sets out why Fujitsu exists in society. It sets out the milestones that the Group will aim to achieve, looking ahead to the society of the future and backcasting to clarify the role that the Group should play as a technology company toward realizing it. We will also look to the past, digging down into our DNA to draw inspiration from our 86-year history since our founding.
Internal Promotion of Our Purpose and Sharing of Values
To help employees understand Our Purpose and engage in business with a focus on the sustainability of society, they must share the values that form the principles for their conduct. Our Values are "Aspiration," "Trust," and "Empathy," and for each of these three values, we have presented four conduct guidelines. These have been made into an explanatory document that has been translated into 19 languages to promote them internally. Furthermore, the heads of our internal divisions and Group subsidiaries are all responsible for promoting the Fujitsu Way, and we hold regular meetings for reporting on and sharing the status of implementation of the Fujitsu Way. In addition, to encourage employees to understand and take ownership of Our Purpose, we introduced a dialogue program titled "Purpose Carving®" for putting the individual's own purpose into words as an exercise for helping each individual employee explore their own purpose and give it shape. We also create opportunities for employees to reflect on the value that their work brings to society.
Through these actions, sustainability initiatives within the Group are gradually being stepped up. As the president continuously communicates his thinking about the Fujitsu Way and demonstrates a strong commitment to purpose-driven management, corresponding movements are emerging among employees, and I am encouraged by those responses.
Promotion of GRB and Establishment of Non-Financial Indicators
We have been promoting Global Responsible Business (GRB) as a platform for implementing the Fujitsu Way. GRB is a platform comprising universal issues that need to be addressed in promoting sustainable management while upholding our responsibility as a technology company. We have established seven priority issues.
Through our efforts to promote GRB, we aim to cultivate a Groupwide mindset and organizational culture that can resolve sustainability-related issues for society. This is the reason for incorporating GRB-related items in our evaluation system for the executive team. At the same time, by disclosing our progress on the KPIs that we have set for each priority issue, we aim to demonstrate quantitatively to our customers and other external stakeholders the changes that we have made toward creating value in a way that is unique to Fujitsu.
The seven priority issues are mutually interlinked and exert a positive influence on each other, such as wellbeing and health and safety, or supply chain and compliance. By working toward set targets, the results should become evident in the trust that the Group receives from stakeholders, particularly customers, and in the trust that the Company receives from individual Group employees. Based on this idea, the Group has established non-financial indicators as customer Net Promoter Score℠ (NPS®) and employee engagement. We are monitoring the progress of sustainability management and changes toward the realization of Our Purpose through such management.
Connecting Corporate Value and Sustainability
The sustainable increase of the Group's corporate value depends heavily upon the sustainability of our global society, as well as on building relationships of trust with all stakeholders. By incorporating sustainability perspectives in our business as a matter of course, we strengthen the competitiveness of our services, and enhance the value we provide, leading to improvements in customer evaluation and employee engagement. As the CSO, I will drive the Group's transformation with a view to establishing this kind of interconnectedness.