Our progress
Message from the COO
We will steadily develop the results of our initiatives since fiscal 2019 into the realization of our targets and medium-term growth.
Hidenori Furuta
Representative Director
COO, CDPO (Chief Data & Process Officer)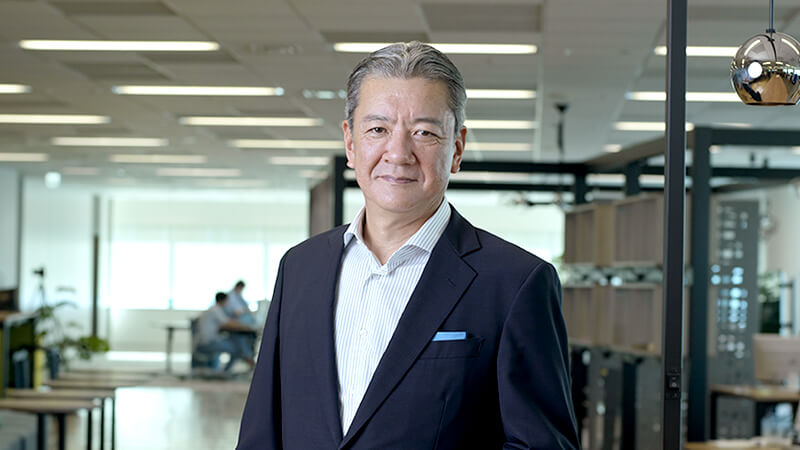 Entering the final lap for the medium-term plan
March 31, 2023, marks the end of fiscal 2022 and the time limit for achieving the targets of our medium-term plan. There are only several months left to go. When we formulated our medium-term targets we did not envisage a pandemic, but the resulting impacts that included supply chain disruptions compelled us to review our financial targets for revenue.
Although our target for operating profit margin remains challenging, we believe that it is achievable. Our confidence is based on our progress in the "For Growth" and "For Stability" business domains, in which we have been making operational headways in four priority issues for creating value.
Rebuilding our global business strategy
Despite the impact of procurement delays for components owing to the global chip shortage, we successfully achieved profitability for all regions in the fiscal year ended March 31, 2022, as we finally realized the results of our structural reforms implemented up to the fiscal year ended March 31, 2021. Although we have just begun to establish a structure to generate stable profits and achieve growth, our growth path is becoming clearer.
In April 2022, the former Global Solutions Business Unit was reorganized into the Global Solutions Business Group and the Global Customer Success Business Group. With this move, some of our solutions development operations, which were previously carried out regionally, have now been integrated into the Global Solutions Business Group. This has created a structure in which our four regions—Japan, Europe, the Americas, and Asia Pacific —can concentrate their management resources on sales and service delivery.
Four elements: offerings, accounts, delivery, and alliances
We are working to prepare the four elements that are essential for global business growth: global offerings, global accounts, global delivery, and global alliances.
First, we made rapid progress in expanding our global offerings during the fiscal year ended March 31, 2022. This has been our highest priority over the past two years, and an urgent issue in the sense that businesses cannot exist without products and services to sell. We are now seeing the results with growing orders for offerings based on collaboration with partners including SAP, Salesforce, and ServiceNow.
In global accounts, which clarify the approach for strategic customers with global business operations, we have completed the formulation of account plans and sales strategies, and we are now at the stage of implementing them under the Global Customer Success Business Group.
In terms of global delivery, we have internalized utilizing our Global Delivery Centers (GDCs) , which are sites for development, in each region, including Japan. As our next step, we will continue to expand the scale of our GDCs from the current level of 20,000 people while pursuing further efficiency and productivity gains through the use of AI and automation.
Second, we will expand the scope of our "Centers of Excellence" (CoE), from mere knowledge accumulation points to centers to cover more specialized fields than previous infrastructure services and help desks. Finally, with regard to global alliances, we will collaborate with the aforementioned partners SAP, Salesforce, and ServiceNow and also Microsoft to pursue added value that only the Fujitsu Group can provide. The source of added value is our hands-on insights gained through extensive internal practice and the potential to combine partner services with proprietary technologies such as our Digital Annealer.* Moving forward, we will continue to work with leading partners while assessing customer needs.
*

Fujitsu's proprietary quantum-inspired digital computing technology that can rapidly solve combinatorial optimization problems that prove difficult to solve using current conventional computers
Fujitsu Uvance
To accelerate the growth of our global business, we are currently focusing our efforts on Fujitsu Uvance , which defines our vision for society in 2030. We do not yet have an established, comprehensive service portfolio as we have just started providing services under Fujitsu Uvance in 2022. The reason is that Fujitsu Uvance is to continue changing and developing in step with the constantly evolving market up to 2030.
For the fiscal year ending March 31, 2023, we will begin providing services in Horizontal areas, which we have built based on our global offerings, and in Vertical areas, such as Sustainable Manufacturing, where we already have a certain number of offerings prepared. In parallel, the Fujitsu Group plans to develop its own original services and to expand services through collaboration with global alliance partners, working toward a full roll-out in the fiscal year ending March 31, 2024. In Vertical areas in particular, we will step up our efforts on service development through co-creation with customers.
Strengthening problem-solving capabilities in Japan
The success of our efforts to reskill our 8,000 sales personnel in Japan is reflected in the data in OneCRM, an integrated customer relations management program. As of March 31, 2022, in half of our business deals in Japan, we have made proposals for helping to strengthen sustainability management, including measures to reduce CO2 emissions, that go beyond the requirements of the requests for proposal (RFP) documents provided by customers. Of these cases, around half of the customers have reacted positively, remarking that the Fujitsu Group proposed novel solutions to their challenges and pointed out new possibilities. I believe this is the best proof that we are gradually developing a mindset of thinking first and foremost as a business producer about what customers want to achieve and what they need to succeed.
Helping to make customers' businesses even more stable
The Group's primary earnings base is currently in the Japan market. In this area, the Japan Global Gateway (JGG) plays a driving role in increasing profitability and ultimately achieving our operating profit margin target. JGG is an organization responsible for service standardization and expansion of shared services. It is the key to increasing productivity through expanding the use of GDCs in the domestic business.
The creation of a scheme for the collaboration process with GDCs through JGG is largely complete. The process of matching requests from the front lines of customer service with human resources from JGG/GDCs has been considerably streamlined with a system that utilizes AI, and the utilization of GDCs is now expanding steadily. By the end of fiscal 2021, approximately 40% of all projects in Japan had adopted service standardization, and we plan to increase this to 50% by the end of this fiscal year. In terms of personnel, out of the 20,000 GDC members, the number of personnel assigned for Japan was 8,400 as of July 2022, up from 4,000 as of April 2021, and is scheduled to increase to 9,000 by September.
In response to a security incident in Japan, we have been promoting total inspections and drastic reforms of all systems, including IT, governance, organizations, human resources, and business processes. With regard to organizations and human resources, we established the Global Information Security Unit in October 2021 and are increasing the numbers of our security personnel.
Being the customer's best DX partner
In the Global Customer Success Business Group, we have strategically assigned highly skilled and experienced business producers to global accounts as "Account General Managers" (AGMs). The mission of the AGMs is to carefully consider and identify customers' management issues and the social issues that they are facing. Naturally, it is not enough to just talk with the customers' IT divisions; it is also necessary to approach the so-called "CxO" management level, such as the CEO, CIO, and CDO. In 2021, we assigned AGMs to some of our customers in industries such as manufacturing and distribution, and, as a result, more in-depth proposals were made. We therefore started to expand these assignments to global accounts in all industries in April 2022.
Medium-term growth
I have explained that JGG and the GDCs are key to achieving our medium-term targets, in particular our operating profit margin target. However, our true goal for realizing Our Purpose lies beyond that. In pursuing sustainable corporate value, we will make a supreme effort to promote Fujitsu Uvance with a view to achieving medium-term growth, and to reform our security framework in order to maintain and strengthen the Fujitsu brand.