Creating Value for Customers with
"For Growth" and "For Stability"
Message from the COO
We will create a new growth scenario for our
global business and pursue medium- to
long-term growth as a technology company
by renewing our IT service delivery model
in Japan.
Hidenori Furuta
Representative Director
COO, CDPO
Head of International Regions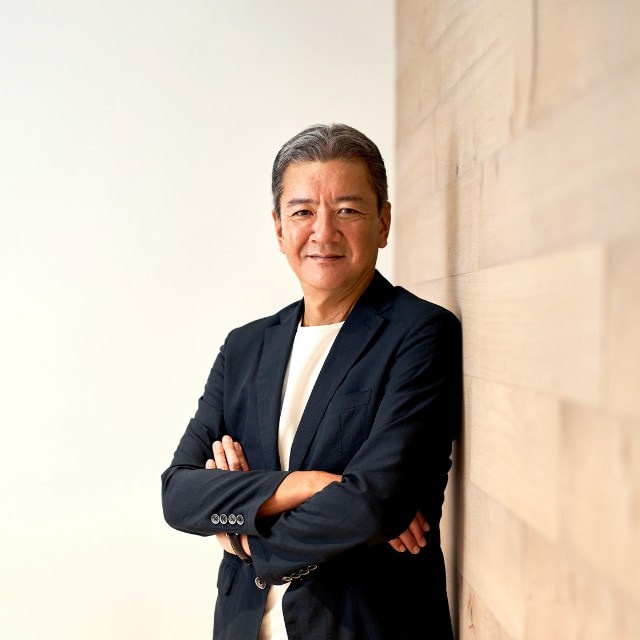 Restructuring Our Business to Contribute to the Successful Digital Transformation of Japanese Companies
The Fujitsu Group's business structure in Japan has undergone a major transformation with the full-scale launch of Fujitsu Japan and Japan Global Gateway (JGG) in April 2021 and the reorganization of its systems integration subsidiaries. This shift is the Group's answer to the so-called "2025 Digital Cliff," an expression used by Japan's Ministry of Economy, Trade and Industry that highlights the risk of a delay in DX due to serious problems including shortages of IT talent and the obsolescence of core systems that many Japanese companies are facing.
As partners realizing DX with our customers, we technology companies have two missions. The first one is to make valuable proposals that contribute to solving the problems our customer companies and society are facing. The second one is to build a new service delivery model to replace the multiple contractor structure* in the software and service industry that is distinctive to the Japanese market.
Fujitsu Japan addresses the first one of these missions. "business producers" who have mastered design thinking and other essential methodologies for DX implementation propose ways to overcome the challenges using digital technology. In order to visualize results, we have established a set of KPIs to measure the actual quality of proposals aiming to realize DX and do not merely focus on the amount of orders we receive, as we did under the traditional KPI model used by our sales department. We are monitoring the progress on the KPIs using the data from the customer relationship management (CRM) system that we have introduced for managing business deals with customers. In addition, we have established six area headquarters across Japan, and are developing offerings tailored to regional characteristics by leveraging the knowledge of the reorganized and integrated subsidiaries.
JGG is addressing the second mission, the building of a new service delivery model to replace the multiple contractor structure. JGG is the core of this new service delivery model to standardize services and expand shared services. Under this model, JGG will promote the standardization of systems and software development operations, and will also be involved in the design, development, and testing of shared services in collaboration with the Global Delivery Centers (GDCs), the Group's overseas development locations. Collaboration between JGG and the GDCs will enable a speedier and more stable delivery of high-quality services than ever before and will also contribute to strengthening the medium- to long-term profitability of the Group's overall services business through improved productivity. By making greater use of our GDCs, we expect to be able to more effectively use the resources of our development partners in Japan, who have cultivated the know-how, experience, and expertise essential for providing services to specific industries and customers, and to increase the added value of our services.
*

A structure in which an IT service vendor that receives an order for IT system development from a user company subcontracts parts of the development work to a development partner, which in turn subcontracts a further part of the work to another company. While this is effective in securing manpower to carry out large-scale development projects in a short period of time, it also involves problems such as dispersion of development know-how and reduced efficiency.
Efforts to Prevent Recurrence of System Failures
Led by Our Purpose, we pursue the stable provision of high-quality services and the achievement of trusting relationships with customers through our services. This pursuit is also the foundation and driving force in our "For Stability" business domain, which contributes to the stable operation of our customers' IT infrastructure. The system failure of the Tokyo Stock Exchange's trading system in October 2020 was a regrettable incident that shook this foundation, and we would like to apologize again for any inconvenience caused to the concerned parties.
The OEM products that caused the system failure were quickly inspected after the cause was identified, and the review of the incident has already been completed. We are also reviewing the systems delivered to our other customers by verifying whether there are any risks or issues that have not been covered by previous inspections. In addition, we have established a quality assurance organization directly reporting to the CEO and are making Groupwide efforts to strengthen our framework for improving the quality of our products and services.
Region-specific Growth Scenarios
We are also making progress in restructuring our global business to achieve the financial targets for the fiscal year ending March 31, 2023, set out in our Management Direction. By the fiscal year ended March 31, 2021, we completed structural reforms to avoid losses in our global business. Currently, we are developing region-specific growth scenarios, incorporating the seven Key Focus Areas we set out in 2021.
In each region, we have almost completed the establishment of an organizational stance for deploying the four key elements of our global business strategy—a globally uniform portfolio, global account plans, global delivery, and global alliances. Our global offerings, for example, already include nine solutions. Together with the head of each region, the business units responsible for the development of these solutions set sales targets and investment plans, and review progress every month. Global accounts currently include 132 strategic global customers. Here, we are promoting the standardization of service plans we offer to our customers and are consolidating pipeline information for future orders.
Achieving Management Goals and Setting a Course for the Future
The initiatives described so far will contribute to the domains "For Stability," aimed at the stable operation of our customers' IT infrastructure, and "For Growth," aimed at the transformation and growth of our customers' businesses, as set forth in our Management Direction. These initiatives are also a stepping stone toward the Group's growth in 2030 and beyond.
In 2021, we realized a new structure for R&D with the aim to leverage the development capabilities of cutting-edge technologies—as exemplified by Fugaku, the world's fastest supercomputer—in the seven Key Focus Areas and global offerings that will drive "For Growth" and lead to medium- to long-term growth of the Fujitsu Group.
We will steadily proceed with medium- to long-term efforts aimed at achieving Our Purpose, while constantly monitoring the progress and results of initiatives such as Fujitsu Japan and JGG to achieve the goals of our Management Direction.