- Fujitsu Forum 2014 : Fujitsu Suisse

Arriving by Train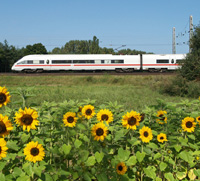 Taxis, public transportation, and rental car offices can all be found within the Central Station.
Public transportation
The U2 subway (U-Bahn) line direction Messestadt Ost runs from 4:00 in the morning to 1:00 at night. It takes you directly to the ICM. Exit Messestadt West. Travel time: 18 minutes.
Special Train Fares for your trip to Fujitsu Forum 2014
We are pleased to let you know that also this year a special arrangement has been made between Fujitsu and Deutsche Bahn to make your journey to Fujitsu Forum convenient and comfortable.
By taking the train, you make an active contribution to protect our environment and climate.
The European rail services are offering discounted ticket rates for return trips* to Fujitsu Forum 2014 in Munich.
From anywhere in Germany your return ticket to Munich is up to:
Second Class € 99,-
First Class € 159,-
You can book your trip online
here

.
Or you can book your trip by phone using the
service number +49 (0)1806 - 31 11 53**
and the
keyword "Fujitsu Forum"
or via:
www.bahn.de/Veranstaltungsticket

.
You will receive a phone call for a booking which is binding. Please have your credit card to hand for payment.
Fujitsu und Deutsche Bahn are looking forward to welcoming you to Munich.
*
An advance booking of at least three days is required. Changes and reimbursement before the first day of validity are possible. Changes and reimbursement conditions at the time of the ticket booking are according to Conditions of Carriage of the DB of Sparpreis fares. Changes and reimbursement are excluded from the first day of validity onwards. Passengers restrict themselves to a particular train and travel times. For a supplement of Euro 40 full flexible tickets are also available for domestic travels within Germany.
**
The booking line is available from Monday to Saturday 07:00 am to 10:00 pm. Calls will be charged at Euro 0.20 per call, from mobiles Euro 0.60 per call at maximum.
Top of Page