Infrastructure for the Digital World
Digital transformation is rapidly changing the business landscape. Enterprises need to respond in a fast digital marketplace by utilizing digital technology infrastructures to achieve competitive advantage and deliver amazing customer experiences.
Today, one of the key challenges organizations face is defining how to use a mix of cloud based services and traditional infrastructure technologies to deliver new digital solutions and modernize their existing infrastructure.
Fujitsu provides the right blend of new technologies and robust IT infrastructure solutions. See our comprehensive portfolio of innovative server, mainframe and storage technologies as well as integrated systems, data center management solutions and cloud computing in action at Fujitsu Forum 2017.
The new PRIMERGY and PRIMEQUEST servers featuring the latest Intel® Xeon® Processor Scalable family are the ideal IT architecture for a digitalized world. The servers represent the biggest platform advancements in this decade. They are designed for exceptional workload-optimized performance and hardware-enhanced security. Designed for trusted data service delivery, the new systems are fuelled by significant leaps in I/O, memory, storage and network technologies. These x86 server portfolio is completed by the new Fujitsu SPARC M12 systems featuring the SPARC64 XII processor offering dramatic improvements for a wide range of database workloads, from mission-critical systems on premises to big data processing in the cloud.
In a digital world where data is the heart of business operations, imagine you can afford the very best in storage – whatever the size of your business. Imagine storage technology that supports growing volumes of digital business data and gives you non-stop, secure access. Imagine storage systems that can leverage the new economics and efficiencies of flash technologies. Imagine automated backup and archiving solutions protecting your business data against system failures and ransomware whilst reducing the costs and efforts for data protection. Transform your storage landscape into a genuine enabler for digital business growth, efficiency and continuity. Discover ETERNUS storage solutions for a digital world. It's storage unchained!
In a digital world, the possibilities to provide new IT services are almost infinite. However, providing new IT services requires new data center infrastructures, the buildup of which is complex. Hence, going for a do-it-yourself approach when building them can be time-consuming, error-prone, risky and expensive. There is a better and more cost-effective solution: FUJITSU Integrated System PRIMEFLEX, a comprehensive line-up of powerful systems that are pre-defined, pre-integrated and pre-tested. This reduces complexity, project time, risk and costs. IT organizations can be more responsive and agile in meeting the needs of their end-users, through adding new levels of simplicity in the data center around virtualization, Private Cloud, Big Data, High Performance Computing and SAP. Discover Fujitsu's Integrated Systems and identify the ones that meet your demands best!
Data Center Management and Automation
Using backend automation to perform data center tasks and remove a lot of the repetitive tasks that our support and delivery teams do on a daily basis. We will also show how we extend this automation out into the workplace for our consumers of Data Center hosted services like Mailbox management as well as User right management.
We are focusing on removing repetitive and repeatable tasks we are able to show significant savings in mean time to resolve issues, service requests and change management process. Linking in our automation platform to our other offerings like big data and analytics allows us to build out our automation capability to be even more intelligent and proactive. Looking at even that might occur we are able to initiate automation to prevent high impacting events from occurring in the data center, thus minimizing impact to our customers and end users.
Customers expect access to fast, digital services on their own terms: anytime, anywhere and with a seamless user experience. Cloud adoption is surging as organizations try to satisfy this demand with new technologies such as mobile, social, big data and IoT. The challenges of addressing conflicting demands placed on IT infrastructure, like achieving the perfect balance of digital and traditional deployments, also continue to grow. A well-integrated Hybrid IT environment is key to meeting these needs; enabling new business models and applications for the digital age.
Join us in the exhibition hall to experience:
Hybrid IT: Enabling digital technology adoption and cloud integration
Cloud Platforms: Do incredible things with Fujitsu Cloud Service K5 - the most open, agile and compatible platform
Data Management: Truly digitalize with 'always-on', data-savvy infrastructure and services
Cloud Native Application Development: Create and deploy your own cloud-native application in the K5 'digital playground'.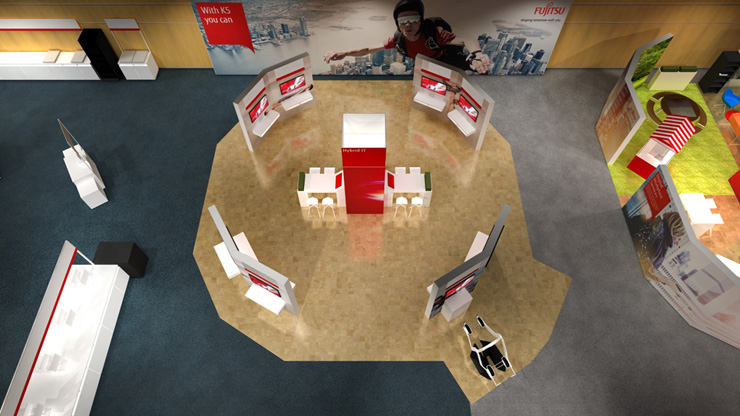 Render of the Hybrid IT area.