The theme of this year's Fujitsu Forum is 'Human Centric Innovation: Digital Co-creation'. We're bringing this to life in the Demonstration Center with a large 'Co-creation Zone' where you can learn more about co-creation, discover real life examples and get involved in activities. It is split into two sections: our Co-creation Arena and a series of Co-creation Stations.
The Co-creation Arena sits at the heart of the demonstration center at Fujitsu Forum 2017. Here we will host short presentations on the co-creation concept and take a look at examples of co-creation between Fujitsu and our partners.
Outside the 'Arena' there are four interactive Co-creation Stations:
Green Field: Free thinking and brainstorming to identifying business challenges
Design: Start outlining potential solutions to key challenges with our team of thinkers
Build & Refine: Build prototypes for new solutions and concepts
Adopt: See solutions that have been developed through co-creation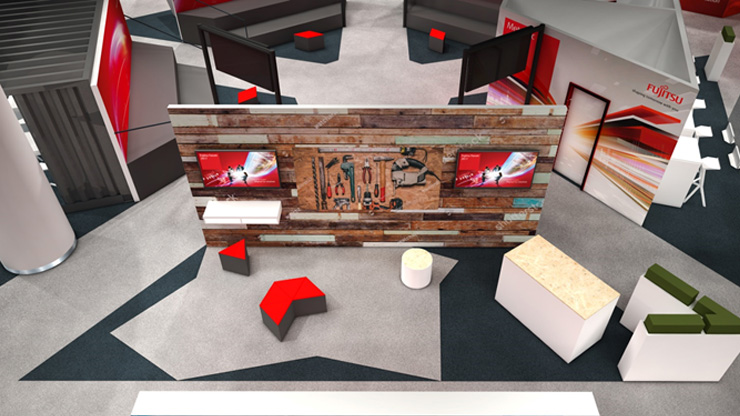 Render of one of the Co-creation Stations.