<!-Subtext (optional)->
Infrastructure and logistics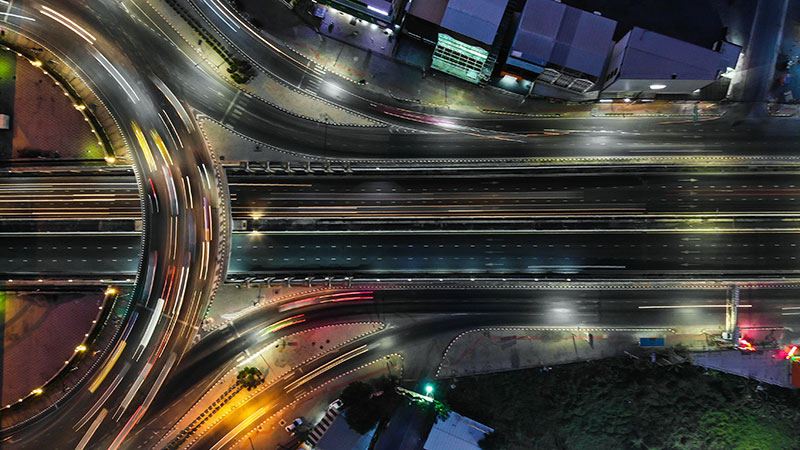 Digitally building sustainable infrastructure
Leading your digital transformation to deliver the future of mobility
Transportation infrastructure is vital to modern society, and digitalisation is a key component in shaping its future. At Fujitsu, we relentlessly pursue environmentally conscious development.
Within the UK our goal is to help deliver sustainable transport infrastructure that underpins national growth. We are proud to be involved in keeping Britain's people and goods moving safely, which is critical to supporting economic growth and social mobility and support of UK government levelling up agenda.

We're involved with organisations responsible for setting the strategy, planning and policy for the UK's Critical National Infrastructure.

Through the collection and analysis of a wide range of data - including transport usage, incident data and planned/predicted changes - we are helping to provide simulations of how existing infrastructure would cope with future transport demands, which is enabling our customers to make more informed decisions on how to better evolve transport infrastructure for the future.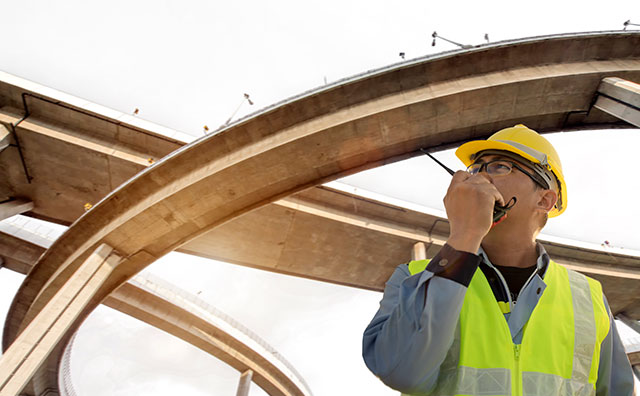 We already play a significant role in enabling our transport customers to digitalise and provide safe, sustainable and engaging experiences throughout their ecosystem of passengers, partners and employees. Whether you're a transport operator needing to move and connect people, or a logistics organisation needing to deliver goods, we have a wide portfolio of digital technologies - AI, wearable devices, IoT, blockchain and quantum-inspired computing.

Predictive and Preventative this will empower you to optimise your transport infrastructure, enable real-time supply chain management, connect people and goods, ensure safer travel, and deliver better passenger and logistics transport experiences.
Building digital transformation
Sustainable Infrastructure and Logistics
In harmony with the planet
We use innovative technologies such as Digital Annealer quantum-inspired computing to analyse complex infrastructure problems such as optimal charge point location planning for electric vehicles and route planning optimisation to reduce carbon emissions to meet net-zero. We pioneer design engineering techniques that focus on environmental protection. With technologies such as IoT, Computer Vision and digital twin we are helping organisations to optimise and manage complex asset estates, and with blockchain technology, we are accelerating the creation of secure and resilient supply chains. We are a member of the Global Responsible Business Alliance, and together with our partners, we provide a range of green procurement solutions.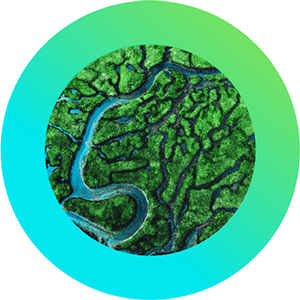 Empower people with technology - Digital technology is set to augment human capabilities. Bringing together people with a complimentary digital workforce will change the landscape. For example, integrating systems with Fujitsu AI-based solutions will allow the early detection of infrastructure abnormalities to enable preventive maintenance to take place - reducing incidents and downtime.
Resilient – We help transport and logistics organisations to visualise their operations across their entire value chain. . We take the business first perspective rather then technology. We take the We further support modularising processes, enabling the dynamic management of operations and strengthening resilience. With Digital Annealer quantum-inspired computing and AI, we enable the immediate optimisation of complex combinatorial problems.
Sustainability – Within our own organisation, we have implemented a responsible, green approach to procurement and environmental management across our entire global operation. We are working to achieve net zero CO2 emissions by 2050 and to contribute to mitigation/adaptation for climate change through business



Fujitsu Quantum-Inspired Optimisation Services – delivering an optimal solution for the rapid and cost-effective removal of space debris.
Traveller Experience
Increased experience satisfaction
Our goal is to help our customers to optimise their transport infrastructure to enhance the travel experience. Working closely with multi-modal customers we are helping to build and implement right-sized digital ticketing, Mobility-as-a-Service and Pay-As-You-Go solutions.

Using process automation, we help to increase efficiency and deliver friction-free seamless passenger experiences, reducing the impact of delays or trains re-routing.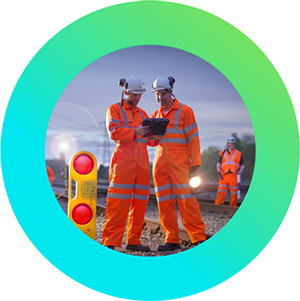 Physical and digital convergence - While digital has become the default mode, we are living in a world that hybrid models of communication the importance of face-to-face communications are being re-evaluated. We are improving passenger and employee experience by providing IoT, AI and robotics solutions to automate operations and innovate by enabling converged physical and digital experiences.
Meeting unexpressed needs - A key feature of digital business is the ability to continuously engage with customers, passengers and employees and use data to improve their experiences. We provide data analytics and video analysis solutions to find needs where they might not be obvious. For example, with customer behaviour analysis we help to unlock behaviour and attributes identified from real-time video images using Fujitsu AI technologies.



Fujitsu provides palm vein authentication technology and an AI solution that recognises products and customers behaviors automatically.
Trusted Society
Building a trusted and safe society
We recognise that trust is a key aspect to success, and we address this with our human-centric design approach. Leveraging automation, artificial intelligence and data analytics we work with our transportation customers to identify problems before they occur to keep society safe. With innovative technologies such as digital twin, quantum-inspired computing and AI we ensure safer travel. Using pro-active and predictive cyber services and controls we ensure that transport and logistics organisations can operate securely. Through real-time intelligent monitoring, we help to mitigate the risk of attack and loss of services and assets. Working closely with technology partners we leverage AI and smart CCTV to identify and report on suspicious behaviour in urban environments.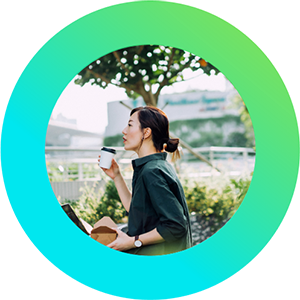 Human-centric public services - Using design thinking, we work with our customers to co-create solutions that deliver on their vision for the future - including the opportunity to develop and roll out new services.
Resilient society - Using digital twin we can help project the dynamics of society and process real-time data from multiple sensors on ultra-high-speed, large capacity computing infrastructure to predict risks and allow people to travel more safely. Using Fujitsu AI, 5G, and quantum-inspired computing we are helping to optimise logistics and address environmental challenges.
Smart city ecosystems - With our technology solutions we contribute to the development of trusted data flow and smart city operating systems which are essential to underpinning the provision of human-centric services. We care about the environment, for example within smart cities we provide IoT technology to collect and analyse real-time data on vehicle CO2 emissions.



Fujitsu solution enables to improve the civic service through automation and machine learning, reducing service times, environmental impact, and costs of operations
Healthy Living
The future of Wellbeing
We enable environmental sustainability by promoting the creation of green spaces, developing solutions to ensure cleaner air, and working with communities to support mental wellbeing. Harnessing the power of innovation - data and technology – we are helping to make healthy living a reality for everyone. Within transport, using asset management and predictive maintenance, we are empowering transport and logistics organisations to keep passengers, drivers and vehicle safe by highlighting issues before they arise and lead to accidents.




Safety - Using our digital technology and IoT solutions you can detect and predict incidents before they occur to reduce man down incidents at work and mitigate risks for lone workers. In addition, with our AI solutions and intelligent CCTV, you can detect people and goods movement in restricted areas to improve security.
Cyber security + - Security operations can be improved by using pro-active and predictive cyber services and controls. With real-time intelligent monitoring and automated actions, we help to mitigate the risk of attack and loss of services.
Business Digital Transformation
Increase resilience through digital transformation
As a data-centric organisation, we understand the challenges in using data to make effective timely and impactful decisions. Using technological innovation, we empower transport and logistics organisations to become more adaptive and resilient through intent-based leadership and cultural change. Using the latest technologies, we enable the agile development of both front-end systems and large-scale complex mission-critical systems. (agile development and transformation) Providing development frameworks and platforms we support organisations with their own application development activities. We continue to advance predictive and preventative automation based on AI to deliver resilient infrastructure services. With our extensive user-centric IT portfolio we help to drive operational benefits such as increased productivity, improved efficiency, lower costs, and reduced waste.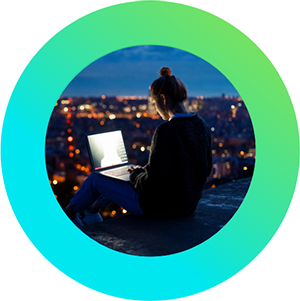 Business applications, achieving digital transformation- A key feature of digital business is the ability to engage continuously with customers and use data to improve their experiences. We work with a range of strategic partners to deliver digital solutions that optimise performance and efficiency. Using the latest technologies, we enable the agile development of both front-end systems and large-scale complex mission-critical systems.
Digital shift, shifting to a digital business - We embrace data-driven management using the voice of our customers and employees. We also integrate and analyse a wide range of data generated across operations to create actionable insight.
Hybrid IT – Fujitsu Hybrid IT integrates end-to-end solutions including multi-cloud infrastructure, digital application development platforms, sensor devices, mobile devices and solutions for autonomous vehicles. We also provide managed security services for multi-cloud, smart working and borderless office to help you realise your business transformation.



Fujitsu has built a new ship collision risk prediction technology that leverages the to predict near misses between vessels
Case studies
Great work leads to great references. Please see here our customers stories
Why Partner with Fujitsu?
For over 40 years we have been helping UK transport operators and logistics organisations arrive at their digital destination. We aim to help transform and optimise transport infrastructure across air, sea, road and rail to enable our customers to deliver on their commitment to providing innovative, sustainable and accessible travel for all.
Within the UK we are helping our customers to digitally transform their transport infrastructure to deliver safer, more sustainable and engaging travel experiences. We are supporting our UK customers to become world leaders in reshaping the future of transport. Our transport IT solutions already play a significant role in optimising infrastructure to reduce costs, cut carbon emissions, manage security and improve services.

We can help you proactively manage your critical assets, connect every stage of your passengers' journeys and provide a service in tune with the new digital world.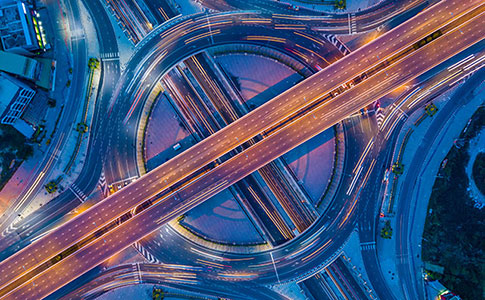 Discover more about Transport IT solutions at Fujitsu



Aviation

Delivering innovative digital solutions to enable airports, carriers and their partners to become more adaptive and sustainable.