Fujitsu digital mobility solutions - delivering a truly seamless travel experience
The UK is one of the most important air transportation hubs in the world, with around 238 million passengers passing through our airports every year. Passenger numbers are rising and flight destinations are increasing, adding further pressure to existing airport infrastructure and service management.
Airports are complex businesses, where operators need to focus on providing high levels of security, increasing capacity to meet rising demand, and delivering a seamless passenger experience. Fujitsu aviation IT plays a significant role in improving services, reducing costs, managing security and increasing efficiency, to deliver the passenger experience travellers now demand.
Improving passenger experience and increasing Airport Service Quality (ASQ) scores is a priority for airports, and by using innovation you can deliver a fast, predictable and stress-free experience. Whether this is tracking and sharing real-time information about flight and baggage status, passenger flow or service resource availability, Fujitsu can enable you to create a truly intelligent airport.
Working in partnership with us delivers;
operational excellence
seamless IT integration
an improved customer experience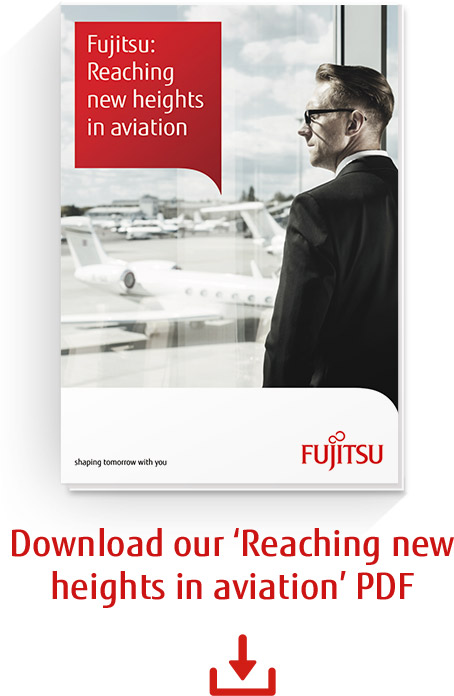 Fujitsu – 4 decades delivering aviation IT
Globally, we work with airport operators and airlines, to deliver innovative IT solutions to solve the challenges they face, such as; reducing noise pollution, managing the complexity of scheduling aircraft and crew, managing security threats, and implementing underlying technology infrastructure to deliver enhanced services to passengers and staff.
Fujitsu and Heathrow Airport – Winners of Network/Infrastructure Project of the Year
We have extensive experience of working in airport construction. We were the network integrator for Heathrow Terminal 2, where we delivered 130 communications rooms, installed 40kms of fibre/copper cables, patched 10,500 cables and deployed 420 Cisco switches.
In partnership with Heathrow Airport we were awarded the Network / Infrastructure Project of the Year at the 2015 UKIT Awards. On this £34million project, we implemented a seamless integrated network system to underpin an end-to-end passenger journey, and support critical operations throughout the airport. We have enabled employees to access improved Wi-Fi to receive real-time information, and optimise travel services. Passenger benefits include reduced time spent queuing for check-in, baggage and security.
Fujitsu and Qantas - becoming a more sustainable company with the aid of Fujitsu eWaste services
For Quantas, we developed and implemented an eWaste programme covering every aspect of the device end of life process, from upgrades and redeployment to repairs, recycling and hazardous materials management. Working closely with certified recyclers we collect Quantas' old devices and either repair, upgrade or recycle them - up to 90% of all material is reused.
"We placed our faith in Fujitsu and its local Head of Sustainability and he delivered the results we needed to make us more sustainable as a company."
Cutting edge IT solutions to increase operational efficiency and reduce pollution
Our hand-held terminals have helped airlines keep sensitive data secure and reduce risk, such as from card fraud during in-flight purchasing.
Our Electronic Flight Bag project has helped improve the operational efficiency of personnel in the air and on the ground. We provide optimal flight management through the use of electronic maps, and with our mobile systems we have helped reduce the volume of paper required in the cockpit to increase efficiency and reduce cost.
Our Digital Ear, shortlisted for IoT Project of the Year 2016, monitors, detects and records the use and misuse of aircraft Auxiliary Power Units. The data collected is delivered in real-time on a web-based dashboard, and enables airports to reduce noise and nitrous oxide environmental pollution, and increase operational efficiency.
Our end-to-end passenger ticketing – ACT cloud platform safely enables smart ticketing and complex transactions to PCI standards, without the complexity and cost of maintaining compliant systems.
Our PegaSys platform is an end-to-end business system for scheduling aircraft and crew. It's a fully integrated system that enables you to manage schedules, and quickly react to market changes and operational disruptions. With our crew rostering and business intelligence solutions you are enabled to improve aviation resource management and increase productivity.
Our GlobeRanger AIT technology supports all aspects of aviation from Manufacturing WIP and MRO, to warehouse management and supply chain integration. With GlobeRanger RFID tagging we help you to reach new levels in safety and efficiency.
We work in close partnership with some of the largest airlines and busiest airports around the globe, and deliver a comprehensive range of aviation IT solutions. From infrastructure deployment to managed IT services, we can help you to create a foundation for profitable growth. From IT infrastructure provisioning to break/fix support, we deliver robust and reliable solutions to ensure 24/7 operations. The benefits gained by implementing our IT services include;
improved Airport Service Quality (ASQ) scores
reduced passenger queuing times
enhanced communication channels
competitive advantage through lowering costs
improved efficiency through the real-time management of processes and assets
Find out more about our capabilities by reading about our aviation customer successes.