<!-Subtext (optional)->
Smart Factory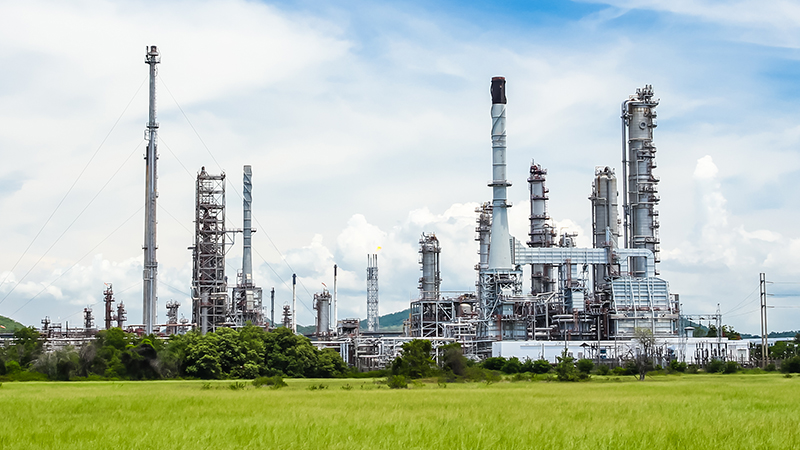 Smart Factory and Thailand 4.0 - Partnering With You For Success
Fujitsu will help you to create a Smart Factory environment, in line with the government's Thailand 4.0 economic strategy, by analysing and understanding your situation while focusing on your business requirements (Smart Factory Journey infographic). As a strategic partner, we will create a Digital Roadmap together with you to achieve your business goals.
Our smart manufacturing solutions use industrial iot (IIOT), AI and other digital technologies to enable factory automation by bringing together various business applications, platforms and network infrastructure. The benefits of a Smart Factory are improved plant productivity through digitalized inspections preventive/predictive maintenance using AI, better worker safety through contractor management centralized remote operations monitoring and lower costs.
Covid-19, Industry 4.0 and Smart Factory in Thailand
The COVID-19 pandemic has led to a significant impact on the manufacturing industry in Thailand resulting in supply chain disruptions, issues with shipping and distribution, and staffing challenges.
In response, Thai manufacturers are accelerating their adoption of Industry 4.0 measures to digitalize their operations by integrating IT and OT systems to maintain basic levels of operation. However, with the current trend toward future-proofing manufacturing plants and consequent need for big data analytics and insights, manufacturing in Thailand is becoming "smarter" through technologies such as AI and IoT.
Your Digital Roadmap for Success
We will consult, assess and build a smarter factory environment with you by accelerating your digitalisation end-to-end, encompassing IoT platforms, analytics and device solutions.
Greater visualisation and analysis solutions will drive your business toward greater quality management and production efficiency.
Fujitsu's Smart Factory Approach to Digitalization in Manufacturing
Fujitsu's Smart Factory approach can help you harness the power of innovation, to create connected and intelligent operations that are highly optimized. The result is a lean manufacturing plant.
To achieve this, Fujitsu focuses on three key areas which are the foundation for a truly Digital Manufacturing Enterprise: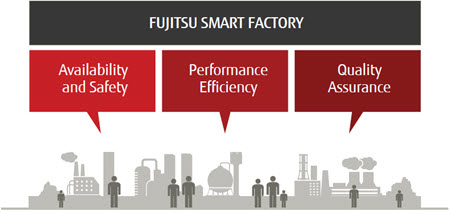 1. Availability and Safety
We connect environmental alarms, sensors, equipment, people and processes into a single pane of glass and alert you on what to do in the event of any incident or disaster. Our sensor connected devices enable you to gain better visibility into asset availability and maintenance processes. Using the real-time mobile application, your maintenance team scan inspect and assess the health of critical components in your facilities and machines, and access the necessary information. Our connected solutions deliver real-time asset monitoring and condition-based predictive maintenance to unlock the full potential of your asset investment.
Through real-time monitoring of employee and contractor environment and location, in conjunction with work permit and skill mapping, your workers' abilities, wellbeing and safety can be significantly improved.
2. Performance Efficiency
We deliver a full set of manufacturing solutions and IT services that underpin the requirements of digitalization to support decision making by management. Our solutions leverage the convergence of IT and OT to enable smart, connected operations. Through the implementation of wireless technology, Industrial IOT (IIOT), data analytics and real-time data collection technology, we enable you to gain insight and understanding from the vast amount of operational data you generate every day. With our help, you can transform your processes and proactively manage all aspects of your operation, live- in real time, to drive better and immediate decision making.
3. Quality Assurance
Fujitsu Advanced Image Recognition technology revolutionizes any operation that involves a visual inspection for defect identification. Our solution applies AI Machine Learning to achieve greater automation across inspection processes. It offers much more than previous machine vision capabilities. The system captures all quality control findings which are then compiled into a Real Time Report, complete with defect summary, enabling future product improvements leading to cost reductions.
Discover more about our Smart Factory solution portfolio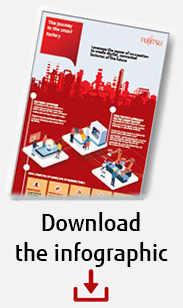 It's time to think outside the factory
Manufacturing is being transformed by digital technologies and rising volumes of data, which the entire sector needs to think and act differently. A narrow focus on what happens inside the factory will slow digital transformation. It's vital to think about the entire end-to-end ecosystem – from supply chains to customer outcomes. And it's the customers who are driving change. It's vital to respond quickly to their rapidly evolving needs.
Why choose Fujitsu as your Smart Manufacturing technology partner?
Fujitsu has more than 50 years' experience as a manufacturer in its own right with deep expertise in designing and implementing Smart Factory solutions for our own operations and for customer operations across the world. As a manufacturing organization, Fujitsu knows how highly attuned the manufacturing sector is to the transformation challenges and opportunities inherent with Industry 4.0.
From the outset of an engagement, Fujitsu works in close partnership with its customers to fully understand the outcomes they're seeking to achieve and the unique context around their business.
Fujitsu's approach to designing and implementing Smart Factory solutions includes:
1. Assessing the customer's business objectives, current state processes and KPIs, integration needs and pain points.
2. Performing gap analysis to understand what customers require across technology, people and processes.
3. Developing a roadmap and business case addressing product lifecycle management, production line integration, plant maintenance and quality management needs.
The challenges and successes of the digitally connected factory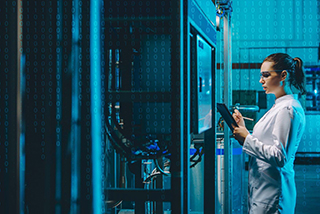 Manufacturing in a smarter, connected, digital world
Digital tools are improving productivity across the board. A Meet the Boss eBook, in association with Fujitsu.



Read the eBook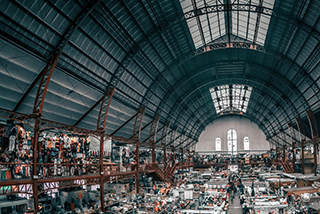 Your vision and Fujitsu. Together we can change the world
We co-create with our manufacturing customers, working together to enable their vision.



Read the customer stories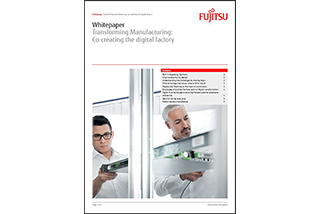 Transforming manufacturing: co-creating the digital factory
Our creation of an end-to-end connected digital factory to make our own products has been of immeasurable benefit, not just to us, but to our customers in the manufacturing sector.
Read the whitepaper
Success Stories

Machines connect and Smart QC system
Customer Challenges
Expected that data direct connect from the data sources, and Smart QC system can improve and protect human error, reporting, and traceability.
Fujitsu Solutions
Fujitsu's offering digital initiatives LAB Automation by provide machines connect and Smart QC system that can be real-time monitor and alert when the abnormal operation occurred. The system also enhances reporting, and LAB COA generation and Traceability.
Incident Management module supports real time incident monitoring and immediate actions following standard procedure
Customer Challenge
Customer has a vision to become a DX company Customer need a ROC (Remote Operation Center) that receive notification and alert from sensors installed to monitor facilities in the plant to take further necessary actions
Fujitsu Solutions
Digital Platform in Remote Operation Center Gas & Fire Detection CCTV Live view Work order full screen Zone Permitted Access GPS Location Schedule Report
Monitor by sensor and human sensing(reporting through tablet)
Action by standard procedures to solve problem and reporting after tasks completed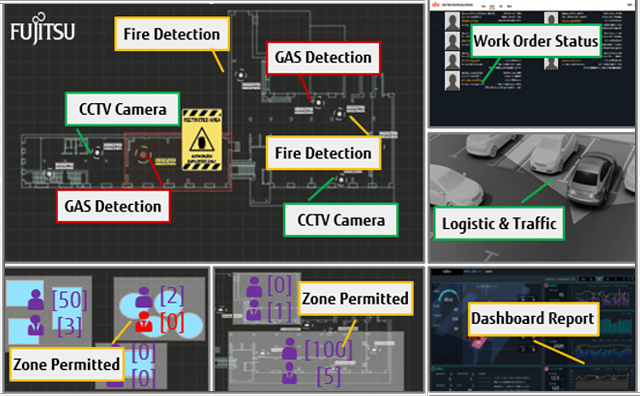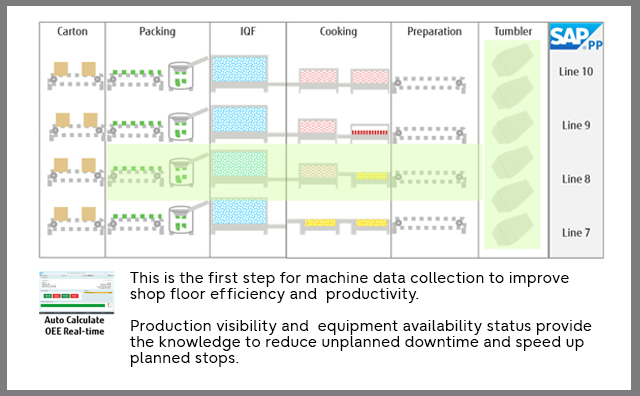 Get real-time OEE and automated data collection for food processing factory.
Customer Challenges
In the past OEE was manually collected and calculated by operator weekly and no breakdown of each process Human error and only rely on experienced staff
Fujitsu Solutions
Streamlined and automated data Get real-time machine information Automate data collection and provide advanced production analytics Information provided is targeted to every level of the production process: from the shop floor team right up to the top-level management
Traceability of finished goods by implementing MES and RFID
Customer Challenges
Difficulty in tracing back the materials of product in short time
Need to enhance quality of product
Need to enhance efficiency and productivity in factory
Fujitsu Solutions
Factory Operation
Digitalization & Visualization by MES & Dashboard Solution