"Driving Digital Transformation with You"
Event Report - Asia IoT Business Platform Bangkok 2019

FUJITSU Highlights in AIBP Bangkok
On 31 July and 1 August 2019, Fujitsu welcomed 500+ customers at the 31st edition of Asia IoT Business Platform (AIBP), Thailand. Endorsed by the Ministry of Digital Economy and Society (MDES) and co-hosted with the Digital Economy Promotion Agency (depa), the event gave us the opportunity to exchange and explore the potential of digitalisation with customers from government, telecommunications, manufacturing, logistics, transportation, real estate healthcare, banking and financial services sectors. In line with the theme of "Driving Digitalisation Ecosystems in Thailand", we showcased multiple projects and solutions that we accomplished via co-creation with partners and customers.
Main Conference - Leveraging Digital to enhance Factory Operations
With the government's commitment to embrace an innovation-driven economy and achieve Thailand 4.0, it is crucial for Thailand's manufacturers to adopt industry 4.0 solutions. During the Digital Factory & Connected Plant conference session, Ms. Khong Sheau Yan, Digital Innovation Director of Fujitsu Thailand shared multiple case studies from operation tracking, demand forecast, to quality inspection and defect detection for our industrial customers across the ASEAN region.
"In order to build a Trusted Digital Transformation, organizations should set a clear purpose, build the right organization with the right mind set to serve that purpose, and drive transformation by using data that they have," said Ms. Khong.
Based on our customers business objectives, Fujitsu have our consultants study and understand the current processes first, and then with customers to co-create a Smart Factory environment. We aim to be the strategic partner to co-create Digital Roadmap with our customers, and help achieve their business values by integrating different business applications, platforms and network infrastructure to improve plant productivity, maintenance and safety more effectively.
Ms. Khong wrapped up the presentation by stressing the importance of empowering people, in order to successfully transform organizations and reimagine new business models to bring new heights the success of companies.

Exhibition - Total Solutions for Digital Transformation Journey
Together with our partners and customers, Fujitsu showcased our portfolio of end-to-end solution offerings for Smart Factory, including DWOT Asset and Incident Monitoring, Machine Learning for Predictive Maintenance and Advanced Image Recognition, Self Service Data Analytic, Robotic Process Automation, Smart Workplace.
As an example of applying co-creation to a business model, we invited customers to share their feedback and problem statements within their organizations, and explored digital technologies that can address their transformation pain points. We would like to thank you for visiting and sharing your honest feedback, and looking forward to continue to supporting our digital journey together.

Download Center – FUJITSU Solution Info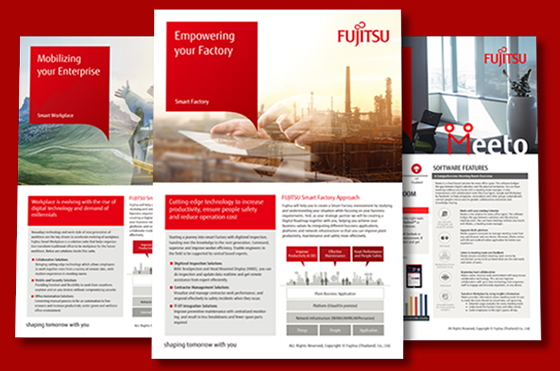 To learn more about FUJITSU digital solutions, see and download further detail information from below