<!-Subtext (optional)->
Digitalised inspection solutions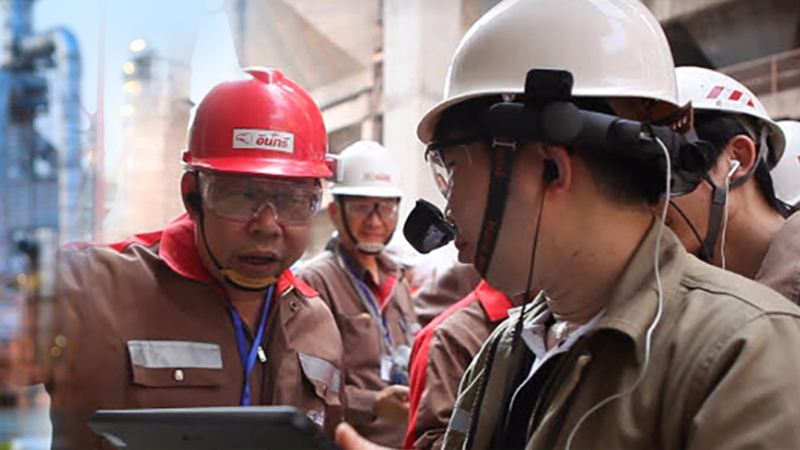 Smart Factory Digitalized Inspection Solutions
A key component of Fujitsu's Smart Factory is it's digital inspection process, which enables senior managers and engineers to keep better track of potential problems with equipment that could cause expensive downtime.
Without digital inspections, plant inspectors must go out to inspect machines and write notes on the history of breakdowns, wear and tear on parts and any other issues.
Walk-by inspections
Under the Fujitsu digitalized walk-by inspection process, inspectors gather the same type of information on the machines as before, but the data they collect is more quickly and thoroughly entered into a system, enabling senior staffers to remotely manage and troubleshoot the equipment using predictive analysis and other technologies, thus keeping unscheduled downtime to a minimum.
Fujitsu implemented the digitalized inspections at its Siam City Cement Co. plant in Thailand, and the technology promises to reduce inspection times while providing data that managers could act on immediately.
"Today when they do the visual inspections, they are writing the notes to say this machine has problems," says Alfee Lee, DX Officer (DXO) ASEAN+I (India) "When the machine has problems, they call the contractor to fix it."
Ready access to managers and engineers
By contrast, with the digital inspections, the inspectors start with more information and have more ready access to senior managers and engineers. "They (inspectors) are able to know what is the status of this machine," says Lee. "And when there is some issue on the machine, they will call back to the command center (remote operation center) to check the instructions to be given to them."
Fujitsu head mounted displays
Among the technologies that make up Fujitsu's digitized inspection system is a head-mounted display worn by inspectors.
The device sports a camera, which enables the inspector to capture his work in the field in real time. These images can be sent to the Smart Factory's remote operation center, says Ms. Khong Sheau Yan,Head of DX Strategic Office, Fujitsu (Thailand) Co., Ltd. Another screen can stream advice from experts stationed in the operation center.
"This has enabled efficient remote assistance for any field work," she says. "It also can be mounted on the hat, making sure that field work can be done with both hands as usual, while having remote assistance. All this works well with full Wi-Fi coverage in the plant."
Augmented reality is an option for the head-mounted display, enabling users to do their work with an AR-guided manual, she adds.
Fujitsu says it believes the digital inspections could help save as many as two hours per day per inspector as compared with conventional inspections because of the expert advice available to the inspector in the field from the operation center and better, more rapid diagnoses of problems with the equipment.
TeraSpection
Fujitsu also offers a feature it calls TeraSpection, which enables paperless inspections on any tablet.
"Instead of writing inspection results on paper and having the need of inputting this information again in Excel reports later and having to cut and paste photos related to the inspection to these reports, all this can be done by inputting data in the tablet and updating the data in real time to the system for further analysis," says Khong. She adds that the system enables inspectors to scan a QR code on each machine to help pull up the proper log sheets or digital overview for a particular machine.
All of this translates to better access to data and ultimately lower costs for the plant.