Main Feature
Variety of Paper Types
- Stock Forms (3.75'' - 10.5'' width)
- Cut Sheet Papers (3.75'' - 10.5'' width)
- Carbon Backed Papers (2P-7P)

Stylish Compact design
The design of DL3100 was completely reviewed all the component.
DL3100 is achieved the compactness without any performance degradation
High speed printing
The maximum print speed is up to 450 cps at 10 cpi.
This is achieved through the advanced head control technology.


Flexible connectivity
Standard Interface is USB.
There are each interface model suitable for business as follows.
Energy saving
DL3100 Series comply with the New Energy Star Program.
Also, The power consumption is 1.1W or less at the waiting mode and 37W or less at the operation (Average)
Reduced operation Costs
Save money and reduce waste by using Fujitsu's ribbon. Ribbon replacement is quick and easy and does not require any tools.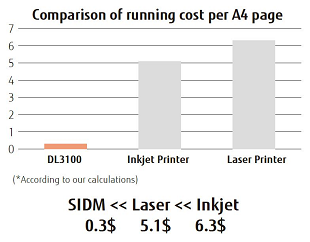 The consumable costs per page are up to 20 time less than that of other printer types.
(SIDM : Serial Impact Dot Matrix Printer)