<!-Subtext (optional)->
A New Era for Insurance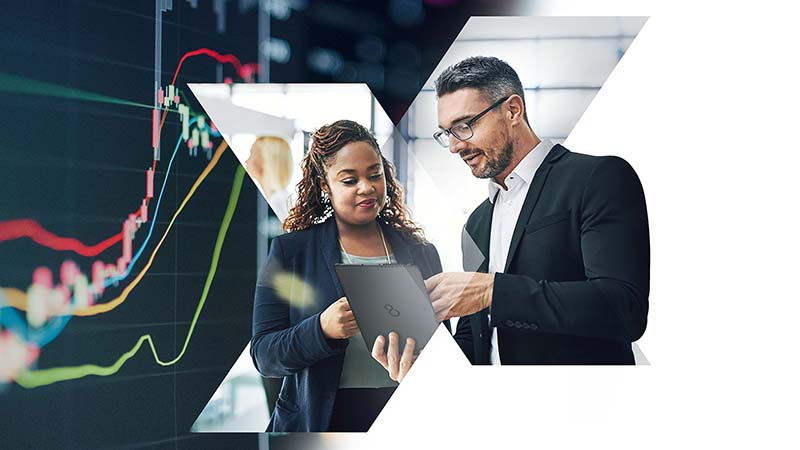 Fujitsu Insurance Solutions - Redefining your Customer Experiences
Digitalize and shift from risk transfer to risk prediction and prevention
We are entering a new age for insurance - powered by digitalization. Accelerated by the 2020 pandemic, customer behavior is changing. Expectations are fueling the need for new customer-centric products - faster and more effective personalized insurance services that provide instant data access through digital channels. Today's insurers need a multi-generational approach to connect with customers. One that factors in the needs of an ageing population just getting to grips with the new digital world, alongside those of digital native Millennials and Gen Z, who by 2030 will make up 70% of the working population.
With shifting expectations, customer relationships now need to be based on a detailed understanding of their circumstances, lifestyles, and changing life-stages. So, for insurers, this means shifting from the old traditional model where customer contact was limited to renewal times or claims assessment, to a more customer-centric approach powered by data.
Disruptive technologies such as AI, IoT, Automation and Data Analytics are providing massive opportunities to gain customer insight to tailor personalized insurance services. At Fujitsu, we can help you to transform and implement digital insurance solutions that enable you to build closer relationships with your customers, and not just to sell products. By implementing the right digital tools – whether that's AI-based analytics, customer-facing cloud-based digital innovation or quantum-inspired optimization – we empower you to move from a reactive model to a more proactive risk prediction and prevention model. You can influence behaviors and rapidly adapt products and services according to changing individual needs.
Whether it's streamlining processes or enabling new operating models, we're experts at helping our customers to transform. We enable:
24/7/365 availability
Digital interfaces
Omni-channel accessibility
Seamless interactions
Contextual and personalized services
"By 2025, 50% of insurers will be offering real-time risk prevention as a service to retail customers in both life and non-life, either directly or through digital partnership ecosystems. By doing so they will dramatically improve their customers' experiences." Learn more about this with IDC's Patrick Van Brussel.
Read the blog
Retail insurance technology - moving from a one-size-fits-all approach to personalized interactions that entice customers
Traditional B2C retail insurance remains a business where it's hard for insurers to develop strong personalized customer relationships. Digitally savvy millennials and Gen Z want much more than an annual renewal message. They want to be enticed by personalized contextual interactions that stand out from the crowd. Insurance has always been a data-rich business and it's time to capitalize on this and develop new ways to deliver daily positive experiences for customers.
By digitalizing and using connected devices and AI-based analytics, you can gain valuable insight into customer demands and risks related to behavior. With us as your technology partner, you are better enabled to leverage data to take customers from a 'generic risk' to a 'known risk', and deliver highly individualized risk assessments and personalized policies that increase customer satisfaction.
Enabled by IoT, Big Data Analytics, Machine Learning, Artificial Intelligence, Natural Language Processing, and Robotic Process Automation, we help you to master the science of risk management to free your customers' minds from worry.
Collect real-time data as to potential risks
Analyze data to generate contextual outputs
Provide feedback and suggest changes to avoid risk
Issue imminent risk avoidance warnings
Send alarms to take action to contain the extent of damage
White Paper: Can Insurers Learn How to Develop Strong Digital Customer Relationships?
Insurance is changing inside and out. Fujitsu commissioned IDC research reveals that new generations of customers want new kinds of relationships with their insurer. It's no longer 'us' and 'them' – it's got to be just 'us, together.'
Insights and analysis from IDC show that there's no time to waste as customer expectations evolve and disruptors seek their business. Find out how to increase digital touchpoints to get closer to customers and how that enables you to move from a risk transfer model to one based on risk prediction and prevention.
Wholesale insurance technology – shift from reactive to proactive
B2B wholesale insurance is a competitive business, and organizations want to work with insurers that can support their need to conduct business faster and with more accuracy than ever before. The way to make this happen is through the implementation of new digital ecosystems, and wholesalers with the foresight to position themselves as digital disrupters stand to benefit the most. At Fujitsu, we work with insurers helping them to deploy technology such as Digital Twin, RPA and AI-enabled real-time data infrastructure to reduce underlying risks, cut incidents, and move business customers to a more cost-effective predict and prevent insurance model. We design and develop insurance technology solutions that can:
Reduce fraud
Reduce business interruption claims
Reduce employer liability claims
Automate claims assessment
Create smart insurance policies
Deliver consumption-based pricing models
Use risk prediction and prevention to gain a competitive advantage
White Paper: AI is shifting the insurance model from protection to prevention
Value is not created by being the cheapest insurer, but by helping customers to reduce their underlying risks and losses. For example, imagine tracking the health of factory machines down to individual components using IoT and Digital Twin technology, and then leveraging AI to create accurate predictions of their likely operational lives. Timely repairs can be recommended to stop machines from breaking down, saving on both business interruption claims and customer losses.
AI is moving the basic insurance model from risk protection to prevention. It's a radical shift with immense potential.
Leverage the power of digital innovation. Find out more about how Fujitsu insurance IT solutions can transform your business.
Find out how Fujitsu insurance solutions can optimize your business