<!-Subtext (optional)->
Reimagining manufacturing with AI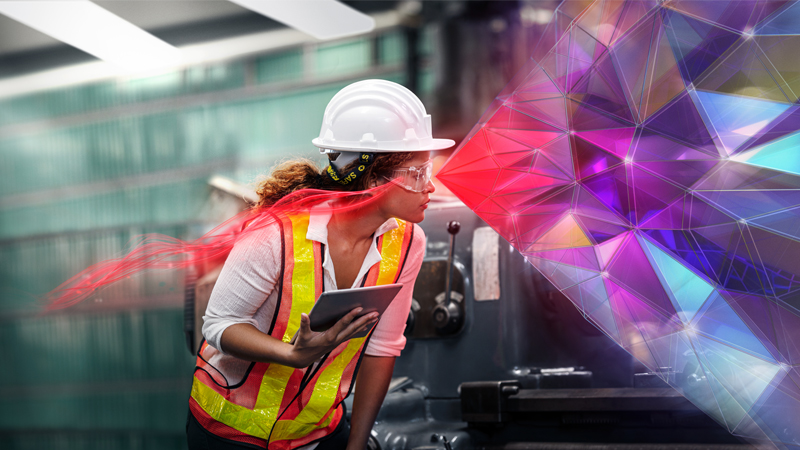 Smart Manufacturing AI Solutions
Transparent, fair and accountable AI technologies you can trust
Harnessing AI technologies is enabling manufacturers to deliver productivity improvements and intelligence to operations. Within the factory, quality control is an area that remains heavily reliant on manual inspection processes, and today, it's ripe for AI-based automation. By adding AI-driven optical inspections manufacturers can automate finding defects in product manufacturing – even those invisible to the human eye. However, quality control is about far more than just making sure each product item is flawless. It also enables manufacturers to:
better classify and differentiate their products – for instance, higher quality products can be sold at a premium
detect errors at any stage in the manufacturing process to help manage costs more effectively by reducing the amount of reworking that needs to be done
automatically adapt machine calibration in a way that increases quality without wasting materials
free workers from the performing monotonous leaving them to focus on adding value-added
Fujitsu Manufacturing AI - delivering solutions that focus on business outcomes
As well as being a world-leading AI technology partner, we're also a manufacturer with 80 years of 'making' under our belt. This means we understand the challenges you face on the road to AI adoption. Making is part of our identity, and that makes us best placed to help you because we've been there too - we've transformed our own production, making it smarter and more efficient.
Working in close partnership with our manufacturing customers, we co-create factory AI solutions that focus on delivering business outcomes. Combining the strength of our own AI capabilities with 'best of breed' global technologies, we deliver optimal AI supported solutions that directly tackle and overcome the challenges our customers face.
Artificial Intelligence in Manufacturing - Use Cases
Improving Quality Control
Repetitive visual inspection across quality control adds significant cost and time to production.
Artificial Intelligence in quality control increases product quality through automated accurate product defect identification and classification. It prevents the release of poor quality products to customers to reduce return shipments and reclamation costs. Fujitsu simplifies the application of AI to the automation of critical inspection processes, replicating the vision and judgment that only employees could previously provide.
Fujitsu AI Quality Control recognizes even tiny product defects to dramatically reduce the time needed for quality control checks by workers.
Reducing Downtime and Increasing Productivity - AI predictive maintenance
As part of Smart Manufacturing and industry 4.0, AI predictive maintenance analytics is transforming the maintenance process. Adopting a proactive predictive maintenance and condition-based monitoring model means factory maintenance will no longer be reactive, time-consuming and expensive, instead, critical issues will be predicted and prevented before they arise and cause downtime.
Predictive maintenance forms a critical part of the Fujitsu cloud-based manufacturing optimization solution. Our engineers proactively monitor your entire estate using advanced analytics to predict potential problems and resolve them before they arise. With fewer incidents and outages you are enabled to drive down costs and increase your productivity.
Financial Services AI
Fujitsu AI, a new era for banking and insurance
Fujitsu AI combines the strength of our technological expertise with carefully selected partner capabilities. Taking a solution first, technology second approach, we start by identifying the challenges your organization faces, before moving on to develop a solution. We understand that with financial services trust is a key aspect of a project's success or failure, and we address this with ethical Human Centric AI solutions that prioritize human needs. Our AI proposition for financial services is a highly adaptable framework that can be matched to any application.
Find out more about Fujitsu Financial Technologies & Services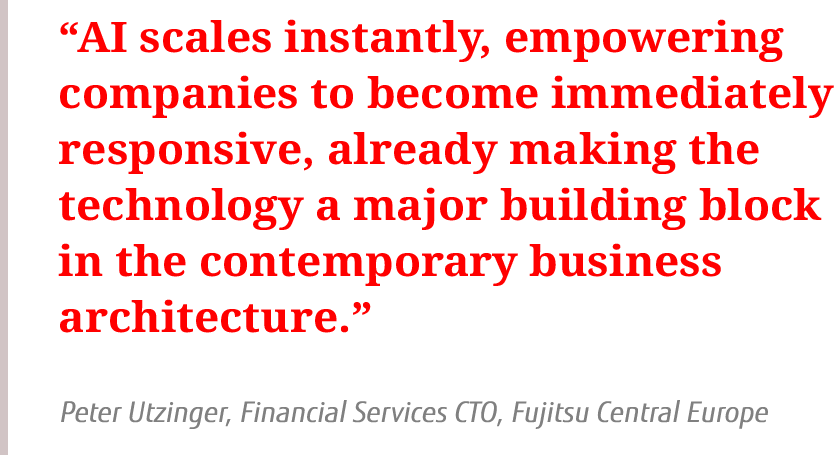 Fujitsu AI in Banking
We recognize that within the financial services sector, one of AI's true strengths is in the field of pattern recognition and analysis. Whether you are looking to minimize banking fraud by utilizing AI to analyze signatures and identify counterfeit patterns, reduce unauthorized ATM withdrawals by utilizing AI-based facial recognition and intelligent CCTV, or looking at risk prediction and analysis in the lending business, we develop optimal AI solutions that meet your specific needs.
We see digital transformation as the key to providing a great banking customer experience.
Enhancing the Customer Experience - Fujitsu Natural Language Processing (NLP) Chatbots
With the introduction of machine learning and AI, chatbots have evolved with the capability to hold more natural, detailed conversations. Within the financial sector AI chatbots are making waves, changing how the financial sector handles product and service inquiries. Fujitsu Natural Language Processing AI chatbots provide financial institutions with new ways to innovate within customer services. Across diverse complex products and services as well as sales support, they are providing relevant information via friendly user experiences and user interfaces. They have the capability to:
match questions with responses prepared by script editing engines
learn question-and-reply patterns from past interactions
help automate the process of asking follow-up questions 24/7
improve the customer experience
reduce the cost of call center support
Fujitsu AI in Insurance
The Insurance sector is heavily regulated, intensively bureaucratic, process-oriented and has been traditionally slow to adapt. However, with rising customer expectations and increasing demands for digital self-service, dynamic pricing, instant quotes, and precisely tailored products – insurers must reimagine their future, retool and transform.
AI is the key to delivering great customer experiences and personalized policies, it offers the agility needed to keep pace with shifting consumer expectations in a time of relentless change.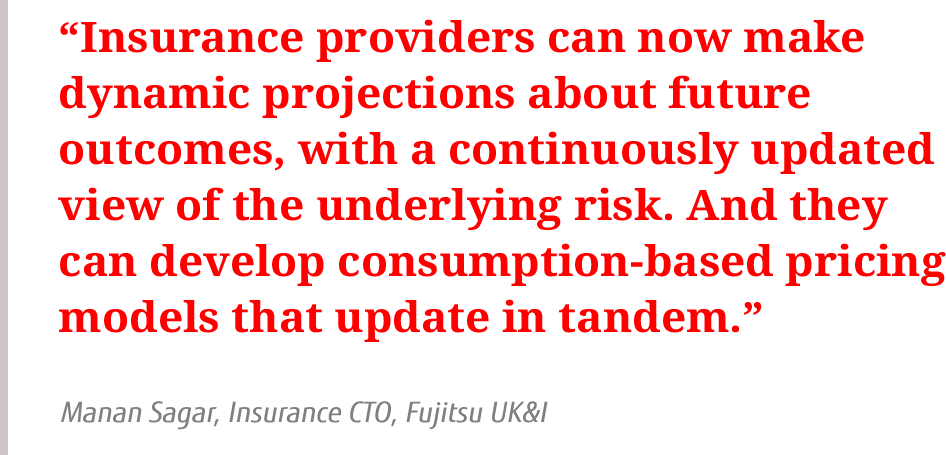 Retail Insurance (B2C)
Today, Insurance AI is enabling a major shift in underwriting - taking customers from a 'generic risk' into a 'known risk' with highly individualized risk assessment. AI can integrate varying data across formats and silos, and using the insight gained, insurers can more accurately evaluate risks to strike a better balance between premium prices and claims.
AI can automate the entire customer journey from making an initial car insurance claim to receiving a replacement vehicle. At one end of the scale, one insurer is already using NLP chatbots to guide customers through the application process - taking them from enquiry to quote in just 90 seconds. At the other, another is using AI to assess simple auto-insurance claims based on customer smartphone photos in just 6 seconds.
Wholesale Insurance (B2B)
AI has opened the door for insurers to innovate and create smart insurance policies that use real-time data to make dynamic projections of future outcomes. When an accident does occur, associated data feeds can then automate the claim assessment and payment as well as prevent fraud. With agile AI-enabled real-time data infrastructure, insurers will be able to help customers to reduce their underlying risks. They can move from offering a repair and replace model to a far more cost-effective 'predict and prevent' model.
For example, within manufacturing, it's possible to use Digital Twin technology to track machinery condition and health. This will enable risk managers and insurers to:
create more accurate predictions about a machine's operating life
recommend repairs to prevent machine breakdown
reduce accidents at work
Insurance providers will not only be able to save on machinery breakdown and associated business interruption claims they'll also be able to save on employers' liability claims.
Artificial Intelligence in Financial Services - Use Cases
Automated accident report generation – Fujitsu Visual-SLAM
Fujitsu AI image recognition and Visual Simultaneous Localization and Mapping (Visual-SLAM) technology can automatically generate accident reports from telematics recordings of vehicle position and speed, saving customers the stress of reporting the incident themselves. Using AI, accident assessments are made more accurate as they're no longer based on the subjective accounts of the drivers involved. Using customers' smartphone images, AI can be used to assess simple auto-insurance claims in a matter of seconds.
Intelligent fraud detection
AI is already proving its abilities to fight financial fraud using pattern recognition to identify suspicious transaction sequences. In insurance, with the help of AI, losses from fraud could be drastically reduced. Using AI to integrate pattern recognition with traditional structured data or unstructured data such as images and social media, fraudulent claims can be flagged up that were traditionally uneconomic for human analysts to uncover – such as reconstructing an auto-accident entirely using telematics data, to accurately verify or disqualify a claim. Using AI, fraud can be eradicated as an inevitable cost of doing business.
Retail AI Solutions
Fujitsu AI for retail - improving the customer experience and boosting efficiency
Today, retailers operate in a challenging environment - whether that's online competition, rising customer expectations, the need for constant innovation or the economic fallout of events such as Covid-19.
For retailers, AI's ability to identify patterns and detect anomalies in mountains of digital information adds new insights and possibilities for transformation. And, once trained, it's tireless in processing many standard tasks. Retailers who are adopting AI recognize its capabilities to:
automate processes to drive higher productivity and empower staff
reduce errors leading to better customer service and increased efficiency
create multi-channel connected retail services through pattern recognition
Enabling data-driven transformation
In retail, AI is transforming operations and enhancing the way customers experience shopping. By making use of deep learning to analyze data from multiple channels, both digital and in-store, via sensors or video analysis, AI is enabling retailers to:
create and deliver more personalized customer experiences
integrate bricks-and-mortar activities into the digital world
generate opportunities to create additional revenue at higher margins
Fujitsu's leading expertise with AI for retail
At Fujitsu, our human-centric AI solutions are helping the retail industry to do more, faster and with greater efficiency. We understand the challenges facing retailers and the need for reliability, agility and flexibility. We develop and deliver innovative AI solutions that future-proof customer experiences in an omnichannel world.
We have one of the industry's longest and most successful heritages in AI research and development. Whether it's extending our Center of Excellence (CoE) for AI in Paris, France or opening a Connected Retail Experience Centre in Dublin, Ireland, we remain committed to continued strategic investment in AI to help retailers increase in-store productivity, improve customer experiences and expand customer bases, while reducing costs.
Fujitsu retail AI use cases - AI solutions that focus on business outcomes
We work in close partnership with our retail customers to co-create retail AI solutions that focus on delivering business outcomes. Combining the strength of our own AI capabilities with 'best of breed' global technologies, we deliver optimal AI supported solutions that directly tackle and help overcome the challenges our customers face.
Our connected retail solutions focus on improving the customer retail experience, increasing efficiency, growing business and boosting profitability. Along with assisting self-serve kiosk purchases and safeguarding transactions, we are also helping retailers control crowds and improve security as well as much more.
Fraud Prevention
Cutting losses at self-checkouts by cross-checking customers' barcode scans against camera images to identify mismatches without the cost and complexity of adding graphical processing units (GPUs) to each checkout.
Customer Behavior Recognition
Recognizing registered and authorized users as they enter and leave the store. Cameras and sensors track what they remove from the shelves, as well as what they put back, and bill them as they leave to deliver a frictionless shopping experience.
Customer Flow Analytics
Detecting, tracking and aggregating customer flow through heatmaps and data analytics to enable retailers to better understand ever-changing customer behavior to; optimize advertising, product placement and store layouts to differentiate customer experiences and increase customer engagement and sales.
Slip, Trips and Fall Hazard Detection
Automatically detects hazards, such as liquid spills, and triggers staff alerts for proactive cleaning to reduce accident rates, customer compensation and insurance premiums.
COVID-19 Response
Automating customer counting to provide shop entrance advisories, alerts for entrance violations, non-adherence to social distancing and mask-wearing to increase customer and workforce safety.
POS Support and Non-Scan Detection
Visually validating the accuracy of scanned items at Point-Of-Sale devices, and provide staff alerts to assist customers where inaccuracies occur as a theft deterrent. Create a frictionless customer experience by automating non-barcode item selection using AI algorithms.
Security Monitoring
Identify emerging violence and theft threats through behavior analysis to increase workforce and customer safety and reduce lost revenue.
Natural Language Processing (NLP) Chatbots
Increasing the quality of customer support by better understanding the context of the conversation and offering a more 'human' response.
Mobility Services – Driven by AI
Fujitsu AI - optimal solutions that overcome mobility challenges
Digital technologies are transforming the automotive and transportation sector, enabling a move away from gasoline-driven vehicles towards electric and connected vehicles, autonomous driving as well as a shift from vehicle ownership to sharing. Moreover, organizations that were traditionally segregated into different industries such as automobile, transportation, logistics, electric utilities, and even insurance and retail, are now converging towards new interlinked ecosystems, connected via digital technologies, to deliver new mobility services that transform people's daily lives.
Digitalization is transforming the mobility experience, and, at Fujitsu, we believe that technologies such as AI, are key to overcoming the many challenges organizations face in delivering innovative mobility services.
Fujitsu Mobility Digital Twin
The Fujitsu Future Mobility Accelerator Digital Twin Suite is a powerful tool for businesses offering mobility-related services based on big data collected from disparate sources. Leveraging technologies and toolkits from the Fujitsu portfolio such as the Digital Annealer, AI and computer vision, the Digital Twin platform reproduces real-world information in the digital space.
Applying analytics, Digital Twin delivers the insights needed to derive business value from the data collected. For instance, building on data from an on-board camera, AI-powered image recognition, high-precision 3D positioning technology and analytics, the platform enables accurate estimation of the 3D position and trajectory of potential obstacles in the real world - including other vehicles, roads, pedestrians and buildings.
Use case examples: Analytics using the Digital Twin Suite can potentially be used for various use cases such as:
accident reproduction and driving analysis to help insurance companies process claims faster based on objective data
fuel efficiency estimation and EV battery utilization to help OEMs design better batteries for electric cars
optimal charge point location planning for the public sector
route optimization and fleet management to help the transportation and logistics sector to maximize fuel efficiency, reduce environmental footprint, save costs as well as solve challenges related to Last-Mile Delivery
Fujitsu's leading AI expertise
We understand that unlocking the true potential of AI requires fundamental change, long-term thinking and commitment. We have 30 years of experience developing innovative and ethical AI offerings and deliver optimal AI supported solutions. AI potentially complements our Quantum-Inspired Optimization Services based on our Digital Annealer system, which can be used to optimize traffic flows, social infrastructure maintenance, delivery vehicle routes, autonomous vehicle routes, fleet management and freight traffic.
Together with Japan Post, we co-created a solution to optimize transportation route combinations, truck types and cargo loads to reduce delivery fleets in Tokyo.
Together with the Hamburg Port Authority, we developed a solution to optimize traffic light sequencing in the port and on roads into the city to cut traffic congestion and speed up journey times.
Together with Astroscale, The University of Glasgow and Amazon AWS, we are developing proof of value for spacecraft flight path optimization to make space debris removal missions more commercially viable.
Transportation AI use cases
Road Use Cases
Traffic flow optimization - more effective traffic control and reduced CO2 emissions.
Fleet management optimization – optimal logistics planning and reduced CO2 emissions
Autonomous vehicles – increased safety and enhanced mobility.
Social Infrastructure Maintenance – increased accuracy and reduced highway inspection times.
Electric vehicle battery optimization – better driving experience and more efficient utilization of charging infrastructure.
Maritime Use Cases
Collision avoidance – accident mitigation. Read more
Intelligent berth planning - optimized berthing and vessel schedules.
Port operation optimization – improved port efficiency.
Vessel fuel optimization - reduced fuel costs, voyage times and CO2 emissions.
Stowage plan optimization – optimal freight loading efficiency.
Remote-controlled ships - autonomous navigation.
Air Use Cases
Flightpath optimization – reduced fuel usage.
Predictive maintenance - decreased delays and flight cancellations.
Fuel planning and optimization - reduced costs and CO2 emissions.
Rail Use Cases
Autonomous trains - increased safety and reduced bottlenecks.
Real-time railway system optimization - reduced system downtime.
Public Sector AI Solutions
Fujitsu AI – enabling public sector transformation
Improving citizens lives is high on every government's agenda. AI is already widely used within the private sector and now it's time for the public sector to catch up. AI technology has the power to provide better citizen outcomes, enabling smart city initiatives in mobility, energy usage, crime prediction, infrastructure and more. Using AI-based capabilities empowers government agencies to address citizen needs while at the same time cutting costs, improving productivity and increasing efficiency.
At Fujitsu, we are committed to the UN's Sustainable Development Goals and see artificial intelligence as a way to reduce energy consumption, cut congestion and associated pollution, streamline waste management and improve mobility. We develop and deploy AI solutions that enable public sector agencies to focus more time and resources on frontline priorities and deliver a more personalized citizen experience. We recognize that within the public sector, trust is a key aspect to any project's success, and we address this with our Human Centric AI - ethical AI that prioritizes human needs.
With 30 years of AI experience and a range of specialist partner relationships around the globe, we are perfectly positioned to implement AI for the Public Sector that delivers extraordinary outcomes.
Find out more about Fujitsu IT solutions for the Public Sector
Public sector AI use cases include:
AI Crowd Analysis - intelligent CCTV
Through the deployment of intelligent CCTV in smart cities and towns, governments can enhance safety and security. AI machine learning and AI analytics applied to video footage can revolutionize security. It can analyze thousands of video feeds in real-time to enable faster and better decision making.
AI feeds predictive modelling for contingency planning and optimization. It helps extract valuable data and insights from cameras to keep communities safer by identifying security issues before they arise, such as:
Predicting unwanted incidents like terror attacks.
Analyzing and controlling crowds – a growing priority as populations increase.
Mobility AI – route optimization
Using mobility AI, optimal routes can be identified across complex transport networks. Real-time insight means being able to react to unforeseen circumstances at speed and reoptimize in seconds. For smart cities, this promises greater flexibility, sustainability and efficiency.
Traffic flow optimization enables smart cities to cut congestion, reduce pollution and improve air quality.
Fleet management optimization enables optimal logistics planning and reduces CO2 emissions.
How Fujitsu AI solutions have helped our customers solve their business challenges
Improving your Predictive Maintenance with Artificial Intelligence
Vessel Fuel Optimization for Maritime Digital Transformation
Artificial Intelligence in Retail - Less shrinkage, greater revenue and improved customer experience