Mailslot Mechanism enables simple real-time cartridge tape insertion and ejection
A slot (cell) on the front of each magazine can be setup as a mailslot. This allows a tape cartridge to be inserted or ejected from the library while the library is online.
Mailslot is useful in the following situations:
When inserting/ejecting specific volume cartridge tapes
When inserting/ejecting the cleaning cartridge tapes
When ejecting defective cartridge tapes
Using mailslot shortens response time compared to replacing whole magazines.
Eliminates a bar code scan of all slots
Eliminates need to update media mapping of backup software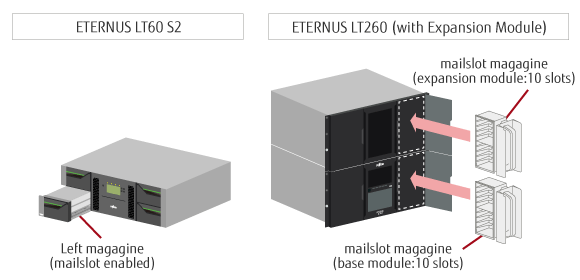 | Products | Number of mailslots (base module) |
| --- | --- |
| ETERNUS LT20 S2 | 1 slot |
| ETERNUS LT40 S2 | 3 slots |
| ETERNUS LT60 S2 | 3 slots |
| ETERNUS LT140 | 5 slots |
| ETERNUS LT260 | 10 slots |
Product Requirements
Supported Tape Libraries
ETERNUS LT20 S2/LT20
ETERNUS LT40 S2/LT40
ETERNUS LT60 S2/LT60
ETERNUS LT140
ETERNUS LT260
Note:

Products/features/support content introduced on this page, are subject to change without notice.