Loadable and unloadable cartridges with magazines
Cartridges are housed within a magazine system, which enable cartridges to be loaded in and unloaded from the ETERNUS LT series (refer to Product Requirements).
Each Module provides a Mailslot for loading cartridges in the Library. The user can replace cartridges even when the tape library is Online, by simply using this Mailslots. The cells of the Mailslot can be configured to be storage cells. To insert or eject multiple tape cartridges, use the Operator Panel or the Remote Panel to unlock the Mailslot and directly insert or eject the tape cartridge.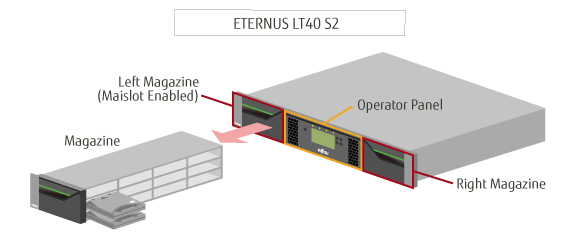 Product Requirements
Supported Tape Libraries
ETERNUS LT20 S2/LT20
ETERNUS LT40 S2/LT40
ETERNUS LT60 S2/LT60
ETERNUS LT140
ETERNUS LT260
Note:

Products/features/support content introduced on this page, are subject to change without notice.