This level is called "mirroring" as it copies data onto two disk drives simultaneously.
Although there is no enhancement in access speeds, the automatic duplication of the data means there is little likelihood of data loss or system downtime.
RAID 1 provides failure tolerance. If one disk fails the other automatically takes over and continuous operation is maintained.
There is no storage cost performance improvement as duplicating all data means only half the total disk capacity is able for storage.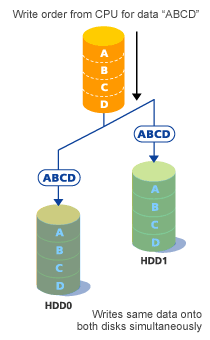 Video demonstration
Write process
Read process
Process on disk failure
RAID 1 supported:
All-Flash Arrays
ETERNUS AF150 S3
ETERNUS AF250 S3/S2, AF250
ETERNUS AF650 S3/S2, AF650
ETERNUS DX200F
Hybrid Storage Systems
ETERNUS DX60 S5/S4/S3
ETERNUS DX100 S5/S4/S3, DX200 S5/S4/S3
ETERNUS DX500 S5/S4/S3, DX600 S5/S4/S3
ETERNUS DX900 S5
ETERNUS DX8700 S3/S2, DX8900 S4/S3
ETERNUS DX60 S2, DX80 S2, DX90 S2
ETERNUS DX400 S2 series