Disaster recovery using remote location backup Remote Copy Disk Buffered REC over Low bandwidth Networks
To provide remote copying over low-bandwidth networks, a Consistency mode is provided. This uses part of cache memory as a buffer (The REC buffer). Data is then copied to the destination device and compiled on a block basis after accumulating the I/O from multiple REC sessions in the REC buffer for a specific period. Use of this mode provide the control to maintain transmission integrity even when data is transmitted out of order, due to transmission delays, as it travels to the destination device over the WAN.
In addition, if cache memory capacity becomes insufficient, due to instabilities in the link or increased traffic, disk buffered REC can be used. This supports temporary increases in updated data using the larger buffering capacity of hard disks.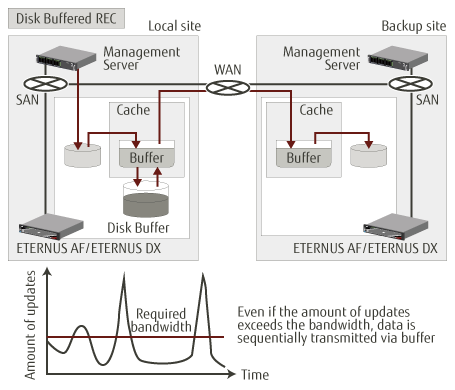 Benefits
Able to configure disaster recovery systems using low cost, low bandwidth networks.
Large capacity buffer supports temporary increases in data updates.
Even when data updates exceed the bandwidth, data transmission continuity is
guaranteed by maintaining update order.
Product Requirements
Supported Storages
All-Flash Arrays
ETERNUS AF250 S3/S2, AF250
ETERNUS AF650 S3/S2, AF650
ETERNUS DX200F
Hybrid Storage Systems
ETERNUS DX100 S5/S4/S3, DX200 S5/S4/S3
ETERNUS DX500 S5/S4/S3, DX600 S5/S4/S3
ETERNUS DX900 S5
ETERNUS DX8700 S3/S2, DX8900 S4/S3
ETERNUS DX90 S2, DX400 S2 series
Supported Servers
Mission Critical IA Server, UNIX Server, Industry Standard Servers
Operational Interface
Mission Critical IA Server
UNIX Server
Industry Standard Servers
ETERNUS SF AdvancedCopy Manager
*Note:

Products/features/support content introduced on this page may be modified without notice.