Storage capacity virtualization - Thin Provisioning
Thin Provisioning is a technology that reduces physical storage deployment by virtual storage techniques that maximize available storage use.
Storage system growth continues year on year. Concerns about ensuring there is enough available storage tend to encourage users to deploy more physical storage that they don't actually need - just to be safe. However, in practice the allocated capacity is often under-utilized. Industry research organizations have even stated that in some cases only 20 to 30 percent of deployed capacity is actually used. Thin Provisioning technology has therefore been developed to enable effective use of available storage capacity for better return on investment.
With Thin Provisioning, the total overall user capacity is only allocated as virtual storage. Then actual physical disk capacity is allocated as and when it is needed. All physical disks are managed as a single disk pool and allocated according to the amount of data written to the virtual volumes. This reduces the amount of unused physical disk capacity and creates a much more effective storage operation. In addition, pre-defined thresholds avoid storage capacity shortages by warning when additional physical disks need to be added.
For example, a user requests 10TB of resource allocation from the server administrator.
While 10TB of physical storage capacity may eventually needed, current usage suggests 2TB of storage is sufficient. The system administrator therefore prepares 2TB of physical storage but allocates a 10TB virtual volume to the server. This means that the server can start using the existing physical disk pool which is only around 1/5 of the virtual volume. This 'start small' approach enables much more effective use of storage capacity.
As more physical capacity is required to support the virtual volume (as shown in the figure below), existing physical volume capacity is consumed. In order to avoid a capacity shortage, the physical disk pool is monitored using a pre-defined usage threshold. For example, by defining 80% of the entire disk pool as the threshold, when that amount is reached, an alarm notifies the administrator to expand the number of physical disks. This means that the new drives can be added without stopping the system, ensuring continuous system operation.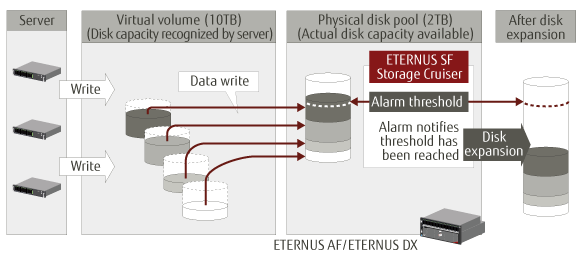 In addition ETERNUS AF/ETERNUS DX provide a function to equalize space written by volume. This eliminates the incidence of access centered on specific RAID groups in storage pools. The result is a stable bottleneck reduction process that operates without any need to stop operation.
Further a space releasing function is provided. This enables the return of vacant space to the storage pool, for allocation to another volume, following data deletion.[1]
Both of these functions improve the usage efficiency of unused volumes.
[1]

In cooperation with the software Veritas Storage Foundation.
Benefits
Lowers initial investment by using storage capacity very efficiently (start small).
Requires no changes to storage capacity settings for changes in demand.
Reduces operational costs by integrating storage with virtualization.
Reduces overall power consumption by reductions in over-provisioning.
Product Requirements
Supported Storages
All-Flash Arrays
ETERNUS AF150 S3
ETERNUS AF250 S3/S2, AF250
ETERNUS AF650 S3/S2, AF650
ETERNUS DX200F
Hybrid Storage Systems
ETERNUS DX60 S5/S4/S3
ETERNUS DX100 S5/S4/S3, DX200 S5/S4/S3
ETERNUS DX500 S5/S4/S3, DX600 S5/S4/S3
ETERNUS DX900 S5
ETERNUS DX8700 S3/S2, DX8900 S4/S3
ETERNUS DX80 S2, DX90 S2
ETERNUS DX400 S2 series
Threshold monitoring and alarm function
ETERNUS SF Storage Cruiser 
ETERNUS SF Express