Robust security using SSL/SSH
ETERNUS AF/ETERNUS DX supports SSL (Secure Socket Layer)/SSH (Secure Shell) for encryption and secure transfer of data over a network. Normal data transmission without encryption bears the risk of possible unauthorized accesses from malicious Web browsers/CLI[1] that appear authorized while attempting to steal or alter data.
SSL enables secure transmission of important data using SSL server certification (public key and secret key) on both browser and web server. Note: Https (Hyper Text Transfer Protocol over SSL) used on the Web, applies this SSL encryption technology to http.
SSH encrypts data using common key cryptography (DES, AES) as it is forwarded from one computer to another via a TCP/IP network. By this and by also hiding the common key using public key cryptography, SSH achieves high data security.
Encrypted communication between ETERNUS storage and user terminals using these technologies prevents alteration and theft of important information.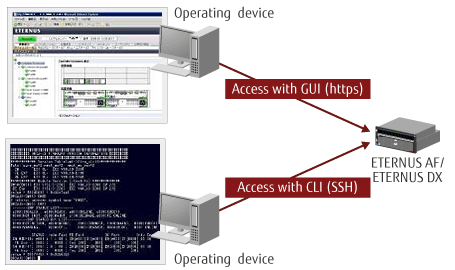 [1]

An acronym for Command Line Interface. A user interface for device control using written commands. Used to prevent operational mistakes as well as enabling quick implementation of common operations based on scripts. (e.g. simple programs that list standard operational commands for setup and maintenance).

[2]

GUI: Acronym for Graphical User Interface. A user interface that provides intuitive manipulation using computer graphics and pointing devices rather than command lines.
Benefits
Prevents data alteration and information theft.
Prevents unauthorized access from identity thief.
Product Requirements
Supported Storages
All-Flash Arrays
ETERNUS AF150 S3
ETERNUS AF250 S3/S2, AF250
ETERNUS AF650 S3/S2, AF650
ETERNUS DX200F
Hybrid Storage Systems
ETERNUS DX60 S5/S4/S3
ETERNUS DX100 S5/S4/S3, DX200 S5/S4/S3
ETERNUS DX500 S5/S4/S3, DX600 S5/S4/S3
ETERNUS DX900 S5
ETERNUS DX8700 S3/S2, DX8900 S4/S3
ETERNUS DX60 S2, DX80 S2, DX90 S2
ETERNUS DX400 S2 series
Note: Products/features/support content introduced on this page may be modified without notice.