LUN consolidation between different RAID groups - LUN Concatenation
LUN Concatenation is a function that is used to add new area to a volume and so expand the volume capacity available to the server. This function enables the reuse of leftover free area in a RAID group and can be used to solve capacity shortages.
Unused areas, which may be either part or all of a RAID group, are used to create new volumes that are then added together (concatenated) to form a single large volume.
The capacity can be expanded during an operation.
Note: LUN Concatenation is an equivalent function of RAID Consolidation.
Consolidating unused areas in different RAID groups, and making a new logical volume (LUN2)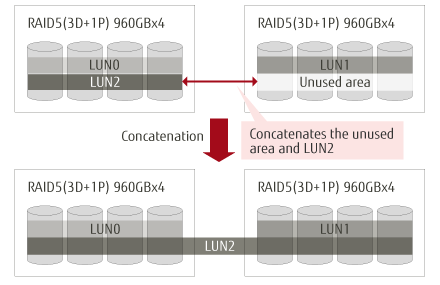 "LUN Expansion function" that consolidates unused areas with existing LUNs enabling much higher capacity LUN creation is also provided.
Benefits
Provides efficient disk drive usage by making consolidating dispersed unused space into a LUN
Provides for larger capacity logical volumes with reasonable RAID organization to minimize performance degradation upon "Rebuild" as well as improve availability in case of a failure
Product Requirements
Supported Storages
All-Flash Arrays
ETERNUS AF150 S3
ETERNUS AF250 S3/S2, AF250
ETERNUS AF650 S3/S2, AF650
ETERNUS DX200F
Hybrid Storage Systems
ETERNUS DX60 S5/S4/S3
ETERNUS DX100 S5/S4/S3, DX200 S5/S4/S3
ETERNUS DX500 S5/S4/S3, DX600 S5/S4/S3
ETERNUS DX900 S5
ETERNUS DX8700 S3/S2, DX8900 S4/S3
ETERNUS DX60 S2, DX80 S2, DX90 S2
ETERNUS DX400 S2 series
Supported Servers
Mission Critical IA/UNIX/Industry Standard Server
Note: Products/features/support content introduced on this page may be modified without notice.